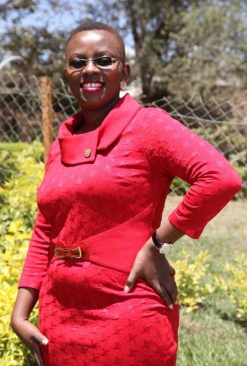 A decision to undergo a pap smear for for birthday gift marked the beginning of life-changing journey for Carolyne Ng'ang'a.
"The decision was timely because it did not only save my life but also opened way for me to serve others," begins Carolyne a cancer survivor and founder of Held Every Lady in Distress (HELD Sister) organization.
Over the years, Carolyne has made it tradition to give herself a birthday gift such as necklaces, cards, and a new dress. As she turned 27, on December 2012, Carolyne settled on a nice hairdo as her birthday gift.
She went to her favourite salonist who took unusually longer. This disappointed her and she abandoned hairdo gift. She says, "The gift was supposed to make me happy. It did not, and therefore was not worth it."
On her way home, she saw Meridian Hospital and immediately resolved to do a pap smear instead. She discloses that she had always avoided it because people had described the manner it is done as painful, horrifying and scary.
She called a friend to offer her courage. Carolyne says it turned out to be a very simple thing. We was asked to check the results after a week. She shares, "After the pap test, l forgot about it. After all, l wasn't sick."
She, however, came for results three weeks later. Carolyne was horrified when the results showed positive, with several cancerous strains.
READ MORE
"I saw the world turn upside down. I lost interest in everything including life," she said. She wobbled back home, not believing the results, promising to do more tests to be cock sure.
From five more tests at MP Shah Hospital and other private clinics in town, the results were the same, confirming the infection had spread to her uterus and had progressed to cervical cancer.
The shock of the year came when she was told her uterus had to be removed to save her life. "I wondered whether it was a dream. The fact that l would never carry a baby was painful," she narrates.
She says support and encouragement from family kept her strong. At Aga Khan Hospital, Carolyne finally had an operation called laparoscopy hysterectomy, where her uterus was removed, costing her about Sh1 million.
After surgery, she went to her rural home in Gatundu and here, faced a lot of psychological torture. Most of her friends, afraid of cancer, had abandoned her.
One Sunday afternoon while her family members had gone to church, Carolyne went to her grandfather's grave and started to cry. "My grandfather loved me so much that if he was around he would be holding me," she said.
And since she missed to be held, Carolyne resolved to hold somebody else. "I am that person who misses something and gives it out instead," she said.
She was then working for an international NGO, Mercycorps, as a Youth Empowerment officer in charge of Kiambu County. She resigned and started HELD Sister which now helps cancer survivors and patients get their lives back on track as well as educating women on sexual and reproductive health.
She explains HELD Sister enlightens people on access to proper medical care and provision of a platform for sharing experiences with cancer as they encourage each other and fight the resultant stigma.
She started by mobilising people on social media to donate sanitary towels. In September 2013, after collecting over 600 sanitary towels, she gave them to girls from humble background in Lari, Kiambu County.
At this time, Carolyne started meeting cancer patients. Today, she has over 250 cancer patients and counting. She discloses that at least 15 cancer patients call every day seeking help.
Carolyne and her team of volunteers organise public education on reproductive health, targeting three groups - men, women and youths.
She says this is an entry point to sexual and reproductive health. She then mobilises a team of experts/doctors to do screening of cervical and breast cancer blood sugars, hypertension, family planning services, nutrition and healthy lifestyle. She says they previously offered screening for prostate cancer but it became too expensive for them.
In public education, they have reached over 20,000 people and screened over 3500 women. Out of these, 250 turned positive for cancer and have linked them to treatment. They also offer psychological support which involves counseling those struggling with sexual and reproductive health related issues and their care givers.
They also advocate for Early Diagnosis for Early Treatment (EDET), empowering people on access to proper sexual and reproductive health issues, medical care and rights; provide the services at an affordable fee; provide a platform for them to share their experience on sexual and reproductive health as they encourage each other with less or no stigma.
Carolyne explains they have mentorship program that empowers young generation, aged 9-25 through self awareness and self esteem in schools, churches and other institutions.
They donate sanitary towels (12 pieces of underwear, bar soap and 12 packets of sanitary towels worth Sh1000 each) to girls from humble background.
"We also try to influence policy and legislative reforms on matters affecting sexual reproductive health and rights," she said.
They have covered several Counties such as Kiambu, Murang'a, Nyeri, Machakos, Nairobi, Nakuru, Siaya, Kisii, and Nyandarua, and are on mission to cover whole country.
Carolyne praises partners such as The Aga Khan University Hospital and Marie Stopes Kenya. They've started a medical kitty for cancer patients struggling with finances for treatment. She discloses, "In 2014, Eco Bank sponsored 13 patients for chemotherapy and radiotherapy in Kenyatta National Hospital through this kitty."
They celebrate 'journey to survival' in honour of those currently battling cancer every November. Carolyne is inspired by God, her own experience and by seeing people smile.
Born in 1985 in a family of five siblings, and the only girl, attended Mariaini primary and later two high schools - Mataara and MaryHill.
She joined the University of Nairobi and pursued degree in Economics and Sociology. She now wants to pursue Masters in public health. She reveals, "Initially wanted to be a doctor but lost the dream along the way. But she's happy to pursue the same profession."
Raised in a humble home, Carolyne describes herself as confident, a risk taker. She says she is passionate about what she's doing and is caring and adventurous. She likes going for walks, swimming and loves fun. She enjoys taking her daughter out and watching cartoons with her.
Her challenge comes when she hosts free cancer medical camps but people don't attend. She regrets, "It is sad that people have to wait till they are affected before seeking help." It is tough financing her initiatives, yet many cancer patients benefit from her intervention.
She has also had a few run-ins with the political world.
"Sometimes you are in a constituency on a medical camp, you get a call from a mheshimiwa asking reason you are in his/her area without informing them," she wonders.