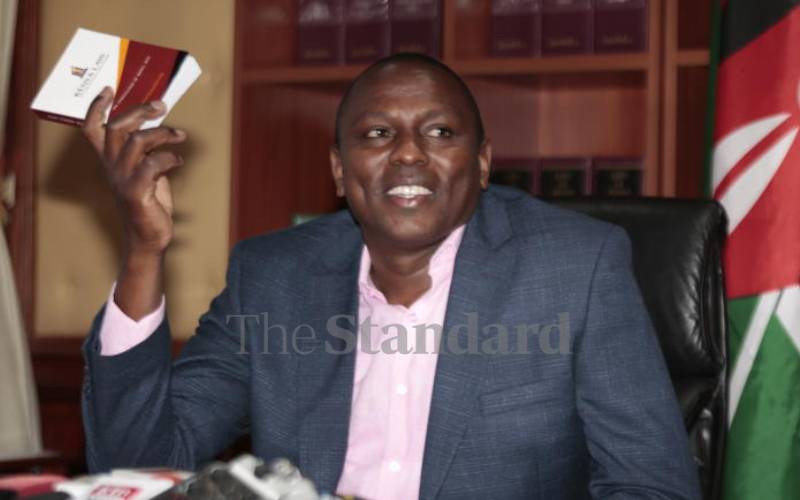 The Kenya Kwanza administration has embarked on a mission to identify individuals and companies that have been exempted from paying taxes since 2018.
National Assembly Majority Leader Kimani Ichung'wah has sent a letter to Treasury Cabinet Secretary Njuguna Ndung'u, seeking a list of individuals and companies that have received tax exemptions.
Addressing a press conference in Nairobi on Monday, Ichung'wah specifically requested information since January 2018. He accused some officials in the previous administration of using their positions to grant tax waivers to their families.
"Everybody is obligated to pay taxes and nobody as the Constitution says can use their public office to grant themselves tax waivers either individually to their families, companies or those who are related to them," he said.
He has given the Treasury CS 14 days to provide the information to the House.
The Majority Leader dismissed reports that the government's crackdown on tax evaders is politically motivated and intended to settle political scores. He emphasised that the focus is solely on ensuring compliance and accountability.
He claimed that the previous regime violated Article 210 to shield their families and friends from paying taxes. The Kikuyu MP also said that some tax exemptions were not reported to the Auditor General during the specified period.
"A casual look at what has been given to Parliament from the Auditor General's office indicates that not all waivers, exemptions and reliefs that were granted over this period were communicated to the Auditor General," said Ichung'wah.
Last week, President William Ruto claimed that Azimio rallies were a guise to frustrate his efforts to enforce the new tax reforms and clampdown on tax evasion. The President said tax evaders were behind the recent anti-government rallies led by Azimio leader Raila Odinga.
But Raila has accused the government of double standards in the fight against tax evasion and corruption, citing instances where multi-million corruption cases involving Ruto's allies have been dropped in recent months.
"Tax cheats and all sorts of criminals are with Ruto in his government but he is pretending to be looking for criminals outside his government," said the Azimio leader during a rally at Kamukunji grounds in Kibra, Nairobi on Sunday.
At the same time the Majority Leader accused Azimio leaders of playing politics with constitution of the selection panel on recruitment of electoral commissioners. Ichung'wah assured that the Independent Electoral and Boundaries Commission (IEBC) selection panel will be balanced and shielded from influence by the government.
The opposition has accused the president of planning to form an electoral commission that would do his bidding in subsequent elections.
"I want to send a message to Ruto that we shall not allow you to form a Ruto electoral and boundaries commission," said Narc Kenya leader Martha Karua.
"If Azimio wants to propose somebody, they are represented in the Parliamentary Service Commission (PSC). Therefore, what people tell the public in rallies and the truth are two different things," said Ichungw'ah.
The selection panel will have a man and woman nominated by PSC, one person nominated by the Law Society of Kenya, the Public Service Commission and Political Parties Liaison Committee nominate one person each and two persons nominated by the Inter-religious Council of Kenya.
Meanwhile, Azimio leader has accused President Ruto of misleading Kenyans by politicising matters arising from bad advice outside the civil service.
In reference to the debate on tax evasion linked to former Presidents Jomo Kenyatta and Daniel Moi, Raila argued that the information was incorrect and misleading.
"The bad advice Kenya Kwanza leadership is going public with is definitely not coming from civil servants. Instead, it points to the strengthening of the criminal mafia networks within government," he said.
According to the Estate Duty Act Cap 483 of 1963, a tax known as estate duty shall be levied and paid on all property of which the deceased was at the time of his death competent to dispose of.
Quoting parliamentary Hansards, the ODM leader argued that even though the law did exist, it was repealed in 1982 and is no longer operational.
"The highest level of government appears to be relying on bad advice from incompetent or malicious staff with extremely poor judgment," he said.
Last week, a debate ensued online as to why the former presidents had a law gazetted exempting them from paying estate inheritance tax while all other Kenyans were subject to the law.
Raila claimed that due to government's "poor judgement" Kenyans have faced various challenges such as increased taxes, removal of subsidies on electricity, education and food, as well as the transfer of medical cover for some state officials from the publicly-owned National Hospital Insurance Fund to private insurance companies.
The Azimio leader explained that in 1969, Estate Duty Act Cap 483 of 1963 was amended to exempt Mzee Jomo Kenyatta's property from being subject to estate duty. In 1981, a further amendment was effected to exempt President Moi from payment of the tax.
Related Topics