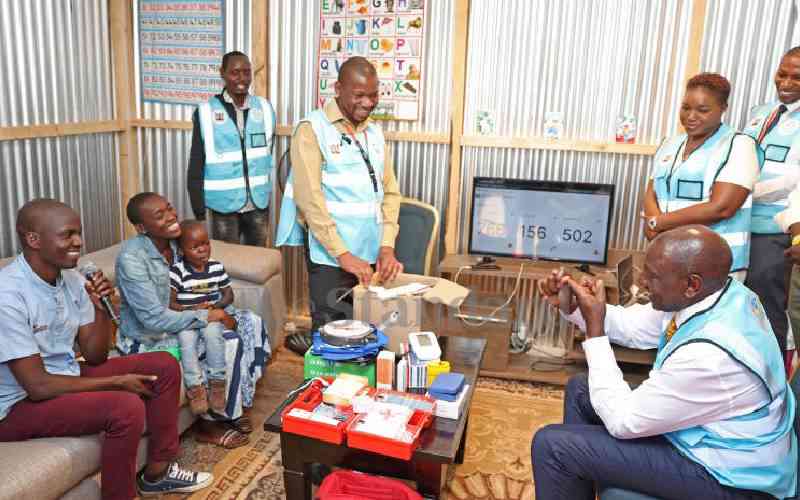 President William Ruto has reaffirmed his government's support for the health sector under the devolved unit.
Dr Ruto said for the last ten years, county governments have managed the health docket 'exemplarily', and that the Kenya Kwanza government will continue to support the docket.
"I want to assure the counties because the governors are here, that the Government of Kenya, the national government and me in particular, I support the counties in the delivery of health," said Ruto. "They (governors) have done a good job and my responsibility is to support you so that you succeed and Kenyan succeeds. We have no intention whatsoever to revert the function."
Mr Ruto spoke yesterday during the launch of Community Health Programme (CHP) kits, noting that there have been complaints from individuals and institutions about the State's plan to take over the health docket.
He flagged off 100,000 basic equipment for household health screening to be used by community health promoters in all 47 counties across the country. He said each of the promoters will oversee at least 100 households.
"Take it from me, I believe that counties have done a better job in delivering health than before when it was being delivered at the national level. And because you are doing a good job, our responsibility is to support you is that you succeed in the delivery of health," said Ruto.
Ruto said the State will employ 20,000 healthcare workers - doctors, nurses, clinical officers, physiotherapists and others, to bring the ratio of healthcare workers to the population to 23 for every 10,000 as recommended by the World Health Organisation.
Ruto's sentiment comes at a time when there is a seemingly push and pull between the national and county governments in managing the health system.
Clash has been witnessed in the preparation of NHIF Bills and the management of the Sh63 billion Managed Equipment Services (MES) project.
Last month, the Council of Governors (CoG) raised an uproar, saying they have been sidelined in the preparation of four crucial NHIF Bills aimed at spearheading the implementation of the Universal Health Coverage (UHC).
But yesterday, Tharaka Nthi Governor Muthomi Njuki and the CoG Health Committee Chair said governors have been consulted on the NHIF proposed bills.
"We are happy that laws proposed (NHIF Bills), we were consulted and gave our input," said Njuki who had previously complained of county bosses having been sidelined.
CoG Chairperson Anne Waiguru said county governments value the health docket, with most allocating at least 30 per cent of their budgets to run the sector.
Health CS Susan Nakhumicha said governors are the custodians of the primary health care agenda. "I acknowledge and laud your (governors) immense collaboration and goodwill," said Nakhumicha.
Unicef Kenya Representative Shaheen Nilofer applauded the community health promoters initiative, saying it will boost healthcare at the community level.
Related Topics