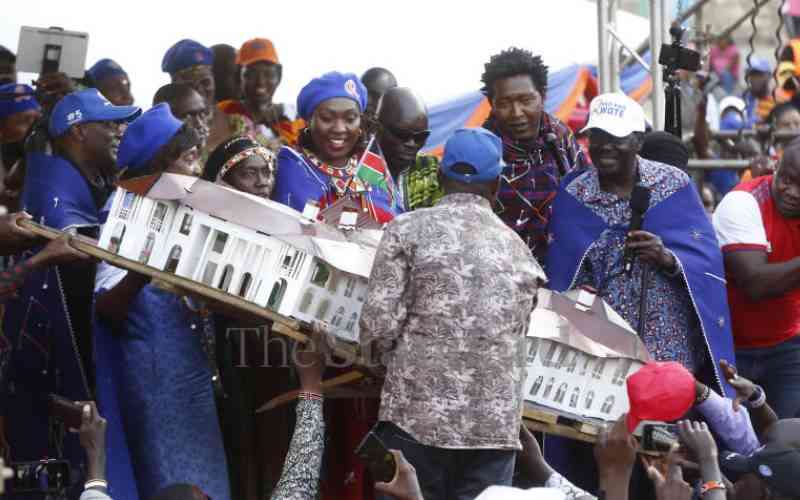 It is becoming increasingly clear that Raila Odinga could be on the ballot for the umpteenth time come 2027. Such ideation might go poorly with those who forage political ageism on Raila.
Therefore, the Opposition leader has another chance of messing up if it is true that he is hankering for a slice of the Kenya Kwanza government.
William Ruto is trying to fix him through bipartisan talks and diverting him to Parliament, but Baba is slippery like fish. He has scheduled demonstrations to begin next week. He is about to flex his political muscles for another round after a one-month break.
If he is old, how is he able to bully the government? All in all, Raila might have a chance, but impatience could disadvantage him again come 2027. Behavioural scientist Steve Maraboli says, "Impatience only serves as the mother of mistakes and the father of irritation."
If Raila were patient during the coalition government of 2008-2012, he would have inherited Mwai Kibaki as the fourth president. Fact! If Baba had been patient from 2018 through 2022, he would have waited to become the fifth president of Kenya. Fact!
If he were to be patient now, in 2027, he would have a chance. Fact! You may ask, what about his age? If he becomes president in 2027, he will be sworn in at 82 years, and he could be president through his 87th birthday for his first term.
Sounds weird? Will he have agemates presidents? Of course! The US President Joe Biden was sworn at 78 and will rule through his 82nd birthday. Kibaki was sworn in at 71 and ruled through his 82nd birthday. Thus, age might not be a barrier if he remains patient and tolerant.
Moreover, there are ruling presidents who are older than Raila. So, if age does not matter when someone is in power, it should not matter when they enter it. For example, Dr Hastings Kamuzu Banda of Malawi is said to have ruled until his 97th birthday.
Paul Biya is still the president of Cameroon at 90 years, and he is still kicking. Teodoro Obiang Nguema Mbasogo, at 80 years, is still the president of Equatorial Guinea, and seemingly, he plans to could extend his miles. So, Raila still has more time to cement his ambition, going by his 2022 post-election politicking. However, in his attempt to prove that he is still politically muscular, he is eating away any remaining chances of him becoming the sixth president. In the next bout of demonstrations scheduled for next week, he will intimidate Ruto, an experienced and skilful politician. Most likely, Ruto will bring him to his self-ruin through strategic accommodation.
If Baba were patient at least once, he would get his cheese. But as Richard Adams says in his book Watership Down, he does not give a chance for the grass to grow before "eating it". Raila and the opposition are trying to push the government against the wall that is not hardened enough to crash it. So why doesn't the opposition wait for it to harden?
Starting in March 2018, Ruto, who was then a government insider, was ghettoised as deputy president when the opposition broke into the 'bedroom' of the Jubilee government. Resultantly, he played an outsider while Raila, who was an outsider, set the yoke of the incumbency on his neck.
Kenyans in 2022 weighed between Raila and Ruto. They needed the one who had less baggage of continuity. They reasoned that Raila was already an insider Jubilee government's interests at heart. Isn't he repeating the same mistakes? Demonstrations will come. We will not stay there for long. The country needs to move on. David Ndii said a few weeks ago that they would buy him, and the country will be calm. That could be the end of Raila's chances in 2027. The gods will then wish that he were patient. But all will be gone! Kenyans must live.
-Dr Ndonye is a senior lecturer, School of Music and Media at Kabarak University
Related Topics