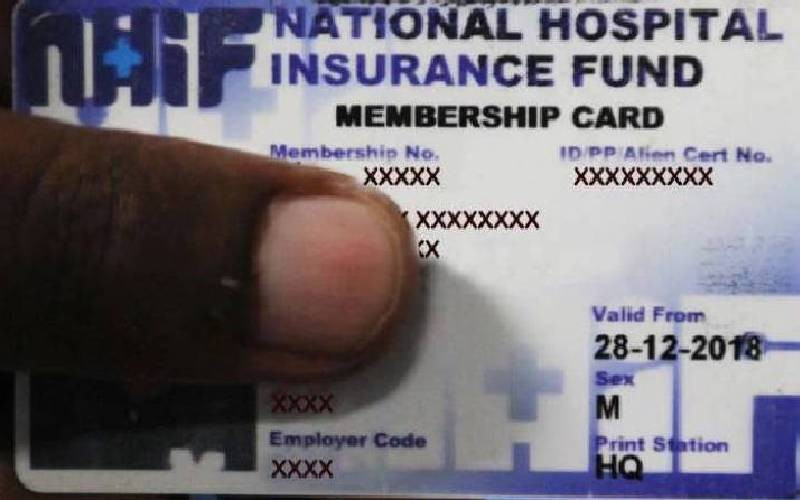 The National Assembly Health Committee is next week, expected to launch a public inquiry into fraud that has been reported at the National Hospital Insurance Fund (NHIF).
There has been public outrage over fraudulent activities at the national health insurer after claims rogue NHIF bosses have been colluding with some private hospitals to defraud Kenyans.
The chairman of the committee Robert Pukose raised concerns that rogue officials at NHIF, in collaboration with hospitals, defrauded Kenyans.
Pukose said the committee will convene next week to establish the terms of reference for the inquiry, and invite all relevant stakeholders to present their views on fraud reported at the national insurer.
"We, as a committee, cannot turn a blind eye to the misappropriation of public resources within NHIF. The only path to uncover the truth behind the NHIF crisis is through a public inquiry," said Pukose.
Speaking on Wednesday during an interactive meeting with top NHIF management, Pukose said the rogue employees defraud Kenyans through unsubstantiated and fictional claims.
"The only way to salvage the deteriorating state of the fund is to launch a comprehensive investigation that may result in significant personnel changes at the NHIF," added the chair.
The committee's move is taken a week after Health CS Susan Nakhumicha ordered investigations into the scandal.
Ms Nakhumicha directed the NHIF board, KMPDC and Pharmaceutical Board of Kenya, and Ethics and Anti-Corruption Commission (EACC) to carry out a thorough investigation following allegations that employees of NHIF coax hospitals to steal money from innocent Kenyans.
Further, the committee will explore the preferential treatment given to privately owned healthcare facilities at the expense of public hospitals.
Also in attendance at the meeting was Prof Guyo Wago Jaldesa who said though public hospitals serve more patients as compared to private hospitals, it remains unclear why NHIF remit more money to private hospitals.
"It is inconceivable that a private hospital could perform more surgeries than renowned institutions such as Kenyatta National Hospital (KNH) and Moi Teaching and Referral Hospital (MTRH), let alone both combined. Clearly, these claims are baseless," questioned Jaldesa.
The sentiments on overpayment to public hospitals were echoed by Nyeri Town MP Dancun Mathenge noted that a public inquiry is the only way to expose the corruption at NHIF.
Mathenge said there are claims that a number of private hospitals submit exorbitant claims to NHIF for surgeries, surpassing the number performed at KNH and MTRH
"It is disheartening that 60 per cent of NHIF payments go to private health facilities, especially considering that the privileged hospitals are those with close connections to NHIF's top brass. Meanwhile, legitimate service providers struggle to operate due to unpaid dues," said Mathenge.
Appearing before the National Health Committee probing NHIF fraud last week, Health CS Susan Nakhumicha also raised an issue with the overpayment of NHIF remittance fees to private hospitals and promised to have the issue addressed.
For example, eight hospitals in Nairobi and Meru counties which were accused of stealing from Kenyans are reported to have allegedly been paid at least Sh1.54 billion for 30,111 claims made between July 2022 and June 2023.
Another report of 2021 by the Economic and Social Rights Centre-Hakijamii, Centre for Human Rights and Global Justice at New York University School of Law (CHRGJ) noted that though NHIF is a public insurer, it favours the private sector for which it may not have been established to benefit.
For example, according to the report, out of Sh14 billion NHIF spends annually on claims in Nairobi, Sh11 billion goes to private hospitals.
Mogotio MP Reuben Kiborek also supported the proposal for a public inquiry, saying fraudulent activities at the NHIF have persisted over time, and have unfortunately not been acted upon, an issue that has made Kenyans lose trust in the public insurer.
"If we aim to establish Universal Health Insurance (UHC), we must address the deep-rooted corruption at NHIF, even if it entails removing the entire NHIF board of management and directors," said Kiborek.
Related Topics