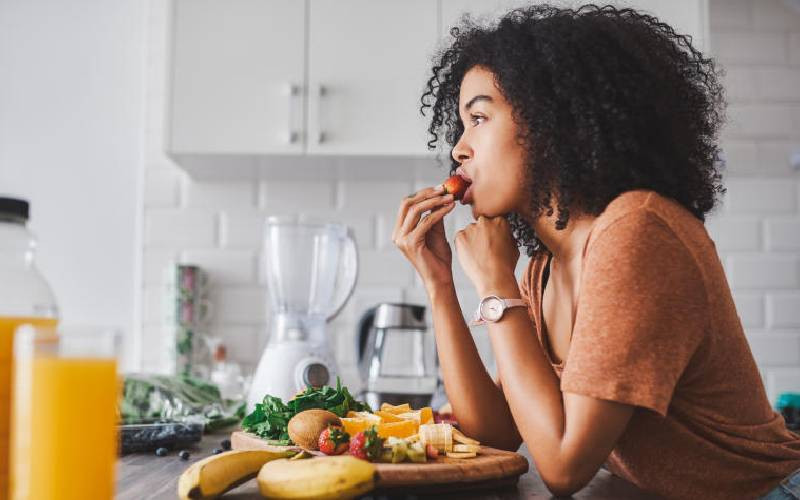 A new study presented at the Endocrine Society's annual meeting has found that eating 80 per cent of your daily calories before 1pm can help control blood sugar levels.
The study conducted by researchers at NYU Langone Health involved 10 patients with prediabetes and obesity.
The researchers found that early time-restricted feeding (eTRF), a type of intermittent fasting that involves eating 80 per cent of your daily calorie allowance in the first 6-8 hours of the day, positively affected blood.
Prediabetes is a condition where an individual has higher than normal blood sugar levels but not high enough to be diagnosed as full or 'overt' diabetes. In Kenya, it is estimated that the prevalence of diabetes is about 3.3 per cent.
Various approaches can help reduce blood sugar and potentially prevent an individual from developing overt diabetes including maintaining a moderate weight and engaging in regular exercise. This new research highlights another potential tactic; early time-restricted feeding.
The study involved a 14-day period during which half of the participants followed eTRF while the other half followed a usual feeding pattern (UFP) whereby 50 per cent of calories were eaten after 4pm.
On day 8, the two groups swapped eating patterns and continued with this until day 14. Participants were provided with food to meet their caloric requirements to ensure that weight changes did not influence results. Glucose monitors were also used to take blood sugar readings.
After the study, the scientists noted the most significant result was that compared to UFP, eTRF led to lower blood glucose levels compared to UFP.
"Given the short duration of the study, we were surprised to see such a significant decrease in the time spent in hyperglycaemic blood sugar ranges," said Dr Joanne Bruno, an endocrinologist at NYU Langone Health and lead author of the study
The research shows that just one week of following this diet strategy reduces fluctuations in blood sugar levels and reduces the time that the blood sugar is elevated above normal levels.
It suggests that early time-restricted feeding may be a helpful strategy for those with prediabetes or obesity to keep their blood sugars in a normal range and prevent them from progressing to type 2 diabetes.
The research despite being ground-breaking also has some limitations including dangers associated with intermittent fasting for some people.
"I would advise patients with prediabetes to discuss their diet with their physician and/or nutritionist before making significant changes," Dr Jacqueline Lonier, an endocrinologist at Columbia University Irving Medical Center argued.
Related Topics