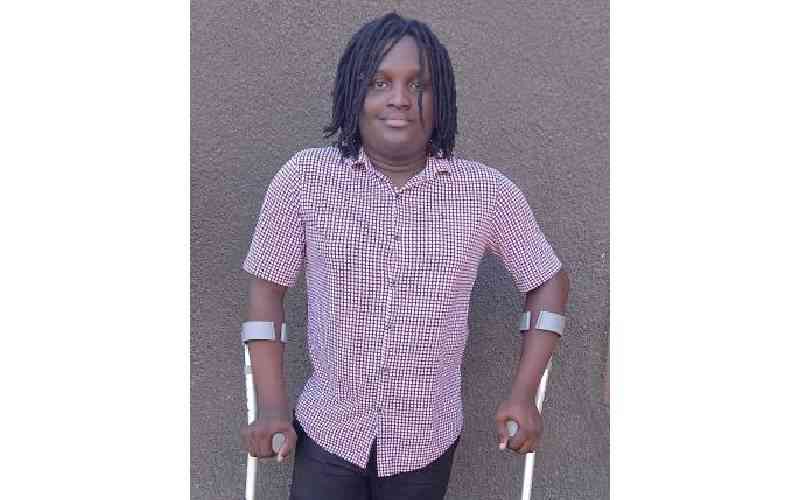 For Humphrey Haj, the last born in a family of five, life as a child was normal.
"I would play a lot, and nothing felt different other than the occasional swellings from bumps to my head that would take longer to go down," Humphrey says.
"One evening, in 2007 when I was about 7 years old, I cut my thumb as I was trying to pluck the pages from a calendar that I needed to use to cover my books. My thumb bled overnight despite the gauze and bandage my mother put over it," he narrates. By morning, the cut was pale but healed.
"While playing football, I tripped and fell, knocking my knee on the ground," Humphrey narrates.
He went home limping and, by then, his right knee was swollen. However, just as any other player, he thought it was just a bad day on the pitch, so he didn't give it much thought.
"A week passed and I was still limping, so my mother took me to the hospital," Humphrey says. At the time, his mother seemed to know something was going on in his life but she didn't disclose anything to him.
At the hospital, they were directed to see a physiotherapist and, after a few visits throughout the week, the physiotherapist advised that he should go for an X-ray.
The X-ray showed that his knee was in bad shape so he had to be rushed for surgery at a Mombasa hospital. The operation didn't go as planned as Humphrey kept bleeding. The surgery left him bedridden in hospital for four months.
It was while in hospital, that he was diagnosed with haemophilia type A. To date, he can start bleeding for no reason but, mostly, he experiences heavy and extended bleeding just after a simple injury.
Inherited disorder
According to the Centers for Disease Control (CDC), there are two levels of haemophilia, Haemophilia A and B, determined by the lack of enough of Factor VIII (F8) or Factor IX (F9), two of the essential blood proteins that play a role in aiding the blood to clot in response to injury.
They usually also indicate the severity of haemophilia that a person has as that is determined by the amount of the factor in the blood.
Haemophilia A is about four times as common as Haemophilia B, and about half of those affected have the severe form. It affects people from all racial and ethnic groups.
Haemophilia, according to the CDC, occurs in about 1 of every 5,000 male births and is mostly passed from mother to son through one of the mother's genes. Most women with defective gene are carriers who have no signs and symptoms of hemophilia.
"If the father has hemophilia and the mother is a carrier for hemophilia, they could have an unaffected son, a son with haemophilia, a daughter who is a carrier, or if she has inherited the disorder from each parent, a daughter with moderate to severe hemophilia."
"Each possibility has a 25 per cent chance of occurring. It's important for couples to know the possibilities before pregnancy so that they can decide whether they want to go through with the pregnancy, and there are no big surprises when the baby is born," says Dr Peter Maturi, a consultant hematologist in Nairobi.
Clotting factor
"Signs and symptoms of hemophilia vary depending on your level of clotting factors. If your clotting factor level is mildly reduced, you might bleed only after surgery or trauma, if your deficiency is severe, you can bleed easily for seemingly no reason," Dr Maturi says.
Humphrey is now 23 years old. He says haemophilia frequently interrupted his education through primary and secondary school as he had to visit the hospital now and again for checkups. Sometimes, he would get admitted because of the severity of his symptoms.
He has been through four surgeries since the time of diagnosis, the first surgery was to fix the knee since the leg was fractured in the knee region. The other surgeries were corrective surgeries, trying to fix the damage and helping to achieve more angle movement of the knee.
Among the major challenges Humphrey has faced is the cost of pain medication and other drugs. His mother died some years back and he is now supported by his aunt and guardians. He is urging the government to subsidise drugs, especially painkillers.
Dr Maturi says the government and other concerned stakeholders should create more clinics in order to silence this genetic condition.
"Genetic counseling should be made available for couples who are about to get married and health facilities should be equipped in order to manage haemophilia. Healthcare workers should also be regularly trained on new trends of managing haemophilia and newborn screening should be availed in all public facilities," he says.
Related Topics