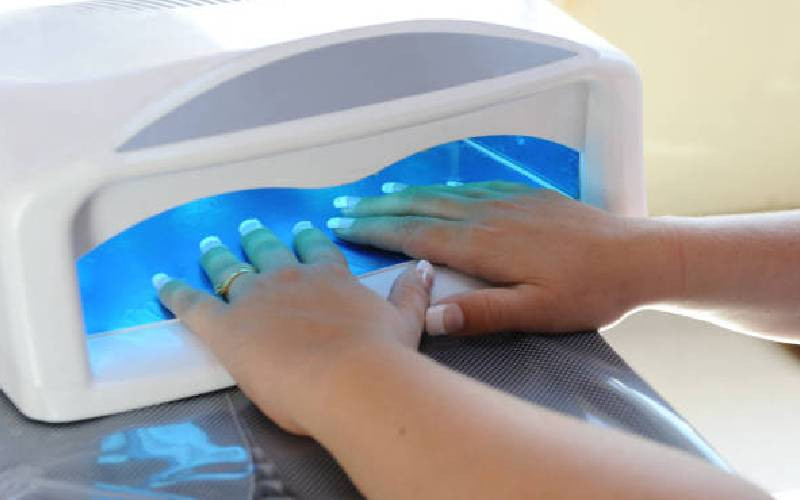 In this age of beauty hacks, specialists in the industry have turned to innovation and technology to meet the needs and desires of their customers.
Due to the evolution of nail technology, most technicians have adopted the use of gel in place of nail polish that was used before.
Clients also seem to like the idea of applying gel compared to nail polish since it lasts longer, looks neater, has a variety of designs, takes a shorter time to dry, and saves money.
Applying gel has come with the use of the hand nail gel dryer that either uses LED bulbs or UV bulbs. LED bulbs are preferred compared to UV bulb dyers since they dry gel in half the time needed and do not generate heat the way UV lamps do.
What most people do not know is that both nail gel dryers emit UV radiation in the process of drying their nails.
A new study published in the science journal Nature Communications found that the UV lights commonly used in gel manicures can damage DNA and cause cell mutations.
People, especially women, have now gone to the extent of getting their nails done even twice or thrice every month. It definitely leaves you looking good but what about your health and what side effects does your manicure have on your fingers and toenails?
Once in a while does not hurt but repeated exposure to UV nail lamps does increase your risk, especially on your finger beds.
If, for example, you do gel manicures from the time you turn 17 onwards, that is a lot of exposure to UV over a lifetime in the same skin area. Even though you are exposed to the UV light for a short amount of time, it is better to limit the number of gel manicures in a year.
It is a good idea to follow some recommendations offered in the past which are; sticking already done nails with nail glue which is less harmful if well done, wearing sunscreen on our hands before getting into the UV dryers and slipping a pair of fingerless or toeless gloves during manicure and pedicure and ensuring our toe and finger beds are covered.
Invention and innovation of other means of drying gel would also be of help to make sure we are healthy and beautiful. Prevention is better than cure and health is more costly than beauty.
- Ruth Matindi is a Media and Communication student at Maseno University
Related Topics