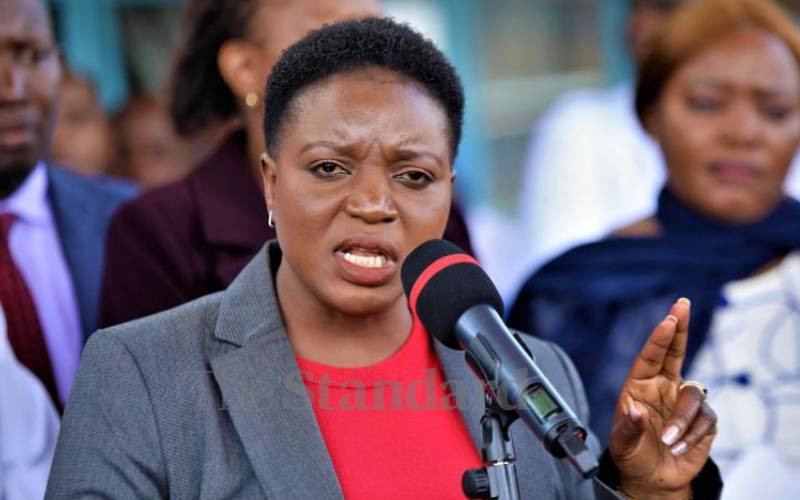 Residents of Garissa and the larger Northeastern region can now breath a sigh of relief following the launch of the Garissa Regional Cancer Centre.
Speaking during the launch of the cancer centre, Health Cabinet Secretary (CS) Susan Nakhumicha described the unveiling as a significant milestone in the country.
"Through this launch, minority communities that inhabit this region, who have contributed greatly to our nation through animal husbandry, yet have historically suffered from lack of specialised care access are poised to greatly benefit from devolved healthcare services," said Nakhumicha.
She commended health officials in the county, led by health executive Ahmednadhir Omar, for taking the lead in creating cancer awareness, saying that late diagnosis has often resulted in poor treatment outcomes and low survival rates.
"Compounded by perennial drought as a result of climate change, these communities have traditionally continued to bear the brunt of food insecurity, access to clean water among other challenges making access to such health care a mirage," she added.
Among services that will be available at the cancer centre include screening, diagnosis, surveillance, treatment, and palliative care.
Residents of the region have for a long time travelled long distances, with others going abroad to countries like India to access treatment.
The prevalence rate in the region remains high with prostate, oesophageal and colon cancer being the leading cancers in the region, while breast and cervical cancer are the most common among women.
The CS said cancer has a heavy impact on individuals, households and entire communities through loss of productivity, catastrophic cost of care and premature deaths.
She said the Ministry of Health has prioritised transformation of the health sector by addressing issues around access, cost and quality of healthcare through the Universal Health Coverage (UHC) agenda.
"We are implementing the National Cancer Control Strategy which has various sustainable programmatic interventions to address barriers along the entire continuum of cancer care, from screening to diagnosis, surveillance, treatment, and palliative care," said the CS.
The burden of cancer has been rising over the past few decades and it is projected that by 2030, more than 13 million deaths annually will be due to cancer, with 75 per cent of all deaths occurring in low and middle-income countries.
In Kenya, the health outcomes of cancer are concerning. High mortality is attributed to cancer as the third leading cause of death.
The most recent data by the Ministry of Health shows that a total of 7,502 cases were registered from 42 facilities across the country between July 2021 and June 2022, with most of them being stage three and four.
The most prevalent cancers continue to be breast cancers at 15.9 per cent, cervical cancer at 13.3 per cent and esophageal at 11.8 per cent. Prostate cancer accounts for a quarter of all cases among men.
The ministry has established regional cancer centres in over ten counties including Meru, Nyeri, Embu and Machakos among others.
Related Topics