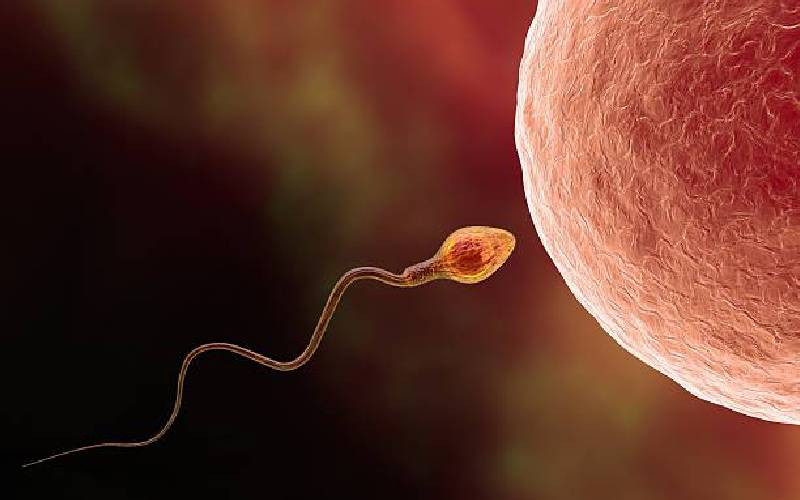 Esther Kwamboka, 19, is uncomfortable talking about sex but finds it "easier when I talk to my peers about such taboo topics, but not in the open and to everyone."
Despite her shyness, Kwamboka is a teen mother to a one-year-old son.
According to the National Council on Population and Development, one in five teen girls becomes a mother by 19.
The Covid-19 pandemic did not make matters easier as that was what was when Kwamboka, then 16 and in Form Three says "we had a lot of free time to roam Kisii town, and I met my baby's father who is four years older."
Kwamboka sat her KCSE exams while pregnant and scored below average, despite being an average student.
During exams, she often felt tired and "I just attempted a few easy questions and left the tasking ones unanswered."
Kwamboka says family planning methods like condom use had mostly been mentioned in passing. She was in denial about being sexually active as it wasn't a 'frequent thing' and "the thought of going to a shop to buy condoms or to the health clinic for family planning scared me."
Florence Kemunto, 19, is another teen mother in Kisii who also sat her form four exams heavily pregnant and groggy.
Just like Kwamboka, she also flopped in performance after getting pregnant during the 2020 pandemic.
Kemunto had never seen a condom, only heard about them in gossipy chats among peers and in biology classes.
Both Kwamboka and Kemunto believe they would have made better sex choices had their parents educated them about sex openly.
Lucky for the two, they only suffered poor grades and social isolation as Goodwill organizations like AidsHealthcare Foundation, stepped in to integrate them back into society and sponsored them through skill courses.
For many other adolescents, pregnancy and childbirth come with endless complications: pregnancy-induced hypertension, infection of the womb lining, systemic infections, lack of full cognitive development and a higher risk for infant deaths.
Age-related discrimination and restrictive laws predispose adolescents to unsafe abortions.
Pregnancy and childbirth complications are among the leading causes of death among girls aged 15-19 globally.
And though more than half of Kenya's population is aged between 15-24 years old, most are not keen on reproductive health, laments Timothy Abuya, a research associate in Reproductive Health Program at the Population Council.
Abuya says Kenya currently has the highest number of women in the reproductive age bracket since independence and "if each of the women gave birth to several children, no government anywhere in the world would build and sustain schools, health care facilities and other and essential facilities at such a high pace."
The saving grace is that, though the world population hit eight billion this year, Kenya's population is slightly above 50 million, despite dipping total fertility rates- which is the average number of children a woman has- over the decades.
From about five in 2009, fertility rates decreased to three, according to the 2022 Kenya Economic Survey, which also notes that the country increased the number of registered births from 1.1 million in 2020 to 1.2 million in 2021, largely due to the lockdowns imposed during the Covid-19 pandemic.
Fertility rates are also plummeting globally and not just in Kenya. However, there are more children alive on Earth than there have ever been.
Abuya says dipping fertility rates can be attributed to several factors including; better contraception initiatives and government health and family welfare schemes.
Abuya, however, pegs education of the girl child as one key factor besides efforts to improve overall health and nutrition and it's crucial for a country to reach 'population stability.'
Abuya says educating the girl child across the board is one of the single most critical factors to reaching population stability. "With education, the family's overall well-being improves," he says.
"Education gives young people, especially girls, a greater sense of awareness and well-being that prevents early marriages and pregnancies," explains adding that even adults need increased awareness on family planning and reproductive health.
Related Topics