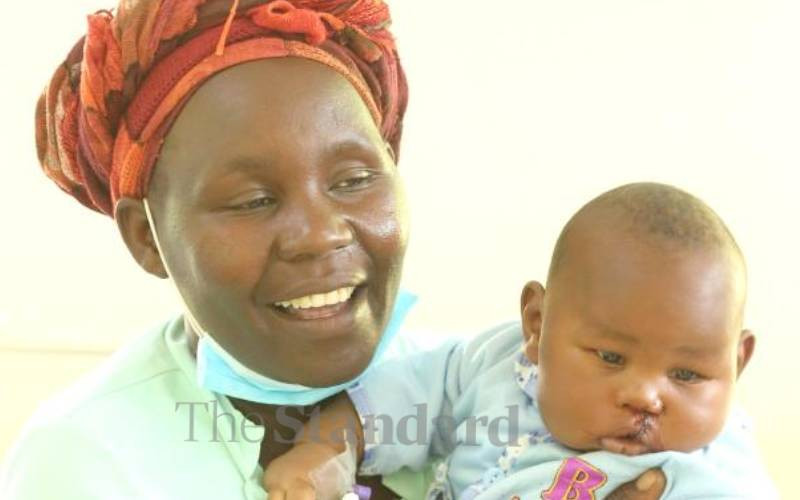 When Carol Nanjala gave birth to her son eight months ago, her joy was soon cut short following the discovery that the baby had a cleft lip.
Devastated, Nanjala said she had never experienced such a condition in her family and worse, the feeling that the condition would be permanent kept haunting her.
"It never helped as the community kept saying that my child was bewitched and the only way to sort the condition was to find a stronger witchdoctor to undo the cleft lip," she said. "Some even said the worst I could do was to take the child to the hospital for conventional medicine."
However, Nanjala opted to stay with the newborn indoors and hide him from prying eyes. By good luck, a community health volunteer (CHV) got wind of the child's condition and reached out to Nanjala with the information that the condition could be rectified and, for free.
Nanjala's child was among 26 patients, including adults, who underwent free corrective surgery at Kakamega County General Hospital in partnership with the Kenya Progressive Nurses Association (KPNA) and Kenya Society of Plastic Reconstructive and Aesthetic Surgeons.
"I thank God, the facility and the doctors for this wonderful job of putting a smile on my son's face for the first time. I was worried he could not speak fluently the rest of his life but now I have hope that he will speak clearly," said Nanjala.
Kakamega acting County Executive Committee Member (CECM) for Health Services, Rachael Okumu, said misinformation was affecting cleft lip patients and their families.
"Through our health structure we are using CHVs and health administrators to reach more people with conditions like cleft lip and palate after realising there are many unattended cases in the villages feeding on misinformation," said Ms Okumu.
Michael Nyongesa, National Chairman of KPNA said for the last 10 years, the partnership has successfully carried out corrective surgery to more than 500 patients, adding that many patients suffer psychological torture for not knowing what causes the condition.
He said the conditions can be attributed to factors like smoking and taking drugs and alcohol during pregnancy.
Related Topics