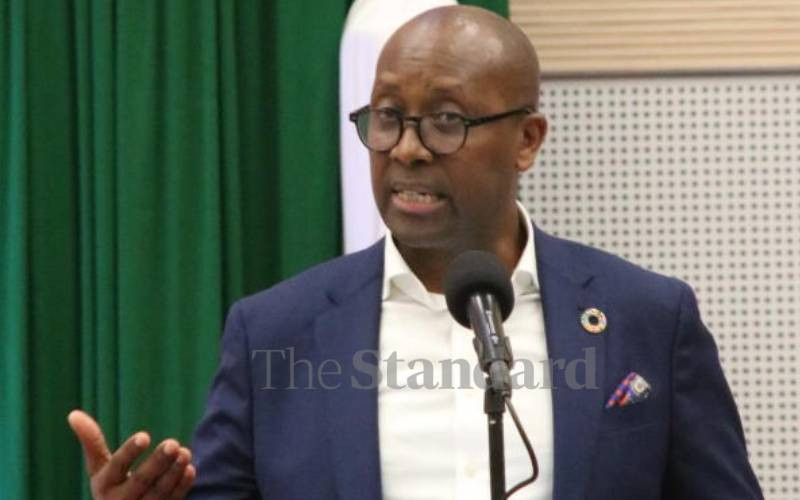 When he was born in Nyeri County over 50 years ago, his mother lacked Sh40 to be released from hospital or buy clothes to swaddle her son.
His sister, then studying home science, saved the day by bringing a tiny sweater from knitting classes and which had to be torn by the side to fit the son.
Little did the family know he would grow to become Dr Githinji Gitahi, the first African Global CEO of AMREF, a position he employs to help implement policies to improve healthcare, not just in Kenya, but globally.
You see, his mother was a subsistence farmer, his father, a tailor-both keen on education.
His passion for medicine began in primary school when his elder brother (Prof Kiama Gitahi the Vice Chancellor of Nairobi University) who had huge biology, began collecting dead dogs in the village to study them.
Dr Gitahi recalls how Prof Kiama would wait for three weeks after the dogs had been buried, before exhuming them and "remove the flesh and use a wire to hang the bones to study them in his room. So, over time, I kind of got interested in the same."
This kind of interest played out well when he joined Nyeri High School- the farthest he had gone from his village - and later Mang'u High school for his A-levels, where he took Maths, Physics and Chemistry classes- which would lead him to careers in engineering or architecture.
"One day the Dean felt that the Maths, Physics, and Chemistry class was congested, and he called out some of us to join the Maths, Biology, Chemistry class and without consultation, that was how my career changed into medicine."
It was their mother's keen interest in nutrition and education that laid a good foundation for his siblings and they never had career guidance: choice of career was solely dependent on passion, something that was instilled in early childhood.
In retrospect, Dr Gitahi, says he would have made own choices; whether he wanted to be an engineer or architect "if I had career guidance… but when I joined that class (Maths, Biology, Chemistry), it seemed to have been where my heart was."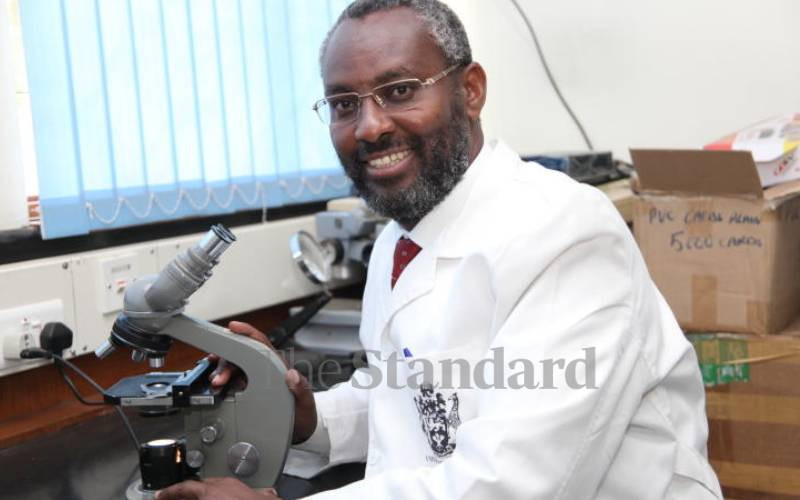 He later joined the University of Nairobi where he took part in active student politics and his love for human rights would have easily led him to doing a medical-legal course to help people navigate law and medicine. But his passion for obstetrics and gynaecology got him into crossroads: where was he to take the extra courses? who would pay the fees?
After his internship at Kenyatta National Hospital, Dr Gitahi joined the private sector at Avenue Hospital.
He then moved from seeing patients to starting an antenatal clinic which he singlehandedly grew to becoming the hospital manager at some point, before moving out of clinical practice in 2000.
"I went to Madison Insurance as the medical manager, before being approached by GlaxoSmithKline which was looking for a medical marketing manager," offers Dr Gitahi who had been offering pro bono services to GlaxoSmithKline while at Avenue Hospital in between speaking in radio shows about common illnesses and their treatment.
It was while as medical services manager at GlaxoSmithKline that he developed a keen interest in general marketing of products like toothpaste, drinks and painkillers.
"I started taking an MBA in marketing and strategy at USIU and that is how I moved out of clinical work because I went to South Africa as an expatriate under GlaxoSmithKline for medical marketing," he says of his career shift.
In a move that drew him to commercial work, he joined Nation Media Group as general manager for marketing and circulation, but shortly returned to healthcare, driven by his passion for development, healthcare, human rights and social justice.
"While at the Nation, I started working with Smile Train, an organization that offers cleft surgery for children in Africa where I was the vice president and then moved to AMREF in 2015."
Besides applying for his first job at Avenue Hospital, Dr Gitahi has never applied for another job other than on invitation.
He believes opportunity require, not just luck, but also preparedness to take them up. His career moves, he says, did not require a Godfather as he had created a brand of being passionate, available, dependable.
"If you follow your heart," he says, "every single opportunity that you have trains you something, and when I look at my job at AMREF, I would not do it half as well as I do it now, if I didn't go to the media, or if I didn't work in pharmaceuticals, or insurance because all these are additives and form one thing that I couldn't have foreseen."
Dr Gitahi thus believes the world is looking for more generalists than specialists for leadership roles which require multiple interfaces which happen seamlessly.
In his line of work, Dr Gitahi has learnt that governments should approach human health as an investment, not a cost since "if my mother could not afford to get Sh40 to get out of the hospital 50 years ago, it is just like the Sh7, 000 that a mother needs now to get out of the hospital so we haven't changed much."
In the early '70s, he recalls, primary healthcare was such that there were no user fees which were later introduced in the '80s and '90s to access debt relief.
"I have seen global agencies confluence around the fact that human beings are human capital for the country and healthy adults and children learn and earn and without that, a country cannot progress or build its gross domestic product," says Dr Gitahi who believes human capital is the way to a nation's development with health and education as key sectors for which efficient use of taxes would do wonders.
Dr Gitahi takes issues with competitive politics which have led to declining efficiency in the health sector where politicians create visible infrastructure for health, yet "health is not the hardware but the software" which should be anchored on community health systems and households to build a just health system for the future.
In his free time, Dr Githinji likes taking walks, almost five to ten kilometres daily for two hours a session. He also spends quality time with his family, two daughters- one has opted for medicine, the other law while the last born also has interest in medicine.
Dr Gitahi says he has not influenced their career choices, he has only let them follow the passion in their hearts.
Related Topics