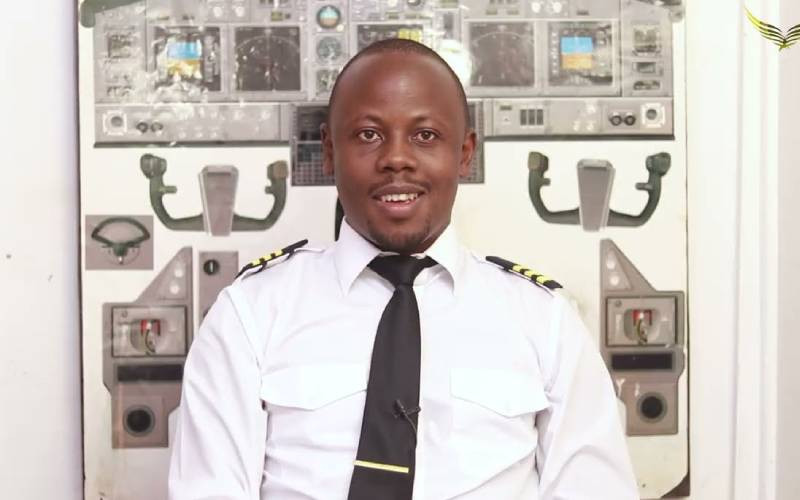 Meeting him in his hospital garb, Dr Moses Wamwatila blends in easily as your everyday doctor on a mission to make people's lives better. When he changes to his black trousers, white shirt and black tie, the aviation enthusiast comes to life.
By day, Dr Wamwatila pursues his first love - medicine. By evening, he is the student pilot who says "my mum thought I was crazy. She couldn't understand how after making it as a doctor, I was thinking of something else. But I explained I like charting my own path and doing things not the way other people do them".
Dr Wamwatila's flight instructor is Mark Koros, a Boeing 787 Dreamliner captain and director at West Rift Aviation. He recalls being pleasantly surprised by his new student and couldn't understand "why anyone would want to combine medicine and flying. I found that interesting".
Dr Wamwatila, the lastborn in a family of four children, hails from Bungoma County, where he had a humble start in life "and coming from a poor background you can't really do aviation, so I had to do medicine first and hustle my way".
From early on, his curiousity about planes was evident, slowly turning into a fascination, then an obsession. "Flying has always been a part of me," he says. "Ever since I was young, I could see aircraft and wonder how such a big machine could be flying."
While in medical school, one of his pastimes was watching aircraft investigations, which morphed into watching YouTube videos on how to fly a plane.
"Last year, the pressure became too much, and in May I decided go to aviation school," recalls Dr Wamwatila whose parents could not afford the millions needed for flying classes.
For starters, to earn a private pilot licence, one needs to have not less than Sh1 million while a commercial pilot's licence needs about Sh3 million.
It has been quite a journey for the alumnus of Uriri Secondary School in Migori County where he was one of the top students in 2011, scoring Grade "A".
That guaranteed him a slot at the Kenyatta University School of Medicine where his elder brother saw him through until his graduation in 2018.
From internship at Kiambu County Referral Hospital, Dr Wamwatila says, "I now work deep down in Dandora at Brother Andre Hospital and I enjoy seeing babies and mothers, taking care of them."
But despite the demands of a practising medical doctor, the fire to fly could not be contained. Its pressure saw him enrolling at West Rift Aviation where Captain Koros says "we could see his dedication and passion. Sometimes he comes straight from the operating theatre and sit through the evening classes and he passed his theory exams very well on the first attempt."
Dr Wamwatila says: "I do both concurrently – from morning to afternoon I work as a doctor, but later in the evening I do classes and flights," and he easily switches from medical to aviation lingo.
"My first solo flight was amazing, taking off from Wilson Airport to Galleria," he says. Shortly after landing, his colleagues at the flying school were ready with the age-old aviation tradition of showering him with buckets of water for achieving that milestone.
He was drenched from head to toe and had there been a swimming pool nearby, he would have jumped into the deep end.
Prior to joining aviation school, he had booked a flight to Zanzibar, just to ensure he could subdue his fear of heights and motion. "For the first flight, I was scared from the time we took off until we landed. Over time, that fear has since dissipated," he says, adding that his longest solo flight has been to Amboseli, landing in Kajiado and returning to Wilson Airport.
"Being able to command the aircraft alone through those places with high terrain is a dream come true," he says.
Compared to his six years of gruelling medical training, Dr Wamwatila says aviation is no different as "it is like you have compressed eight courses into two months, made tough by the fact that I am also working and at times I am called back for emergencies".
He adds: "It's easier for me now because I know what I want and there is no peer pressure that can derail me."
After successful completion of his Private Pilot Licence, he hopes to build up hours for a Commercial Pilot Licence, Multi-Engine Rating and Instrument Rating to further open up a world of possibilities as a commercial pilot - and practicing doctor.
Related Topics