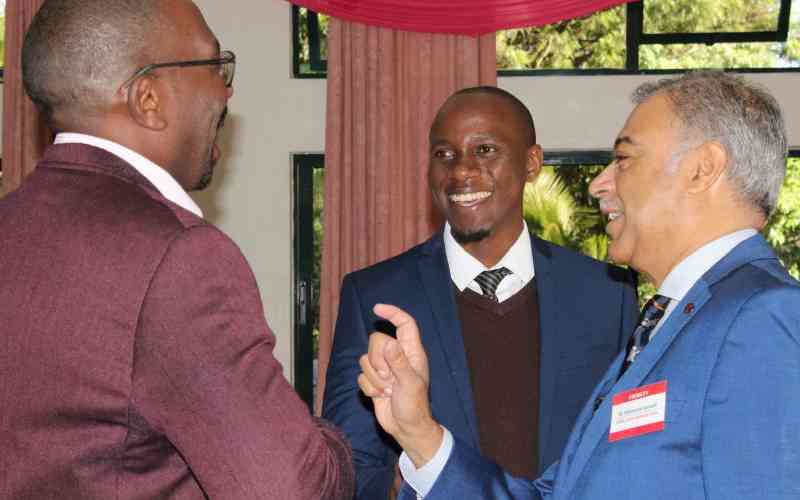 He turned down a scholarship to study computer engineering at Yale University, USA to pursue medicine.
Dr Andrew Nyaoncha is today a consultant neurosurgeon at Consolata Hospital, Mathari and Nyeri County, and also serves the larger Mt Kenya region including Nyahururu in Laikipia and Murang'a Counties.
He works in what he calls the 'Provinces' from the belief that that's where his world-class neurosurgery services to people are most needed.
Dr Nyaoncha helps patients who would otherwise not access such services in terms of costs and time spent in queues.
Dr Nyaoncha grew up in Nyamira County, from where he emerged among the top-ten best KCPE candidates in 1997.
He joined Mang'u High School, then University of Nairobi School of Medicine in between "other pieces of learning French to business and computers in Strathmore, and also teaching."
Dr Nyaoncha began working as a general surgeon, but his daily grind at the hospital inspired him to pursue neurosurgery - and went to do more neurosurgery than general surgery cases - within two months after qualifying.
His neurosurgical classes started in January 2015 and he requested the hospital to release him for the studies with the agreement he would return upon completion.
It was a double blessing: He earned two scholarships at the same time: the College of Surgeons of East, Central and Southern Africa (COSECSA) programme, the largest surgical training institution in Sub-Saharan Africa, and another Fellowship under the Royal College of Surgeons in the UK.
Within four years, he managed to get both certificates and "even when I was in the UK, all I could think of was translating that care back home," he recalls. "But the main reason for working here is the belief we are world-class in terms of the quality of the surgery we offer."
Dr Nyaoncha owes his confidence to the mentorship he got while abroad. He says incredible mentors like Dr Richard Nelson, one of the most senior surgeons in Bristol, UK, helped him navigate complex surgeries.
Although the Provinces face challenges in terms of facilities and other equipment, he says he has not felt like a village surgeon, as "the most basic equipment is available for the continuity of most services and I am confident that patients here get better, if not the best services, in some of the big facilities in other towns. With that confidence, I get gratification."
Among other challenges in his line of work are patients who are fairly misinformed in terms of cancerous tumours.
"You tell a patient they have a high-grade cancerous tumour that is advanced and cannot be removed. And even if it can be removed partially and get radiotherapy or chemotherapy, they still undergo treatment overseas which you feel may not change the situation," explains Dr Nyaoncha.
Such patients, he adds, know they were advised against the move and what is sad is that "six months down the road, the story is different because the cancerous tumour grows back."
For that reason, he believes the right information has to be given to patients to enable them make informed decisions. There is also a need to have more surgeons to grow the information base, for patients to reach more doctors, leading to advanced services.
"There is no joy in saying you are the only person doing this, because we can only grow above the basics when there are so many of us. There is basic positive competition, sharing of thoughts and improvement of services," argues Dr Nyaoncha.
The national and county governments, he reckons, should invest in infrastructure and equipment to lower the cost of services by prioritising health services.
Despite busy schedules, Dr Nyaoncha creates time for his family, as "the phone calls are never-ending, with patients calling in from Mandera, Nyahururu and other places. Fortunately, I have a very supportive wife who understands what I do as she's a medic, but I'm always creating time to spend time with my two little children."
Dr Nyaoncha believes he has changed the landscape of surgery in Mt Kenya region in the two years he has worked as a neurosurgeon going by the number of cases.
The medic does about six cases a week, doing more elective surgeries in a week than in most other centres, including brain tumours, malignant tumours, spine surgeries, and congenital malformations.
Other doctors, he says, should not to be scared of working out of the big cities and should instead go where their services are most needed.
Related Topics