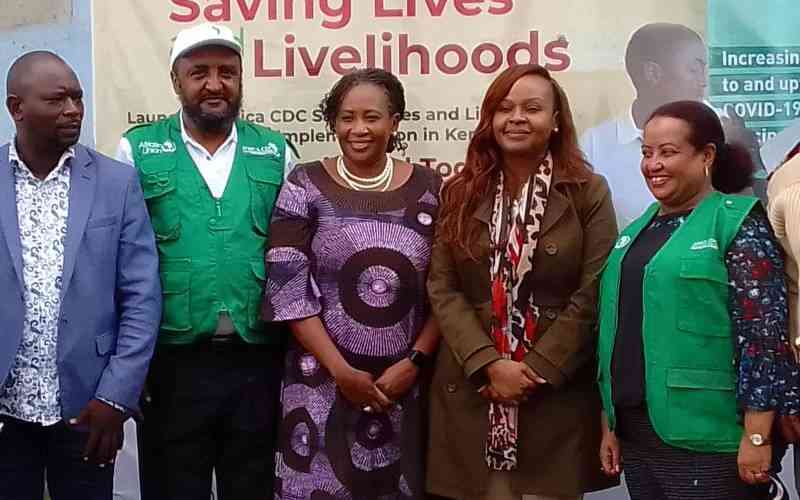 The government has launched strategies to combat teenage pregnancies, sexual and gender-based violence and new HIV and Aids infections among children.
The campaign dubbed 'End the triple threat in adolescents' comes at a time when adolescents are recording increased HIV infections as well as early pregnancies.
Health Cabinet Secretary Mutahi Kagwe says the challenges had denied children their right to education and subjected them to long-term psychological and physical harm.
He said between January 2022 and May 2022, a staggering 109,110 adolescents had visited antenatal clinics.
"Some die while giving birth because their bodies are still too fragile to carry a pregnancy to term and deliver safely," he said, adding "others experience long-lasting psychological and physical problems."
Though the country has recorded a downward trend of early pregnancy cases over the years, he said, more needed to be done to eliminate the threat.
Speaking at Murang'a Ihura stadium, Health Chief Administrative Secretary Mercy Mwangangi said there is a need for concerted efforts to curb new HIV and Aids infections especially among young people, highlighting that 17 percent of new infections currently in the country are among those aged between 10 and 19 years.
The national infection rate among adolescents, Dr Mwangangi said, has declined from 78 per cent in 2016 to 37 percent in 2021 observing that there is still a big burden associated with the disease.
Mwangangi pleaded with parents to speak and advise their young children about the negative impact of HIV and Aids.
"Early sexual intercourse among young girls not only puts them at risk of getting pregnant but also exposes them to contract HIV and Aids," she said.
"It's very unfortunate that majority of parents fail to speak to their teenagers about sexual matters."
Last year, 316,187 adolescents visited antenatal clinics while 78 per 1000 births occurred in 2019 among girls below the age of 19. In 2018, the number stood at 427,135.
Kagwe, who spoke during a sensitisation meeting for community leaders in Nyeri County, said incidents of sexual violence among adolescents between the age of 10 and 17 are on the rise, with 16,476 cases reported in 2021 compared to 2,466 in 2016.
He said teen pregnancy and sexual violence were derailing the war against HIV and Aids.
Last year, only 5,890 adolescents who were defiled accessed Post Exposure Prophylaxis to prevent HIV and Aids infection, while 236 of them contracted the disease and 1,665 became pregnant.
Further, the CS disclosed that half of the approximated 32,027 new HIV and Aids infections recorded last year occurred among children and young people below 24 years while 5,288 died due to HIV and Aids-related illnesses.
In Nyeri alone, there are 1,435 adolescents aged 10 to 19 out of the 20,233 people living with HIV and Aids.
"The era of looking the other way and letting perpetrators of sexual and gender-based violence walk scot-free must end. Let us have constructive community dialogues that provide solutions," he said.
He added that the situation was compounded by the high cost of treating Aids and HIV-related complications and the low adherence to treatment by young people.
Related Topics