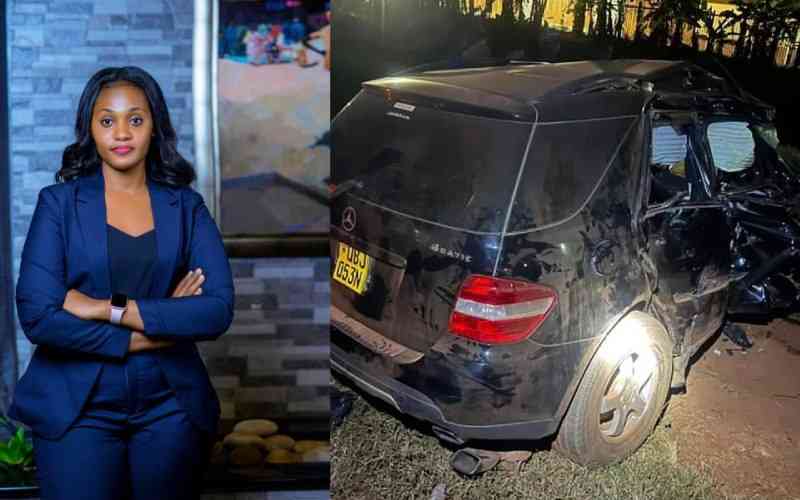 Caroline Aturinda, a student at the Law Development Centre (LDC) in Uganda, died on Sunday morning after the car she was in was hit by a train at the Nakawa Level Crossing.
According to Ugandan media, Aturinda was in the company of two others; Norbert Tizikara, 32, an architect and Ann Kabaaya, when they attempted to cross the railway but were hit by an oncoming train.
According to the LDC, Aturinda was set to graduate on July 29, 2022, with a post-graduate Diploma in Legal Practice.
Traffic police spokesperson Faridah Nampiima blamed the driver of the vehicle for not adhering to traffic rules as it emerged that the train driver hooted before reaching the level crossing.
"He (the train driver) hooted before reaching the level crossing as is always required of them. He said he had the headlamps flushing bright for any other motorist to see, but he suspects that the accident could have resulted from the carelessness of the car driver," Uganda Railways Corporation John Ssengendo said on Sunday.
LDC, on their part, requested the government to look into the implementation of a safety project of installing crossing guards in all areas where the railway lines intersect with roads.
A statement by the Uganda Railways Corporation said at the time of the accident, the locomotive had departed Namanve Industrial Park after delivering cargo and was en-route to Kampala.
The institution also called upon road users to exercise caution when approaching railway crossings, keeping a two-meter distance from the line whether a train is approaching or not.
Here is the video of the accident:
.Video: Caroline Aturinda was Set to Graduate from LDC This July #ChimpReportsNews #Accident https://t.co/Wej4uXn6oq pic.twitter.com/ymryx8GCDq
— ChimpReports (@ChimpReports)
July 11, 2022
Related Topics