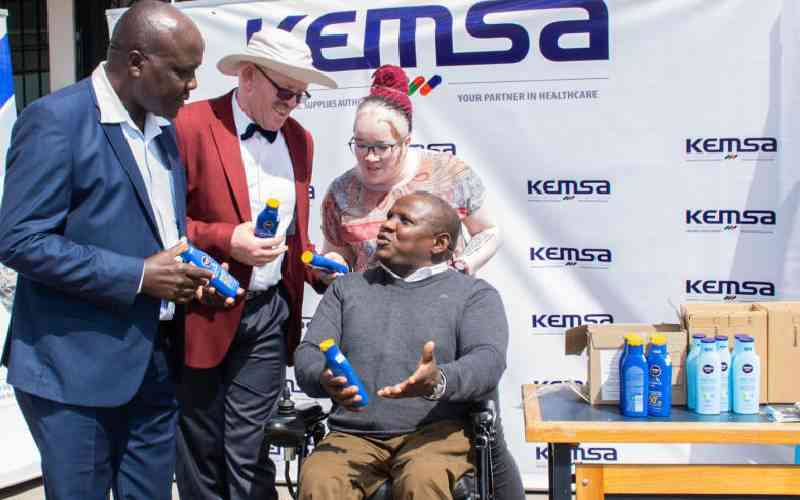 George Kamau was 19 when he noticed white conspicuous patches on his cheeks. The now 25-year-old photographer and model was diagnosed with Vitiligo – an autoimmune condition characterised by formation of white or light patches on the skin.
"This came as a surprise," said Mr Kamau, adding that the transformation his skin underwent was fast and painless. "Within six months, my whole body didn't have any black spots or patches. My whole body turned white."
A lot of the time he was mistaken for someone living with albinism – another skin condition characterised by lack of melanin.
For many vitiligo cases, acceptance is the main challenge. Kamau took one year to accept the reality.
Ms Asunta Wangari, a 30-year-old hairdresser, who we met at this year's World Vitiligo Day, has lived with the condition since 2010.
"I woke up one morning and realised I had a patch on my hand. I ignored it since it wasn't' painful.
"After one month, I started seeing other patches," recalls Ms Wangari.
Countless trips to the hospital resulted in medication, which hardly changed anything. Frustrated that she was not getting better, depression almost set in.
A dermatologist told her she had vitiligo. Two years later she discontinued her medication after trying other forms of treatment like phototherapy. "I stopped the treatment and learnt to live with the condition. I decided to embrace the person I had become," she says.
The Royal Patches Organisation-under the Vitiligo Society of Kenya - that spearheaded the 2022 World Vitiligo Day, has been creating awareness. "We realised there was a gap, and by having 'vitiligans' together, we spread the awareness message from the front row seat," said Mr Tom Radido, the Secretary General of The Royal Patches Organisation.
The Vitiligo Society of Kenya estimates that there are about 1 million people living with the skin condition in the country, their main challenge being the high cost of treatment.
The Society's founder James Laban says patients can hardly afford the medication.
Drugs cost Sh100 per tablet taken daily for up to six months. "There is also micropigmentation, which involves inserting dyes in the patches and a small region like a square centimetre may cost up to Sh60,000," said Mr Laban, who advices those living with the condition to invest the money instead of using it on treatment as the problem is not fatal.
Just like albinism, vitiligo requires protection from the sun by applying sunscreens since the victims' bodies' immune systems attack healthy cells, producing the pigment and causing tissue damage. When melanocytes cells die, white patches appear.
Related Topics