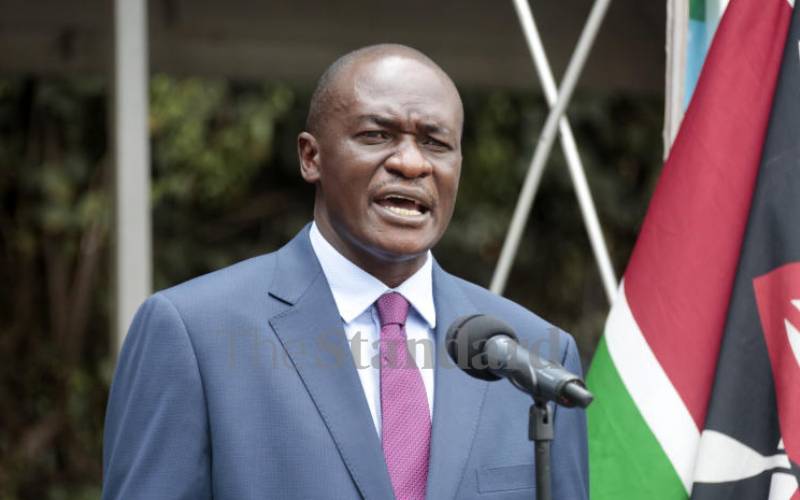 Acting Director-General for Health Dr Patrick Amoth has warned of rising flu, common cold and respiratory infections as the cold season of June, July, to August sets in.
In a presser, Dr Amoth called on Kenyans exhibiting flu-like symptoms to stay at home to avoid acting as super-spreaders.
"Kenya has two flu seasons. The first season starts, usually, in March and lasts until May. The second flu season starts around July and lasts until October or November. [But] You've seen the cold season has come earlier this time than is usually the case," said Amoth.
According to Dr Amoth, flu and the common cold, aside from Covid-19, whose number of positive cases in the country has increased in the past weeks, are highly transmissible.
Dr Amoth said Kenyans need to break the transmission to workers, kin and other persons in public spaces by keeping warm and avoiding triggering flu-like situations.
"If you have flu-like symptoms, please stay at home. Don't go to work and expose other people. Flu, common cold and Covid-19, like other respiratory tract infections, are highly transmissible," said Dr Amoth.
He added: "Avoid crowded places and gatherings. Keep hydrated, take plenty of fluids; water, tea and uji or whichever beverage you choose. Exercise regularly because it leads to the release of various substances that act against inflammation."
Dr Amoth went on to emphasise that it is beneficial to have social distance, good hygiene and nutrition.
"Maintain hand and body hygiene; wash hands frequently with running water and soap or use sanitisers. Also eat a healthy and balanced diet, especially one rich in fruits and vegetables, especially leafy vegetables that contain antioxidants which enhance high immunity," said Dr Amoth.
A message echoed by Health CS Dr Mutahi Kagwe who, on his part, urged counties to scale up surveillance efforts for any increase in cases presenting flu-like symptoms.
CS Kagwe said counties should revamp isolation facilities, secure adequate supplies of PPEs and prepare oxygen supplies to manage any surge in cases.
He noted that his Ministry has adequate Covid-19 rapid antigen test (RAT) kits and urged counties to test patients exhibiting flu-like symptoms for Covid-19 first.
"Kenyans are urged to exercise personal responsibility while attending [political] rallies. Politics is important, but there is nothing more important than your life… Wear a mask when in contact with other people or when in close, confined spaces, such as PSVs, offices, supermarkets and places of worship... Political, indoor meetings are super spreading at a very fast rate," said CS Kagwe.
Related Topics