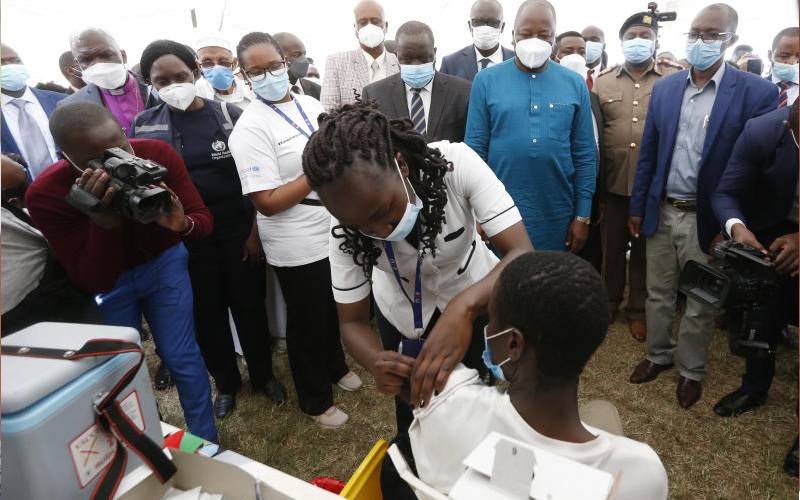 There has been a marked increase in the number of Covid-19 cases even as the majority of Kenyans perceive the pandemic to have been contained.
According to specialists, the rising cases are a pointer to a possible sixth wave.
In the recent past, the country has been recording a positivity rate of less than one per cent, with about 20 cases every day, according to data by the Ministry of Health.
The Ministry of Health has raised concerns over that false perception which has drastically slowed the uptake of Covid-19 the jab, with at least 10 million doses still unused.
Dr Willis Akhwale, Covid-19 Vaccine Taskforce chair, said the country is currently "in a period of low transmission…but misinterpretation of relaxation measures, affected the vaccination program along with the "false perception that Covid-19 ended."
Akhwale urged Kenyans to pick up the jabs as "currently, we are experiencing increased cases in other countries like China and Europe. To be prepared, we need to be vaccinated."
Dr Akhwale said the vaccines are not about to expire after the Kenya Pharmacy Board and World Health Organisation (WHO) reviewed and approved the period for the usage of vaccines.
The review saved at least one million doses of Johnson & Johnson doses, which were procured by the government in mid-December and were to expire in mid-April.
Before the review, the vaccines' approval was 4.5 months, which has been extended to 11 months, meaning they will expire in November "if they will not have been administered," said Dr Akhwale adding that "WHO continued monitoring the vaccines and found that the stability would go up to 11 months."
About 840,000 AstraZeneca vaccines expired this February and Dr Akhwale noted that the country does not have more doses of Astra Zeneca, with the ones in the storage being majorly Pfizer and Johnson & Johnson.
Vaccination status
So far, Kenya has received 28 million doses and vaccinated about 18 million people and Dr Akhwale said the government will work with counties to enhance community engagement and sensitisation on vaccination.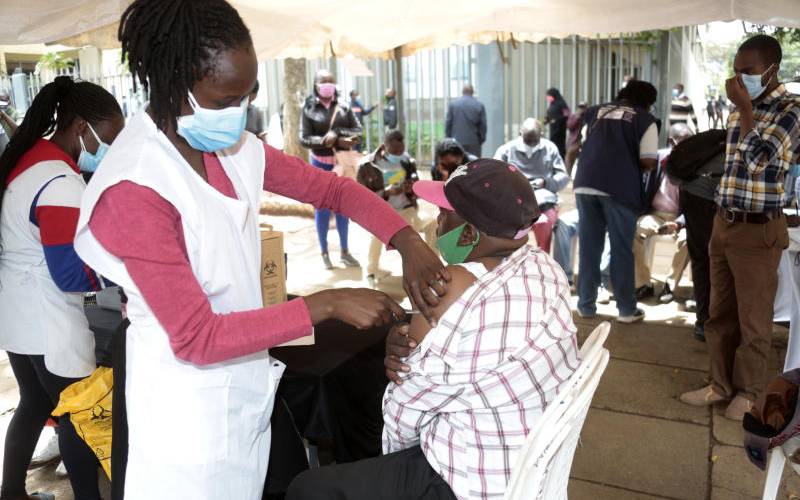 On May 9, at least 21 people tested positive for the virus, from a sample size of 2,560, with the country recording a positivity rate of 0.8 per cent.
Since the pandemic was reported, the country has reported a total of 323, 921 cases, and 5, 649 Covid-19 deaths.
Six patients were hospitalized, 169 in the Home Based Isolation and Care program, and two were on supplemental oxygen.
Dr Mercy Njuguna, a vaccine specialist, says "there has been a re-emergence of Covid-19 cases in China and now North Korea yet Kenyans are behaving as if the disease has been completely eliminated."
Dr Njuguna also lamented about low vaccine uptake in the face of Covid-19 vaccines expiring with millions of Kenyans still not vaccinated.
She said though many people have developed natural immunity, the disease is still there and can easily kill especially the unvaccinated group.
"It is interesting and equally intriguing that vaccines are available and are about to expire and some Kenyans have not seen it wise to protect themselves," she said.
Many people are discouraged from getting vaccinated against Covid-19 owing to negative information and fear of the side effects.
Even with the current low vaccination, experts have revealed that high infections and uptake of jabs by the population might slow down the severity of infections and fatality in case the country experiences a sixth wave.
New variant
The Co-director Center for Epidemiological Modelling and Analysis and Associate Professor, Washington State University, Prof Thumbi Mwangi said in case the country records a peak, it might be as a result of either a new variant or wane of vaccines.
But if reported, the peak might not be severe like that witnessed with Delta which was fatal and omicron that was widespread.
"A peak might be due to a new variant, which escaped the immune system such that even the vaccinated population might pick it, like the case in Europe and China. Vaccines are also not a long life, an issue that might contribute to a surge of cases," said Prof Mwangi.
Prof Julius Oyugi, director of research, University of Nairobi Institute of Tropical and Infectious Diseases said omicron has been mutating, though the variants are not as deadly as the Delta variant.
The researcher noted that if a sixth wave is reported, it will not be severe as previous waves, as individuals have developed immunity.
"The more people who are infected, the more people who develop immunity. I am foreseeing the virus will be like the influenza virus, where once in a while a number of people get infected, but the rest of the population is protected," he said.
However, Prof Omu Anzala, a virologist in the department of medical microbiology, College of Health Sciences, University of Nairobi observed that it is hard to predict the magnitude of infections, in case the country records a peak, in the near future.
"People can only predict, should there be a new variant, we do not know how the variant will look like, we do not know how different nor similar it would be with the circulating variants," said Prof Anzala.
Anzala warned, "It is not one variant that is in circulation, but the previous ones including omicron. We must therefore predict with precaution."
Related Topics