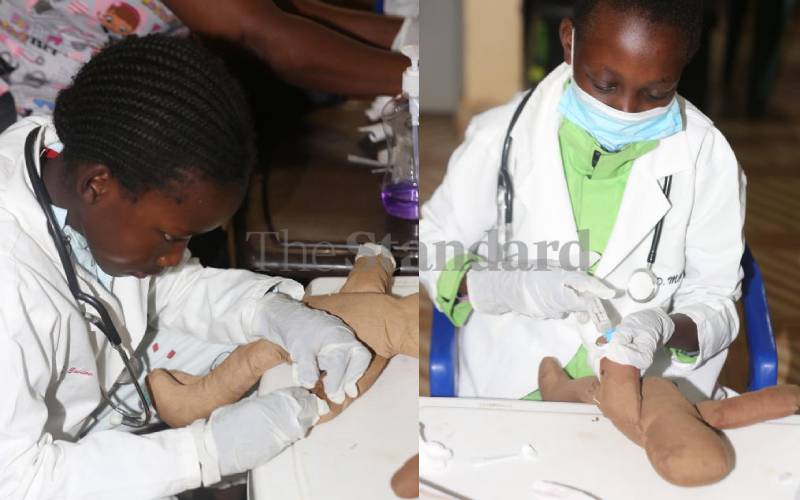 Children fear hospitals and the attendant pain of treatment and injections — which sees most parents tightly holding their children at the sight of the syringe.
To dispel such fears, the Moi Teaching and Referral Hospital (MTRH), in Eldoret has adopted 'medical play' which involves giving children medical items to play with, enabled them to express their feelings and hence cope with treatment.
The children are also taken through the hospital to allay anxiety and fears associated with hospitalisation. They are encouraged to role play as doctors with dolls acting as pediatrics in dire need of medical care. Under close watch by child specialists, the children are instructed to treat the 'patients', for which they wear stethoscopes, dust coats, scrubs and gloves.
They also fix the dolls with branula, for easy administering of fluids and oxygen, while those who are not chronic are injected directly.
Ms Mary Mwongela, a child specialist, explains that "majority of the pediatrics have stayed in the hospital for long, and pricking them with needles can be traumatising. As a mitigation, branula are fixed to administer medication, drain fluid and provide oxygen."
After the injection process, they remove the branulas and place the sharps in a safe box for safety purposes. The pediatrics administer tranexamic acid to stop bleeding in some patients, caused by injection. During the play, the children all dressed in dust coats tease each other on management of patients. Some are criticised for being slow in responding to emergency cases.
Ideally, the play should make children realise that doctors and health professionals are not as bad as they think. As they undergo the medical play, the children understand procedures that they are expected to undergo, and the side effects.
Ms Mwongela says medical play relaxes the child's muscles, making it easier for a nurse to inject them.
"Children fear needles more than pain itself, a reason why having them play with the needles prepares them psychologically to be injected," she says.
She believes medical play makes it easier for doctors to have the procedures done and even the fear in children goes gradually fades, making them take treatment positively.
The play also help children diagnosed with chronic diseases to express their feelings and cope with treatment. Those undergoing chemotherapy are supplied with chemotherapy literature, where they learn what the procedure entails and expected side effects. Those requiring surgeries are also taken through medical books, which explain what a theatre is, the kind of equipment used there with explanations on side effects of surgery, for instance bleeding, which can necessitate blood transfusion.
Children who fear further injections are reluctant to inject their dolls and it is through such feedback that medics detect anger for better ways of encouraging them to undergo treatment.
"Treatment of cancer in children is incredibly scary due to side effects attributed to chemotherapy," says Ms Felister Wambeyi, a child specialist. "We, therefore, explain to them about hair loss, why they lack appetite, weight loss and why they develop blisters on the tongue among other side effects."
At the cancer unit, children are given beads of courage for perseverance says Wambeyi because "at such tender ages they do not understand the disease. We encourage them with gifts and celebrating each milestone they make."
For example, after every chemo session, there is a cake for the children, who have at least 17 child specialists offering support services. Outdoor games like soccer and biking and activities including singing and dancing keep them engaged, besides providing relief from pain.
Those in school, but on admission are taken through education while on treatment.
Dr Ahoya Ademi, acting director, Directorate of Child Health and Pediatrics, says medical play creates awareness about children's conditions and treatment from pneumonia to chronic conditions like leukemia and kidney failure besides making a hospital less stressful for children.
"We engage children in activities that are less like home or school to keep their lives as normal as possible, that greatly helps in healing process," he says.
Following high cases of paediatric cancer at MTRH, Shoe 4 Africa Foundation founder Toby Tanser last December initiated the construction of the Sh283 million Julie Anne Parry Pediatric Cancer Hospital, the first such in the region. The wing will only handle cancer patients on treatment, reducing risk of them being infected due to their low immunity.
Related Topics