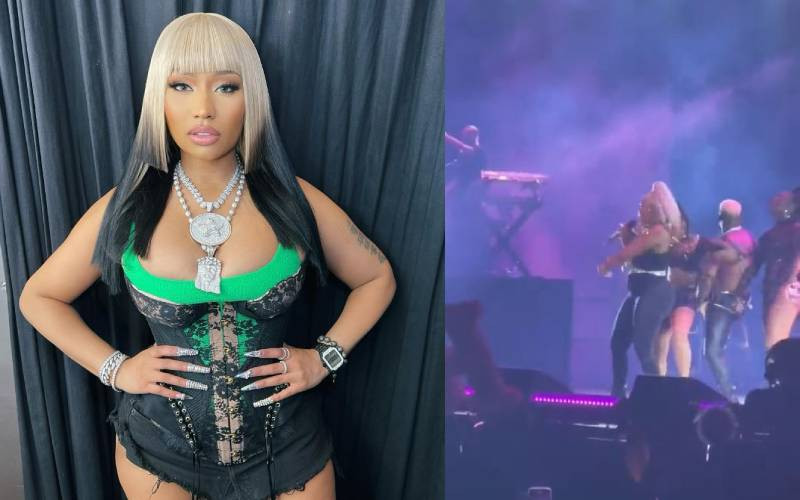 Rapper Nicki Minaj has been the talk of the town since taking to the stage at the Essence Festival of Culture 2022.
The 39-year-old rapper took to Instagram Live on Saturday night to chop it up with her fans ahead of her Sunday performance at the London's Wireless Festival. However, mid-way through the session, Minaj, real name, Onika Tanya, found herself setting the record straight about a rumoured pregnancy.
"Am I pregnant?" asked Minaj with wide eyes while tackling a few live questions from her fans.
"Oh, I did mean to tweet this; I'm not fat, y'all, I'm pregnant," said the rapper with a chuckle, adding, "Yeah, I meant to tell y'all, I forgot."
Fans instantly began congratulating Minaj on the big news, with one user writing: "Congrats! Another one!"
Minaj, clearly amused by the responses, went silent before putting on a serious face and saying, "Oh wait, did I say it wrong? I'm sorry. I think I said it wrong. I meant to say, 'I'm not pregnant; I'm fat.'
The Do We Have A Problem Here rapper burst out a laughter and apologized for confusing her statements.
"But thanks, guys, for all the congratulatory message. Oh my god," said Minaj.
View this post on Instagram
A post shared by The Shade Room (@theshaderoom)
Minaj's debut festival performance in years at the Essence Festival sparked pregnancy rumors after a TikTok user posted a clip of Minaj dancing to Did It on 'em and captioned, "The way Nicki came on stage pregnant and still killed it up there."
The video went viral amassing over 4.4 million views.
However, during the pregnancy debate on Twitter, others countered, saying the rapper had weight gain brought about by motherhood.
Nicki and her husband, Kenneth Petty, welcomed their first child together in September 2020, about a year after getting married.
Related Topics