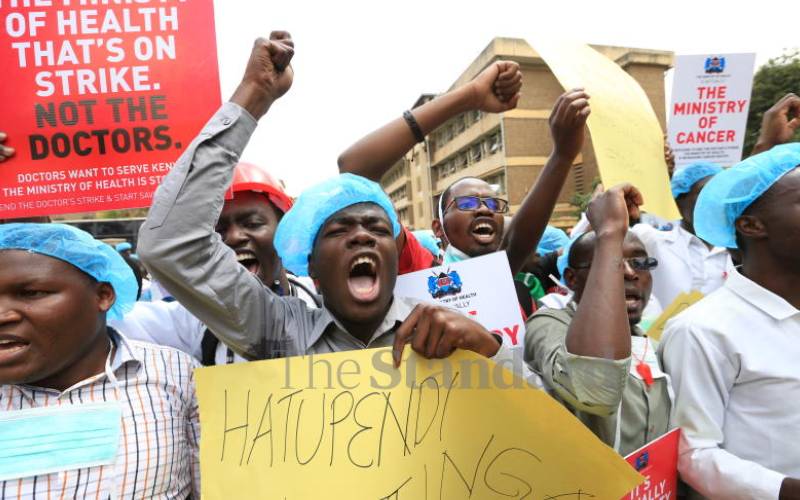 Healthcare workers now want the government to act on policies and recommendations that have been neglected over the years.
Speaking during the last day of the Kenya Health worker's annual convention, the secretary-general of the Kenya Union of Clinical Workers, George Gibore said that since devolution, many changes have taken place in the country, but much remains to be desired in the health sector.
"We signed a treaty in 2013 which adopted that health workers are very important in service delivery. We agreed that we don't have enough numbers and we needed to work on that."
The annual convention brings together health care workers, governments, and partners to discuss key issues affecting the health workforce and provide long-lasting solutions which are key in the implementation of Vision 2030.
Despite devolution, the health sector has witnessed several strikes across the counties.
According to the chairperson of the Health Unions Caucus, Peterson Wachira, majority of the strikes have emanated from human resource for health (HRH) management challenges.
"There is need for development of proactive policies and risk management plans that nurture systems ability to capacity build, retain and motivate its human resource."
The effects of the Covid-19 pandemic spread fast across sectors. Healthcare workers were not spared and reports show that in Kenya as of November 2020, some 30 healthcare workers, including 10 specialist doctors, died from the disease.
In his address, the secretary-general for Kenya Medical Practitioners and Dentists Union Dr Davji Atellah said the frontline workers faced the grim realities of the pandemic.
"Thank you for helping those in need and risking your own life to make sure your patients receive the best treatment. You are truly heroes with hidden identities."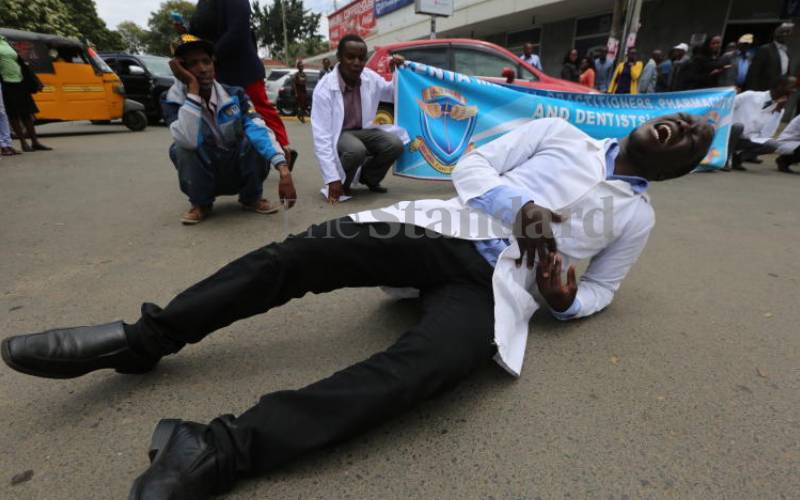 The health sector is faced with a myriad of challenges key being; burnout, inadequate human resources, delayed salaries, lack of promotions, erratic and unprocedural dismissal of healthcare workers.
At the same time, Kenyans who depend on the few health care providers suffer a poor health system and incur out-of-pocket spending.
"Almost 45 per cent of Kenyans are seeking healthcare in the private sector. The social health insurance we know is still a small contributor to health management plans of 13 per cent and if this is the vehicle that will deliver the universal health coverage then we need to boost it," says Dr Daniel Mwai a Health Economist.
In 2001, African Union member States agreed to allocate at least 15 per cent of their government budgets to health under what is formally called the Abuja Declaration. Achieving this has been a tall order. In the latest summary report in 2021-2022 Kenya prioritised about 11 per cent of its budget on health care, a value health care providers still feel is low.
According to Esther Somoire the County Health Executive of Kajiado County, there is a very huge gap of what the county needs and what the county can afford.
Dr John Kihama from the Kenya Health Human Resource Advisory Council says partnerships with other agencies will help solve some of the pertinent issues of gaps in the health workforce.
Dr Lucas Nyabero the CEO of Pharmaceutical society of Kenya says healthcare workers had to change their strategies.
"We have to look at things differently, let us engage in messaging, and make sure that we are the best so that no one can question our professionalism."
Related Topics