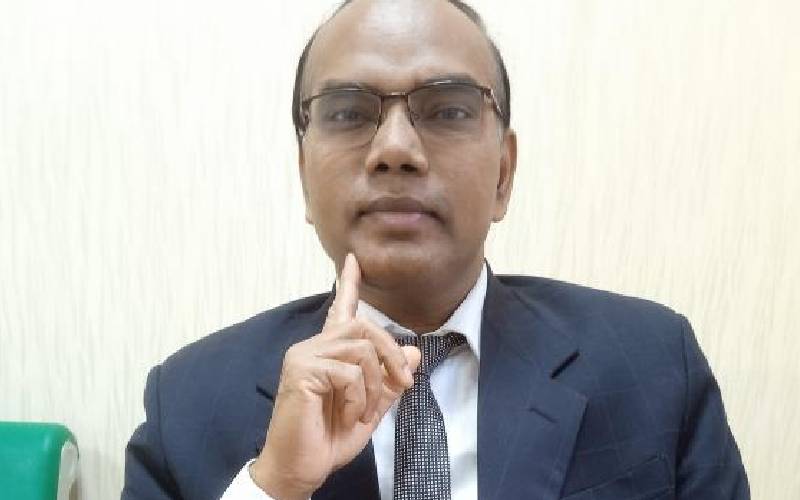 At 8am on January 5, an eight-year-old boy looking frail was wheeled to the main operating theater.
Anxious, his parents stared at him, as he was welcome by the surgical team, ready to take him through a procedure they termed complex.
Anis Jehow Yusuf, from Wajir County had kidney failure. His health had deteriorated, despite him having been on dialysis.
After about five hours, there was jubilation at the unit-history was made. Yusuf was the youngest kidney patient to undergo successful kidney transplant in Kenya.
Before the operation, he had visited various hospitals, even sought treatment in India, unsuccessfully.
Amid a team of 10 doctors who were hands-on, was Dr Sanand Bag, a senior urologist and kidney transplant surgeon who was the lead surgeon.
Though to Dr Bag, kidney transplant is a normal procedure, it is complex in children due to high chances of recurrence of the disease, rejection and complications.
"I am happy. This is a breakthrough documented in books of successful transplants that I have done," Dr Bag narrated after the procedure.
He added, "The boy's life was dependent on me. Joining blood vessels was technically difficult, he had low pressure. As he stared at me, I prayed unto God to see us through."
Yusuf is not Dr Bag's successful surgery-the 44-year-old, born and raised in Eastern Province of India, is among few celebrated doctors in the country and globally, having conducted more than 2,000 surgeries.
Surprisingly, as he folds his hands to give a smile to patients with kidney failure, being a doctor was not his dream career.
"I went with a friend to apply for a course, and we decided to list medicine among the courses, and luckily, I secured a chance," recalls the father of two daughters.
Dr Bag enrolled at Veer Surendra Sai Institute of Medical Sciences and Research for Bachelor of Medicine, and Bachelor of Surgery in 1999.
In 2004, joined Postgraduate Institute of Medical Education and Research (PGIMER) Chandigar for surgical residency.
It was during surgical training that he was touched by the plight of kidney patients on dialysis.
"Persons on dialysis do not have quality life, and their survival chances are minimal. If they miss one or two sessions, they get critical," says the specialist.
It is a patient's smile, one whom one of his professors' managed to succesful perform a kidney transplant on that inspired Dr Bag to specialise in urology.
"I wanted to be that person who restores the smile," he says.
In 2005, he enrolled for renal transplant surgery course at PGIMER, and later MCH (urology) at the same institute.
Further, in 2010, he was a fellow and undertook renal transplant surgery, followed by robotic surgery training at Roswell Park Cancer Institute – Buffalo, New York – USA, in 2016
To sharpen his skills, he also enrolled for da Vinci System Training, by Intuitive Surgical, USA.
"I took more than 10 years of my youth to study complications of the kidney, because I did not want to see patients in anguish,"
Dr Bag has worked in various hospitals in India, before moving to Mediheal Hospital in Eldoret.
The ages of patients he has operated on range from four to 74 years, with the youngest, in Kenya, being eight years.
Among successful cases is that of a fourteen-year-old who had scars in the abdomen after at least 18 surgeries..
He was presented to Dr Bag, after having visited several hospitals in Kenya and India.
"The most challenging surgery was of this child who was bleeding uncontrollably because his nerves were affected and had urinary infection. I smile whenever I see him during review," he recalls.
Dr Bag is motivated by success.
"Imagine one person who is in Eastern, Garissa, Mandera or Mombasa, areas that are very hot, and they are very thirsty, because of weather, but they cannot take water, because the kidneys are not producing urine.
If they take water, the lungs will get affected, body will be swollen, and the heart will be affected, they will develop breathing problems, ending up seeking admission in ICU.
Globally, at least 10 to 14 per cent of the population are at the risk of developing kidney failure, and chronic kidney disease due to increasing hypertension, and uncontrolled diabetes.
Whereas health experts advise on transplant, Bag observes that in Africa, there are high risks of organ rejection, due to failure to adhere to or default on immunosuppressants.
According to him, at least 30 to 40 per cent of kidney patients are at high risk because they do not do have adequate dialysis.
Despite his work in medical spaces speaking big, Dr Bag has no ambitions of joining a leading medical institution- his interest is to treat the sick.
"I do not have ambitions, but if God gives us responsibility, we shall pick and serve,"
He reiterates, "Whatever comes our way, we do it, and I do not think any work is smaller or bigger. Whatever duty comes to us, if we do with our heart and brains, we try to give 100 per cent, God will reward us"
"I just wanted to be a good doctor and a good human being. I am happy with whom I have become"
Majority of patients he observes would travel to India, meeting high cost of treatment and travel expenses, with majority dying before receiving care.
For successful operations, he has trained a team of 20 people at the facility, whom he works closely with.
However, he pleads with the government to subsidise charges for kidney transplant to be accessible to more Kenyans.
Though he has a tight schedule of restoring lives, Dr Bag listens to music during his free time and sips a cup of coffee with friends.
Dr Srinivasa Murthy, a senior nephrologist, testifies that Dr Bag's experience is among key reasons to their successful kidney transplant.
"I am so confident with Dr Bag, it is like child's play to him. It has become a routine procedure," says Murthy who has worked with Bag, for more than a decade.
Related Topics