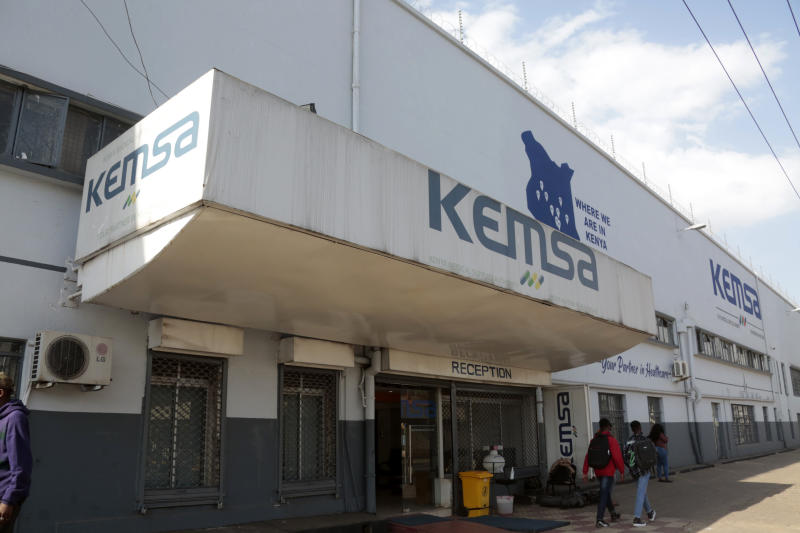 Kenya Medical Supplies Authority (Kemsa) is staring at a Sh1.5 billion loss because of dead stock.
The authority yesterday told MPs that some of the Covid-19 equipment in its store cannot be sold since some of the stock had either expired or was not sellable.
Kemsa acting Chief Executive John Kabuchi revealed that expired stock are estimated at Sh171.9 million while another set of stock worth Sh120.6 million were not sellable.
Additional stock worth Sh1.2 billion have short shelf-life and are set to expire in the next six months.
Mr Kabuchi made the disclosure when he appeared before the National Assembly's Health Committee, yesterday.
He appeared before the committee alongside Kemsa board chairperson Mary Mwadime.
The committee met the officials to deliberate the ongoing reforms at the authority that was plagued by corruption allegations.
In a document tabled before the committee, Mr Kabuchi told the MPs that the authority was still in possession of Covid-19 equipment valued at Sh2.6 billion.
"At the end of the day, we have Sh2 billion items that is available for sale. From the viable stock we project to sell stock worth Sh800 million by December 2022 if we sell at the current market price," said Mr Kabuchi. He said the authority had dispatched its team to the engage the counties to buy the items.
Committee Vice Chairman Joshua Kutuny said the country risk losing more money in the dead stock following the lifting of some of the Covid-19 restrictions, including wearing of face masks in public places.
"Do you think the Cabinet secretary's move to lift some of the restrictions will put you in jeopardy?" asked Kutuny.
The officials assured the committee that the authority was pulling all the stops to sell the remaining viable stock.
They said Kemsa was already engaging county governments and public health facilities to buy some of the Personal Protective Equipment.
Ms Mwadime said they had resorted to sell at market price to minimise losses.
"To make sure the loss is made to a minimum level, we reached out to all health facilities and the response is positive. We expect to see reduction in the short dated stock and save the Exchequer."
Related Topics