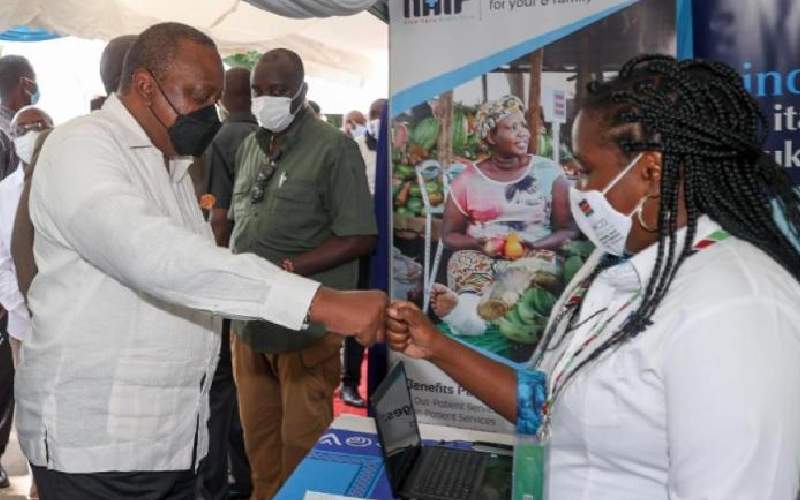 Workers have rejected a proposal by the National Hospital Insurance Fund (NHIF) to deduct higher contributions from members in formal employment.
Through Central Organisation of Trade Unions (Cotu), the workers are also opposed to a proposal by the national insurer to stop paying for treatment of chronic diseases such as cancer and diabetes in private hospitals.
In the draft National Health Insurance Fund (Contributions) Regulations, 2022, Kenyans earning over Sh99,999 will be contributing 1.7 per cent of their gross income to NHIF.
The regulations published by Health CS Mutahi Kagwe seek to change the current bands, where maximum contribution is Sh1,700.
In a statement, Cotu Secretary General Francis Atwoli said the workers' union was not consulted on the proposed changes. The union said it was surprising that the state had reneged on its promise to provide funds for NHIF to meet cost of Universal Health Care (UHC).
Cotu has been taken aback by the move to hike NHIF contributions since in its own submission the government, through the Ministry of Health, said they would give funds to NHIF to meet the costs of UHC," said Atwoli.
Atwoli said it was the mandate of government to ensure affordable and quality healthcare for all through budgetary allocation, not through higher deductions from workers.
"If government is strongly of the view that Kenyans should directly contribute to the quality and affordable healthcare, Cotu (K) demands that the government, through Parliament, forms another body to wholly focus on Universal Health Care," said Atwoli.
The union said that by changing the mandate of NHIF to be a fund that provides healthcare for all, the state was essentially disbanding the fund that was established by workers for provision of medical insurance cover.
"By shifting the focus on NHIF to be about maximizing on the funds they collect rather than ensuring prudent use of the fund to its current members, the government is inviting cartels within the health sector to mismanage these funds," added Atwoli.
The proposed regulations, if passed, will increase monthly premiums for earners of more than Sh100,000 beyond the current flat rate of Sh1,700. For instance, a person earning Sh150,000 will see their premiums rise by 50 per cent to Sh2,550 from the current Sh1,700. Those earning Sh200,000 per month will contribute Sh3,400 — being double their current contributions, while those earning Sh500,000 will see their premiums rise five times to Sh8,500.
Increasing premiums for top earners looks set to raise income for NHIF, which is expected to lead implementation of the UHC programme. Kenya National Bureau of Statistics data on distribution of wage employment and monthly income shows there were 79,909 Kenyans taking home more than Sh100,000 in 2020 compared to 78,042 in 2016.
Related Topics