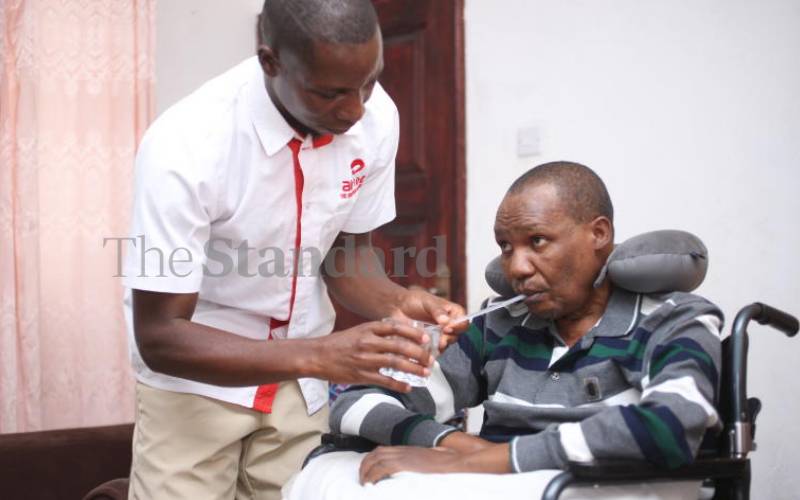 Before 2018, life was normal for the family of Stephen Kuria, who managed a modest stationery business in Gilgil town. His granddaughter added to the family's joy - but this was lost on account of a rare nerve condition.
The condition is so rare that less than 50 cases were recorded in the 10 years to 1988.
"After many consultations," his wife Jane Wanjiru says, "we have been told he is suffering from motor neuron disease. They call it ALS."
ALS stands for Amyotrophic Lateral Sclerosis, a degenerative muscle disease which presents in such a way that health professionals would mistake the swelling on his leg for gout. However, towards the end of 2019 Kuria would just trip and fall, says Wanjiru.
"He then started limping and using crutches."
Kuria can longer stand on his own and from using a walker he now depends on a wheelchair and his wife and caregiver, Ronald, have to be there 24/7.
"It has been a challenge but we are pushing on," explains Wanjiru adding that from consulting neurosurgeons and General Practitioners, they have been told that ALS is a disease with no known cause. Wanjiru traces her husband's medical woes to the 1998 US Embassy bombing in Nairobi which left over 250 dead and over 5,000 injured.
She then worked at the Cooperative House along Haile Selassie Avenue next to the US Embassy. The bomb blast left her with an injured eye. Her husband was then in Eastleigh when the news broke and instead of using his car, Kuria walked to town looking for Wanjiru.
"He did not find me that day as I had been rushed to the hospital until the following day," she recalls. "From that time he started experiencing the issue of pressure and hypertension; it was shocking to him." Most doctors prescribed a drug she says is expensive. Although "it does not cure, it slows the progression of the disease. A pack taken twice daily costs Sh364 a tablet and he needs 56 tablets a month in addition to Sh20,000 hypertension drugs and other costs like paying the caregiver."
The Kurias have since closed their stationery business as it could not sustain the family nor pay its own bills. Some of the stock now lies idle in the store.
A fundraising in 2020 gathered enough for them to afford medication for a whole year, pay the caregiver and even buy food. But the resources are now depleted.
Wanjiru says the family has no more property to sell after offloading most of their assets.
The Kurias have two children - Njenga and Nungari Kuria - who resigned from her job to take care of her father when his situation worsened in 2019. At the time, he couldn't get out of bed and his feeding got slower. While Kuria could talk in the early days of the disease, it has slowly become a challenge as "you can see he is trying to tell us something and we are trying to understand but we don't communicate," says Wanjiru gesturing towards her husband.
Hospital visits would later lead her to surf the Internet for more of what the doctors had told them, which was how she learnt ALS was the same illness that famous physicist Stephen Hawking suffered from.
Nungari has since learned that besides physio and monitoring her father, his condition also needs a specialised wheelchair and IGIS, a communication device.
Her online engagement has led to her to a company called Braincell, which has been carrying out stem cell research which has shown promising results for ALS.
"Through Twitter, I was able to interact with those in the clinical trial and phase 2 was completed in December last year with most of the patients showing reversal of the symptoms they had," says Nungari. "I wish I could get him on that clinical trial as some symptoms would be reversed including communication, speech and walking."
ALS is so rare in Kenya an internet search "brings you a cargo company in Kenya at Wilson airport," says Wanjiru. "There are no support groups in Kenya that I have seen. I have thought of teaming up with my cousins to start one and try to locate families affected by this condition.
The most frustrating thing is Kuria's inability to even enjoy his favourite meals including githeri and "we now make soft foods with soup," says Wanjiru. "It takes time for him to swallow because I think the jaws are not able to chew properly. Fruits are also blended and he drinks using a straw" and they cannot use a cup to feed him in case he chokes.
Visits to specialists have only added the escalating financial costs even as they continue with physiotherapy.
"We massage his whole body three times a week so that the muscles don't die; and because he suffers from hypertension from 1998, we monitor his pressure," says Wanjiru.
Terminal illnesses are so costly even health insurance firms do not agree to cover Kuria. Nungari says that specialists have warned that her father might at some point not manage to breathe on his own or even eat.
As we continue with the interview, I notice Kuria is crying and the caregiver steps in to wipe his teary eyes. When his grandchild appears, he lightens up and even though he cannot hold her, speak to her or play with her as they used to, he knows how much she loves him as she hugs him from the back.
Wanjiru explains that he has become very emotional and would often feel happy and cry, feel sad and cry.
"He hears everything and understands but he cannot express himself. He gets frustrated and we also get frustrated as it takes a bit of time for us to communicate."
She adds: "I feel like he is handling this with a lot of grace. He is still the head of our family and it hurts seeing someone who supported you need your help and you are not able to do much due to financial constraints."
His son Njenga recalls memories with his football loving father, having nyama choma after watching matches but now "you cannot know when he is celebrating or when he is sad."
The Kurias have been affected emotionally, financially, physically and "it has affected all of us including his granddaughter whom he used to play with, communicates with now does not understand what happened."
Dr Judith Kwasa, a consultant neurologist explains that ALS has no known causes and "is a progressive disease which affects the specific cells permanently and it gets worse over time. The drugs we use are to slow down how fast it is creating symptoms like muscle weakness and drooling."
ALS affects people from 60 years and above but the Kenyan dataset shows a slight variation. A published study of over ten years (1978-1988) in Kenya, revealed that only 46 cases were noted.
"However, our peaks were sort of too early as it affected people in their 30s and 50s," says Dr Kwasa.
Being a rare condition makes it had to roll out advocacy programmes due to more pressing diseases affecting a higher number of people - like diabetes and hypertension.
Related Topics