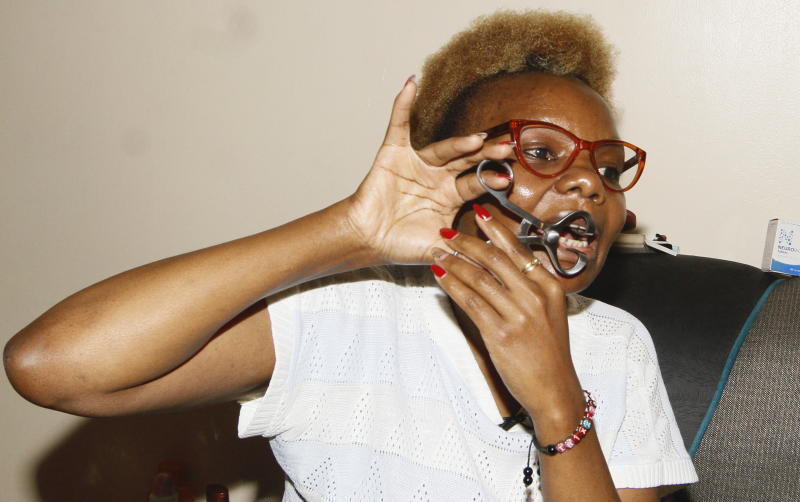 Apart from a scar on her upper lip and her intonation, nothing else tells you about Teresia Njeri's painful battle with a type of cancer that saw part of her jaw removed.
It has been almost two years of struggling for the 35-year-old nursery school teacher who was diagnosed with Adenoid Cystic Carcinoma. The cancer is relatively rare and most commonly develops in the salivary glands.
It is the simple things like opening her mouth to yawn, chew or smile that tell her story on cancer. Since April 2020, Njeri's life has changed completely after she had surgery.
For instance, she shares that her food must be blended, or sometimes she will have to use assistive medical objects to open her mouth.
When The Standard caught up with the mother of one at her home in Mihang'o, Utawala, she narrated how a sharp pain in her neck turned out to be a life-changing experience.
"I woke up one day with a stubborn pain at the back of my neck but I thought I had strained my neck while sleeping. I took painkillers but the pain escalated and later at night fluid started flowing from my nose. I didn't know what was going on," said Njeri.
After doctors at Mbagathi Hospital recommended a CT scan on her head, Njeri had to follow it up with a biopsy at the Kenyatta National Hospital. The tests showed cancer had affected part of her jaw, her palate and was aggressively spreading to her mouth.
"I went to the Ear, Nose, and Throat section and the medics said I had a tumour, but I didn't have any other symptom apart from the pain. Even when I was booked for a biopsy at KNH cancer still did not cross my mind," she said.
The doctors broke the news to her a week later in the presence of her family. She says she thought it was a death sentence.
"It was not easy for any of us to accept the fact that I had cancer. What scared me more was the medics' instructions that I had to urgently undergo more tests on my chest, eyes, and stomach to know the areas affected by the tumor," Njeri added.
On April 16, 2020, she was scheduled for a maxillectomy, a surgery where doctors remove part of the upper jaw bone. The procedure meant her palate and left part of her upper jaw were removed, leaving her with an opening between the oral and the nasal cavities.
The procedure compromised Njeri's ability to eat, yawn and speak. She had to use a palatal obturator to close the opening in the roof of her mouth.
"I never knew that would be the last time I would chew. My palate had been affected by the tumour and it had to be removed. I can't speak without the metal palate," she said.
Besides the surgical palate that she has to clean routinely, Njeri also has a mesh-like surgical cover screwed in her mouth to replace part of her jaw that had been removed.
"I have a foreign body. I cannot brush my teeth, I cannot chew, and smiling was a problem. The pain was unbearable. I was wondering how I was still alive," she narrated.
Njeri has undergone 35 radiation sessions that saw her weight plummet from 52 to 22 kilograms.
Her recovery journey was faced with bitterness and depression, as well as rejection from friends and some relatives. Njeri's self-esteem was also affected and she attempted suicide four times.
"I hated myself because no one understood my pain. I tried killing myself four times. I remember mixing all the medicines but still I didn't die. I even forgot I have a daughter but my family has been supportive," she said.
She however has to live with foreign objects in her mouth.
"Sometimes I wake up and my mouth fails to open. I have to use medical scissors to open it. I had to adjust to particular types of foods and they have to be blended. Sometimes I get bacterial infections but this is permanent and I have to live with it," said Njeri.
"I have accepted the reality that this is my body and I have to bear the pain that comes with it. I have accepted that this is my battle and I thank God that he gave me a second chance. I am not yet cancer-free because doctors say there is a residue and I believe it will be cured," she added.
Njeri finds solace spending time with cancer patients at LadyHope Wellness Institute, an institution that supports cancer patients. At times she resorts to crochet and doing Tiktok videos to console herself.
"I wish I could find anyone who has a similar problem to mine for moral support. I am jobless and I cannot go back to teaching because my voice was affected," said Njeri.
Her recovery saw her draw a tattoo with a sign of cancer awareness with the date she underwent the surgery written in roman numbers.
"I value the tattoo so much because it reminds me of the day that changed my life. It reminds me that I have to go for what makes me happy. The pain I have gone through changed me completely," she added.
Related Topics