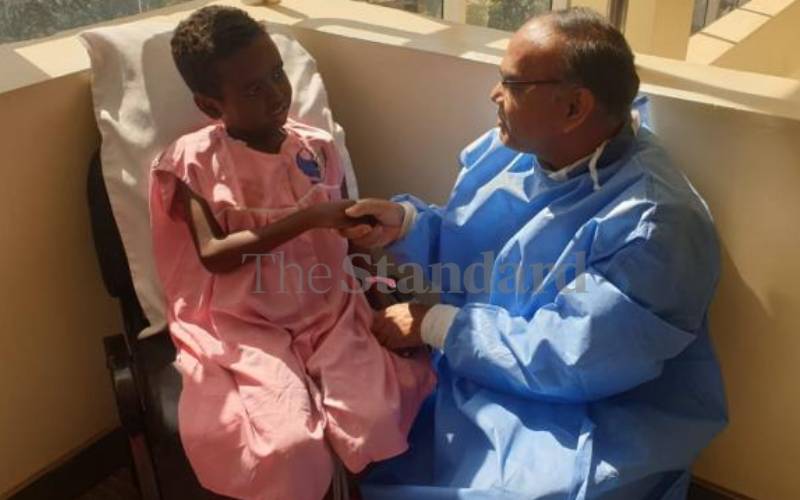 It was a historic moment at Mediheal Hospital in Eldoret after a successful kidney transplant on an eight-year-old boy -the youngest child to have had such a surgery in Kenya.
The surgery took five hours and was undertaken by a team of 10 medics.
Anis Yehow Yusuf, who hails from Wajir County and lives at Kapsoya, Eldoret town, had been ailing from kidney disease for the last two and a half years.
Due to this, Yusuf had presented with high blood pressure, headache, seizures, recurrent kidney stones and infections.
"It is unbelievable that my son has successfully been operated on. This is God's making," said an overjoyed Abdia Abdi, Yusuf's mother, after the surgery.
Before being operated on, Yusuf had visited various hospitals. He at one time even sought treatment in India.
Two years ago, he underwent kidney operation at a Nairobi hospital but his health did not improve.
Also, eight months ago, he underwent brain surgery to remove a clot in the brain a condition that caused him to suffer seizures and persistent severe headache.
"My son began ailing at six months. He has since been getting weaker," narrated the mother.
Six months ago, he was referred to Mediheal Hospital, where he was reviewed by a team of doctors, including Dr Sanand Bag, a senior Urologist & Transplant Surgeon and a senior nephrologist at the facility advised kidney transplant.
Yusuf's 21-year-old cousin donated the kidney for transplant.
Dr Bag explained that kidney transplant in children is a complex procedure due to high chances of recurrence of the disease, rejection and complications.
"Kidney transplant is a routine procedure for me, but every case is stressful more so in children because you never know what will happen since the blood vessels are so tiny," said Bag, who has conducted more than 2,000 kidney transplants.
The youngest child he has operated on was four years old, in India.
"We prayed to God, and He was kind enough to successfully take us through the procedure" said Dr Bag.
Dr Bag noted that when an adult kidney is put inside the small belly of a child, there is no space to close the abdomen and if closed tightly, the pressure inside the abdomen will be high so that the kidney will not be fixed properly.
"The surgery itself is demanding and complex in terms of the small size of the child, the belly where the adult kidney is put is also small," Dr Bag said.
Joining the blood vessels is technically difficult as the child's blood pressure is low, and cannot sustain the blood supply to the adult kidney.
In case of bleeding during the procedure, blood vessels and the kidney will be affected.
Alternatively, if the kidneys function properly, there will be a lot of urine produced.
"During the operation, blood pressures must be maintained with high fluids, a procedure that is very challenging," he said.
Dr Vaijnath Mathavle, chief anaesthesiologist for kidney transplant said, "I am very happy because kidney transplant in such a young child is delicate. The patient had only 1.5 litres of fluid that had to be maintained to save his life."
During the procedure, the donor underwent laparoscopic surgery which is less painful and has quicker recovery time.
After retrieving the kidney, it is kept in ice, to slow metabolism of the tissue, so that it can stay outside the body for a few hours.
After the intensive procedure, Yusuf's kidney began producing about 800 to 900 ml of urine per hour. He was then admitted to ICU before discharge after six days.
"I am grateful because the boy is in a stable condition. I am happy that his life will be restored," observed Dr Bag.
He said dialysis affects growth in children, their haemoglobin is low and they cannot engage in sporting activities well. The children also suffer from psychological anguish because they cannot keep up with their peers.
According to Dr Bag, the solution to kidney failure is organ transplant as dialysis is a temporary therapy that keeps patients alive.
"Kidney failure involves all organs of the body because of fluid overflow and will affect the lungs, they risk high blood pressures, oxygen will be less, haemoglobin will be less, and such will result in many complex problems that dialysis cannot take care of."
Related Topics