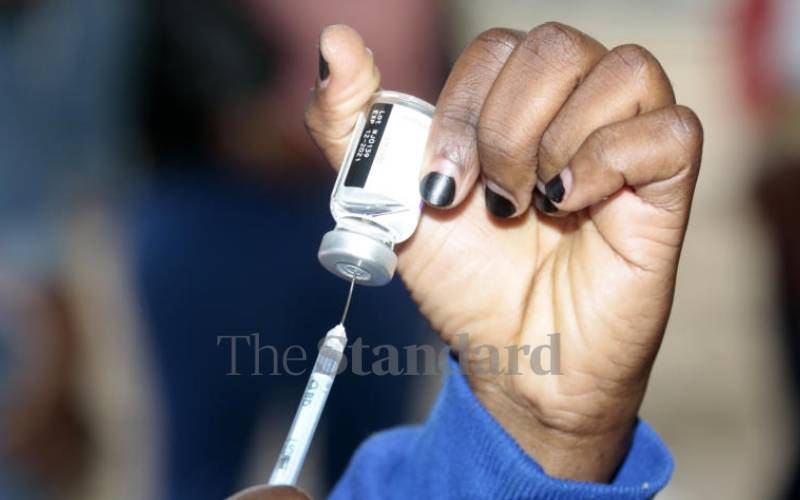 Scientists have reassured Kenyans of safety in mixing of Covid-19 vaccines, as admission of booster shots picks up.
Moses Masika, a virologist at the KAVI Institute of Clinical Research, explained that mixing vaccines, scientifically known as heterologous, is safe, as long as they are approved by the World Health Organisation (WHO).
Mixing of vaccines entails taking one type Covid-19 jab for the first dose then a different type for the second or booster shot. "Mixing of vaccines has been used before, and our knowledge of how vaccines work supports a strong case that mixing would work," explained Dr Masika.
He added: "Mixing is expected to lead to a more robust immune response, eliciting a response that is broader and longer lasting than using one vaccine type".
President Uhuru Kenyatta announced a roll-out of booster vaccines on January 1.
According to the ministry's roll-out plan, people who were injected with Oxford/AstraZeneca as the first jab will receive a booster of either Moderna or Pfizer-BioNTech shots.
Those who got Johnson & Johnson will receive Oxford/AstraZeneca, Pfizer or Moderna. As of January, a total 10,572,187 shots had been administered, of which 6,030,173 were partial vaccination, and 4,468,661 fully vaccinated. About 49,393 booster shots have been administered so far.
Masika said scientists were still collecting data on the same, though several studies had shown that mixing and matching was safe and effective.
"On safety, since the strategy entails use of two approved Covid-19 vaccines for which we have enough safety data, mixing would have a similar safety profile as the two approved vaccines," said the researcher. Another key benefit of mixing vaccines is that it makes logistics of vaccination much easier.
However, the challenge with mixing, according to the doctor, happens whenever there is shortage in supply of different vaccines. "Mixing of vaccines could be challenging in the current situation where stocks for one vaccine may be depleted while a different vaccine is still in stock," observed Masika.
Studies published in health journals have shown that mixing vaccines is safe, effective and could further boost immune response.
In a December 7, 2021 study titled "Covid-19: Mix and match", and published in Lancet, having a different Covid-19 jab after a single dose of Oxford/AstraZeneca or Pfizer-BioNTech is safe and effective besides boosting immune response. The trial in the study involved 1,000 participants and among the findings were that "a dose of the Novavax vaccine after AstraZeneca was also found to be superior to two AstraZeneca doses for inducing antibody and T cell immunity."
However, in the study, scientists noted that a Novavax dose after Pfizer did not meet the noninflammatory criteria for binding antibodies that work against the SARS-CoV-2 spike protein, when compared with two Pfizer doses, "although the antibody concentrations were still higher than those observed with two AstraZeneca doses".
Scientists documented that even as Covid-19 is widespread globally, the rate of vaccination in low and middle income countries was still low.
During the publication, scientists documented only 6.2 per cent of people in low income countries had received at least one dose, with most developed countries having received two primary shots. "In light of this, the researchers said these new findings could help boost the rollout of primary Covid-19 vaccines in low income countries by enabling a mix of vaccines to be used," they advised.
Another study published by the American Medical Association found booster vaccines from three vaccines - Johnson & Johnson, Pfizer and Moderna increased neutralising antibody titers, irrespective of the type of booster or primary jab used.
But the two mRNA vaccines seemed to work better in boosting than Johnson & Johnson shot. The mRNA triggers stronger antibody responses.
Related Topics