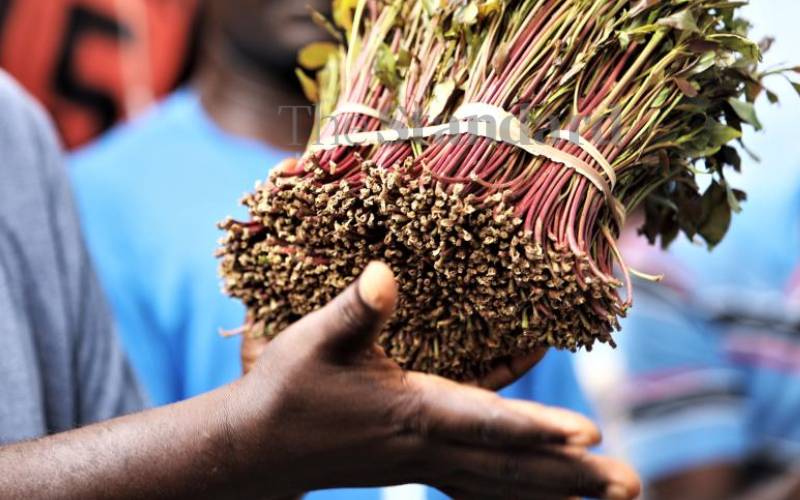 There was politics, high voltage show of government support and lobbying during this year's National Scientific Conference on Miraa and where the crop (Catha edulis) stands in science.
The Ameru Nation who depend on it for recreation as a cash crop opted for evidence-driven defense of their "green gold". But let me only venture into my domain and highlight some of the scientific findings presented on the health benefits and chemical composition of miraa also called khat.
Two independent studies did demonstrate that miraa extracts have capacity to kill germs associated with common sicknesses affecting our stomachs, skin, breathing system and even our reproductive system.
What this means is that miraa can potentially be harnessed to produce products to treat skin, stomach, and genital infections as a microbicide. Whereas, this can be counter-argued as a potential disaster in the era of antimicrobial resistance, a case for potential miraa-derived microbicide will be the fact plant product have the least pressure to fuel resistance.
Tagged on this finding was even a more interesting finding that, miraa extract could specifically kill cancer cells outside the body, while sparing the normal non-cancerous cells. This is like a double-edged sword in that, it argues on safety of miraa, while acting like a magic bullet toward cancerous cells. This is definitely a finding with a great promise and should be taken further.
However, there is a need to reconcile these findings in the context of high incidences of cancer in Meru County, and whether we can derive any association between miraa consumption and reduced cancer incidences.
It is important to note that, these studies were undertaken using "crude extracts" which contained a mixture of miraa constituents. It is possible that, if the specific active ingredients are purified, they are likely to give higher and better germs killing or cancer-killing effects, thus opening medical value addition avenues for miraa.
It is almost thought that khat has only the "handas-inducing" cathinone, and the lesser problematic cathine. However, miraa has a number of other constituents ranging from vitamins, minerals, flavoring compounds, compounds with antioxidants activities.
The fact that miraa has very high antioxidant activity alludes to possibilities of being tapped to deal with degenerative conditions associated with "reactive oxygen species". While the bad guy in miraa is the cathinone, data shows that, during drying, the bad guy (cathinone) "disappears" by turning into the less problematic cathine. As to whether, this means we need to shift from the green twigs to dry twigs and how this will affect the much-needed handas, still need serious consideration.
On a rather negative note, for athletes, if you chew miraa, you are likely to get into trouble with anti-doping authorities. This is because the bad guy in miraa (cathinone) has effects and "looks" almost related to those of amphetamine, a banned substance in sport work.
All in all, the chemists' reports during the National Conference on Miraa cracked the window and we could appreciate the many chemicals miraa contains. One possibility propounded was to purify those chemicals and take them through scientific modification into useful medical products.
This is in line with how the Ameru traditionally used miraa in medicine: treating or managing coughs and diarrheal which can be explained by the presented microbicidal potential of miraa.
However, there are still several traditionally acclaimed health benefit that need scientific validation such as in treatment of asthma, heart-burn, weight loss, increase or decrease in libido among others.
Whereas data may exist on these aspects, there was strong case for targeted research. It was strongly pointed out that as a nation we heavily depend on scientific information from foreign laboratories. There is a need to shift from this foreign dependence and domesticate miraa research to offer scientific justification in our own context.
-Dr Ngoci Njeru is a Research Scientist at the Centre for Traditional Medicine and Drug Research (CTMDR) in KEMRI
Related Topics