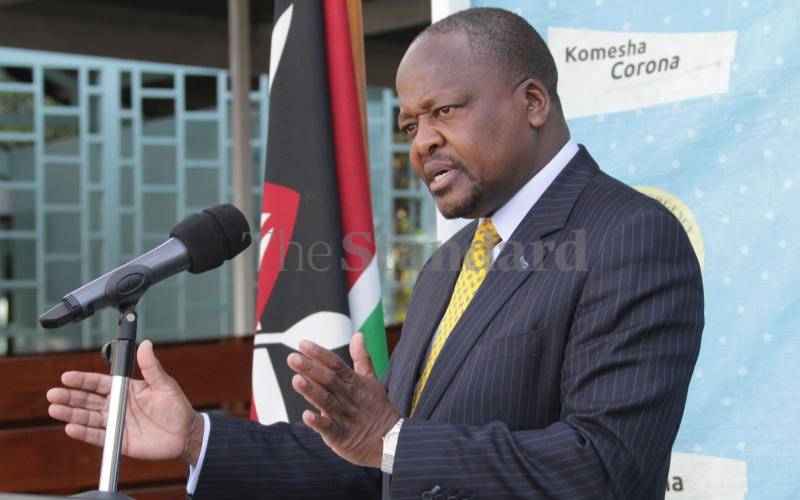 The Ministry of Health has reassured nurses of continued recruitment in the UK despite the government there halting the process.
Nurses and midwives protested earlier reports that they failed the English test a requirement needed to secure a job in the UK.
Health Cabinet Secretary Mutahi Kagwe said the recruitment mechanism will continue and strengthened to meet the World Health Organisation (WHO) code of practice for international recruitment of health and social care personnel in the UK.
A statement earlier published on the National Health Service website in England announced a stop to all active recruitment but the UK government stated that the process would only continue for nurses who have already been given conditional offers on or prior to Thursday, November 11.
"This recognises the investment which has already been made to get the candidate to this stage and will ensure candidates who are fully expecting to be able to move to the UK to work are treated fairly," the statement read.
The statement said that the Department of Health and Social Care had added Kenya to the Amber list of countries on the Code of Practice.
Kagwe yesterday said moving Kenya from Green to Amber meant international recruitment is only permitted in compliance with the terms of a government-to-government agreement.
"This will stop private companies taking advantage of the interest generated by the agreement between our two governments, and stop uncontrolled recruitment," Kagwe said.
The UK and Kenya signed a bilateral agreement in July 2021 to provide a framework for future international recruitment.
According to Kagwe, detailed guidelines on how employers and agencies will be able to ethically recruit health and social care personnel to the UK are currently being developed and will be published in due course.
"The latest development will give the two governments more control to manage recruitment so that any future international recruitment is managed strictly in compliance with the terms of a government-to-government agreement," Kagwe said.
Meanwhile, the Nursing Council of Kenya has said that local nurses did not fail tests as earlier reported. The National Employment Authority received and submitted 3,329 applications of which 2,685 were shortlisted and were required to submit additional requirements.
Later, the Council received a total of 2,050 responses and established that those who passed the International English Language Testing and System (ILETS) and Computer-Based Tests (CBT) were 14 and only nine had valid certificates of both tests.
"In view of the above, the Ministry of Health and Labour and Social Protection are working on modalities to prepare nurses and midwives who wish to sit the tests and improve their success rate," the Council said.
Related Topics