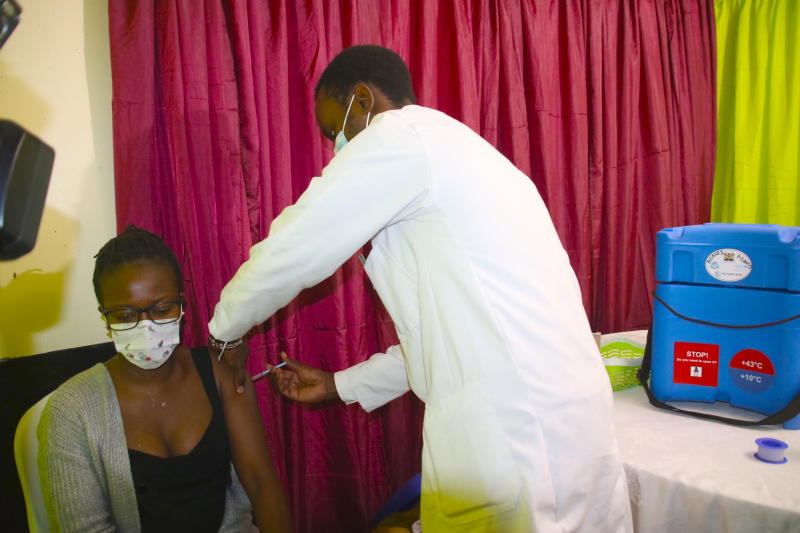 New information is now revealing that people with previous Covid-19 infection, develop stronger immune systems, after receiving vaccines.
Moses Masika, a virologist and, Kenya AIDs Vaccine Initiative (KAVI) Institute of Clinical Research and Department of Medical Microbiology, University of Nairobi, explained that previous exposure to SARS-CoV-2 mounts an immune response that is stronger and broader than those who haven't been infected.
"The immune system usually mounts a stronger and quicker response when exposed to something, in this case SARS-CoV-2 antigen," said the scientist.
He added: "The second exposure acts like a booster."
The expert opinion is backed by scientific findings, published in June this year, in Science Magazine.
According to the publication dated June 25, 2021, people with previous SARS-CoV-2 infection mount unusually potent immune responses to Covid-19 vaccines.
They explained that when previously infected persons are vaccinated, hybrid vigour immunity occurs, which results from a combination of natural and vaccine generated immunity.
"Natural immunity and vaccine-generated immunity are two different paths to protection," states the publication, titled, Hybrid Immunity.
So what happens when a previously infected person gets vaccinated?
An impressive synergy occurs "a hybrid vigor immunity" resulting from a combination of natural immunity and vaccine-generated immunity.
Dr Masika explained that Covid-19 is caused by SARS-CoV-2 immunity developed after previous Covid-19 infection, and this is what causes hybrid vigour when combined with the immune response associated with the vaccine.
"People who have had previous infections of Coronavirus, then receive vaccines will have stronger, and broader immune responses than those who have not had it previously.
In this case, the vaccine dose, coming after natural infection acts as a booster dose."
In Kenya, variants of concern are alpha, beta, and delta, with the latter being more dominant, with increased hospitalisations and death.
Even with revamped vaccination, in Kenya and across the globe, scientists noted that among current Covid-19 vaccines in use namely AstraZeneca, vaccine efficacy against symptomatic cases dropped from 75 per cent to 11 per cent against the beta variant.
The study findings comes at a time Kenya has revamped vaccination program to include every willing adult.
About six million Covid-19 vaccines have been received in the country.
Vaccines in circulation are Moderna, Pfizer-BioNTech, Johnson & Johnson, Oxford-AstraZeneca and Sinopharm
As of September 19, a total of 3,364,000 vaccines had been administered across the country.
To explain whether hybrid natural/vaccine-immunity approaches would be a reproducible way to enhance immunity, scientists used an example of the Shingrix vaccine to prevent shingles, which is given to people previously infected with the varicella zoster virus.
Related Topics