Home
/
Health & Science
How 'ghost fishing' feeds you plastics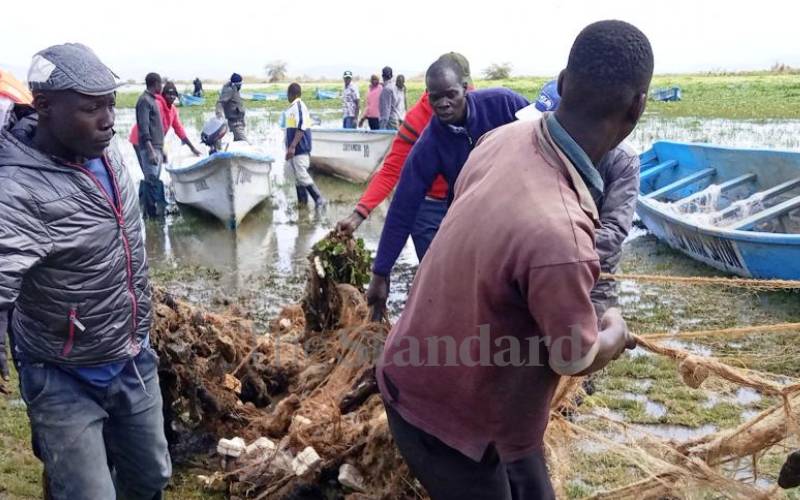 Abandoned fishing nets and thousands of plastic bottles are common on the shores of Lake Victoria.
William Oketch, a fisherman at Dunga beach explains that disposing of the nets in the lake has been the routine for the past 10 years, but strong wave currents having been sweeping them away and "I lost the nest and the catch."
Then there is the case of John Odhiambo who recently was attacked by crocodiles alongside other fishermen forcing them to abandon the nets, "to save our lives and luckily no one was injured."
Odhiambo says it's common for fishermen to hook nets, setting traps for a big catch for days, but hippos and snakes have been spoiling the party. Studies at Kenya Marine and Fisheries Research Institute (KMFRI) reveal that abandoned fishing gear has been one of the biggest plastic polluters in Lake Victoria.
The research shows that over 46,000 nets are abandoned or dumped inside the Kenyan part of Lake Victoria and over 200,000 nets are dumped in the entire lake, annually-with fishing gear making up about 60 per cent of plastic pollution.
According to the scientists, the nets pile up on beaches, creating a navigational nightmare for boats or settle to the bottom, where they damage sensitive ecosystems.
Dr Chrisphine Nyamweya, the assistant director at KMFRI explains that "the lost nets or part of them go on fishing for as long as they are intact before they degrade". Monofilament nets take up to 600 years before they degrade the nets can fish for generations.
This is what known as 'ghost fishing' which involves the swimming nets catching fish and diminishing some species. Others die even as the nets destroy breeding habitats for fish when the nets settle on sea beds.
Dr Nyamweya says that 'ghost fishing' is a problem that goes "unnoticed since fishermen do not come back and report that they have lost a gear or part of nets."
Unlike plastic bags, fishing gear and other macroplastic waste are so insidious because they are invisible to the naked eye.
In the last 50 years, Lake Victoria produced about 60,000 metric tonnes of Tilapia annually, but currently, it barely musters 20,000 tonnes. The bigger Nile perch has been resilient because one Nile perch can produce 17 million eggs compared to Tilapia's 300 eggs.
But still, Nile perch could be about 340,000 metric tonnes a decade ago but which has steadily dropped to about 200,000 metric tonnes which KMFRI researchers attributes to ghost fishing, climate change and unsustainable fishing practice
"Whenever we access the lake bed and look at the plastics the fishing gear have been the majority," says Dr Nyamweya adding that "fishermen are not aware of the gravity of the problem and how well to dispose of the nets" and there is thus a need to sensitise fishermen and provide fishing gears attached with GPS for easy tracking.
Dr Nyamweya further explains that "the tracker in the gear will reduce incidences of ghost fishing and by employing nets made of biodegradable material" and the reason why one solution to abandoned fishing gear is to mark them with electronic and acoustic tags for easy recovery.
"There is a need to have nets secured well to prevent intentional or unintentional loss into the lake," he said noting that unscrupulous traders worsen the situation by sneaking illegal ones which are slowly killing the lake.
Dr Nyamweya reckons its time beach management units charged with ensuring compliance with fishing regulations got tough considering that plastic pollution is beyond Lake Victoria, the source of River Nile via which the microplastics later move into the Mediterranean sea-poisoning its waters as well.
Dr Nyamweya advises fisher folk to return derelict gear and worn-out nets and traps to the port for recycling, instead of dumping them into the waters where they become 'ghost gear.'
Related Topics