Home
/
Health & Science
Why your potbelly can be a sagging death warrant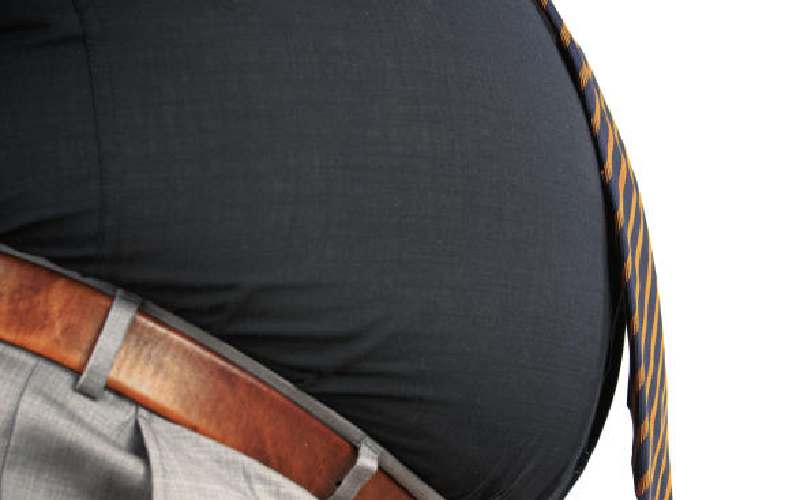 The potbelly was a sign of prosperity back in the day. It signalled good, steady feeding and most office bosses and entrepreneurs spotted it.
In Kenya, a potbelly is adored and hated in equal measure. Yusuf Mohammed, a businessman, still considers it a sign of wealth but "if the belly becomes too big, that is cause for alarm. However, having a small size that can allow you to tuck in your shirt properly is okay".
Wambugu wa Githaiga, a trader, says it's all about good feeding and domestic peace as "the potbelly comes naturally when you are relaxed and your wife is treating you well".
But these views are to be reconsidered if what science informs us is anything to go by: that the potbelly is a sign of poor health and puts one at risk of non-communicable diseases like chronic respiratory disease, cardiometabolic diseases and certain cancers.
Dr Dan Gikonyo a cardiologist, says a potbelly is simply a trunk obesity as "you can have fat in many places - on the chest, lower body, on the hips and others - accumulate fat in the mid region".
This type of excess body weight is dangerous as studies reveal that excess mid-riff weight can shorten one's lifespan compared to those who are fully obese.
In addition, men with a normal Body Mass Index (BMI) but have a pot belly are twice at risk compared to the overweight or obese.
"Trunk obesity is more common in people who indulge in high calorie foods, especially carbohydrates. One of the carbohydrates that people know is alcohol. It is starch in other forms, especially the beer," warns Dr Gikonyo, adding that foods made from flour like ugali, chapati as well as sugar and refined foods should be taken in moderation.
Feeding habits
"Diet and feeding habits are difficult to change in adult lives because we develop them as children. What you eat as a child is most likely what you will eat as an adult and it is important to teach healthy feeding habits early so that children adopt before becoming adults," he says.
Henry Ng'ethe, the chair of Nutrition Association of Kenya, concurs: "The most common reason people get a potbelly is that you eat food high in fats and you don't' spend that energy. The body stores excess energy as glycogen in the form of a potbelly."
Obesity was once considered a problem for developed world. However, statistics paint a grim picture for African countries alongside the prevalence of obesity doubling globally since 1980, according to Centres for Disease Control and Prevention (CDC).
But the Covid-19 pandemic provided many people with ample time to get rid of excess weight during curfews and lockdowns.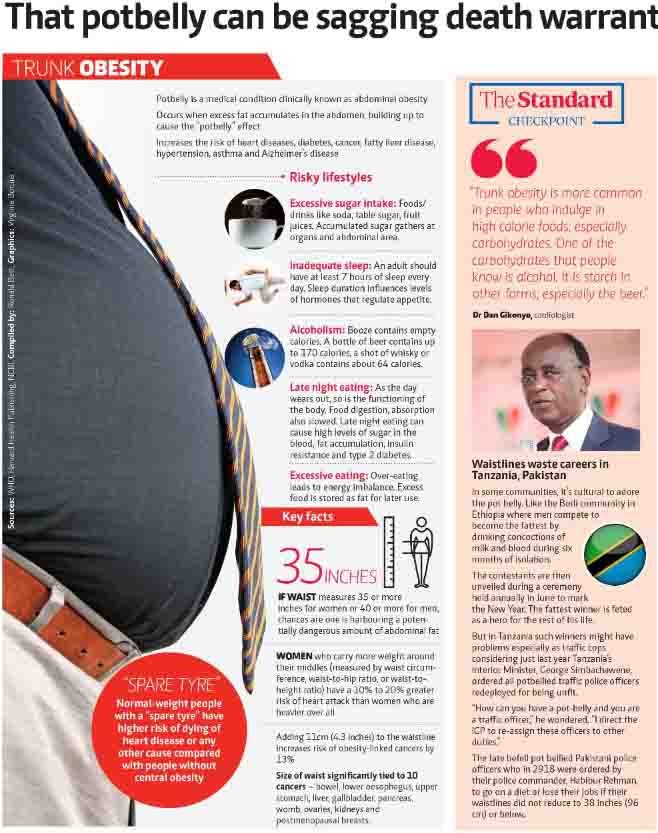 It was not uncommon to see people jogging in estates. Gym enrollments also shot up. Alice Atieno, a fitness expert, witnessed an increase in the number of clients trying to get in shape and reduce their potbelly.
Atieno first assess a person's medical reports from the doctor: "Once everything is verified, I put you on a diet programme as you work on your cardio, which contributes only 20 per cent."
Several Kenyans have worked their way out of excess fat, with Kakamega Senator Cleophas Malala recounting his journey as having been triggered by an 18-hour flight to the US where he arrived in severe body aches and pains and upon medical examination, the culprit was found to be excess weight, which was taking a toll on his spine.
Spinal cord
"Experts told me I was straining my spinal cord. The 93kgs from the waist up was like carrying a bag of maize," recalled Malala, who was later put on a liquid diet to help him lose weight uniformly.
"At first, the liquid diet sounded easy but it was hectic," he said. "I was on that diet for 90 days, I would dilute the protein, mineral, and vitamin supplements in water then drink at the top of every hour for 12 hours a day."
Mvita MP, Abdulswamad Shariff Nassir, is another public figure who lost over 40 kilos since hitting the gym and "there is is no product that can outsmart your own mind and your determination," he said in a past interview in which he described the art of staying fit and living a healthy lifestyle as an addiction "once it gets into you".
Big Ted (Thomas Kwaka), in a video, revealed how he battled weight problems, which he cut from 156kgs to 90kgs and later still underwent a gastric bypass surgery in India to improve his health.
Atieno says "clearing a belly fat requires consistency. A trainer must understand your body type and how best to help you work out, hitting the right areas that need to be worked on and it takes a disciplined client a year to see full results. But the first three to six months also see significant change".
Ng'ethe says most people neglect physical activities, which are important in having a healthy lifestyle.
"Even if you eat minimum food, you still need to exercise for at least 30-45 minutes per day. You need to eat a whole plate in the morning that will give you energy during the day. However, people do it the other way round," he says.
Ng'ethe says that potbellies are not just for men as women need to have below 35 inches size of waistline while men should have below 40 inches.
Related Topics