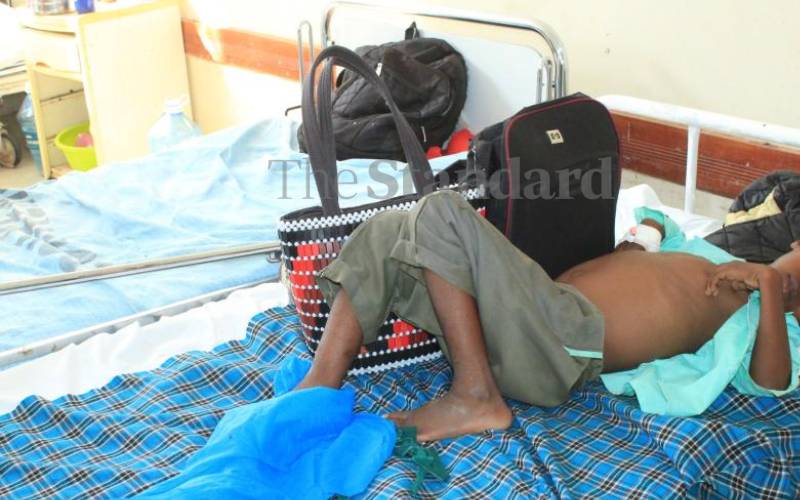 The ministry of health together with other stakeholders has launched a strategy that is aimed at preventing, controlling and eliminating leishmaniasis disease by 2030.
According to experts, Kenya is one of the few countries hosting more than 95 per cent of Kala-azar cases worldwide. Five million Kenyans, mainly children aged five to 14 years are at risk of the disease, mostly in nine ASAL Counties.
Turkana, West Pokot, Isiolo, Wajir, Marsabit, Garissa, Mandera, Kitui, Nakuru and Nyandarua are some of the counties that have been established to have major cases of leishmaniasis. Nakuru and Nyandarua have reported major cases of disfiguring skin lesions from cutaneous leishmaniasis.
"Visceral Leishmaniasis attacks vital internal organs leading to their failure, if left untreated death occurs within two years. Cutaneous Leishmaniasis affects the skin and causes lesions to appear on it. If left untreated, 95 per cent of people with kala-azar risk death," said Dr Rashid Aman, the Chief Administrative Secretary in the ministry of health.
According to Dr Sultani Matendechero, the head of the division of Vector-Borne and Neglected Tropical Diseases, Kenya has reportedly faced hitches in controlling the disease due to misdiagnosis and little or no budgetary allocation for the disease. Part of the strategy entails improving the diagnosis of Leishmaniasis by developing new mapping, tracing and diagnostic tools.
"In 2018 we recorded about 900 cases but that does not mean those were the only cases. We realized that there are more and more counties with the cases but they were being misdiagnosed as skin diseases. This strategy will help us to correctly determine all the areas which are prone to the disease," he said.
Leishmaniasis classified as a neglected tropical disease (NTD) is a parasitic disease that is found in parts of the tropics, caused by infection with Leishmania parasites, which are spread by the bite of a phlebotomine sandfly. The disease comes in two forms, visceral leishmaniasis (kala-azar) and cutaneous leishmaniasis.
In 2014, it was decided by the world health assembly that countries establish programs to eliminate neglected tropical diseases.
According to Dr Joyce Onsongo, a representative from the World Health Organization, leishmaniasis is given priority in WHO policies, strategies and roadmaps.
"Our target is that by 2025 we should be able to control morbidity by 75 per cent and 85 per cent in 2030 in the 13 endemic countries in Africa." She said. "We have partnerships in Kenya to enable us to achieve this and we will continue working with national and county governments."
Onsongo further appealed to all stakeholders to use the strategy as a tool to negotiate, advocate and monitor the elimination of leishmaniasis in order to achieve Universal Health Care.
"Over the last decade, efforts have been undertaken to prevent, control and eliminate the disease. National and county governments take lead in implementing strategy," said Dr Rashid Aman
Aman added that the implementation of the strategic plan will require a huge financial commitment of Sh2 billion for the next five years.
Related Topics