Home
/
Health & Science
Industrial oxygen is for welding, not Covid patients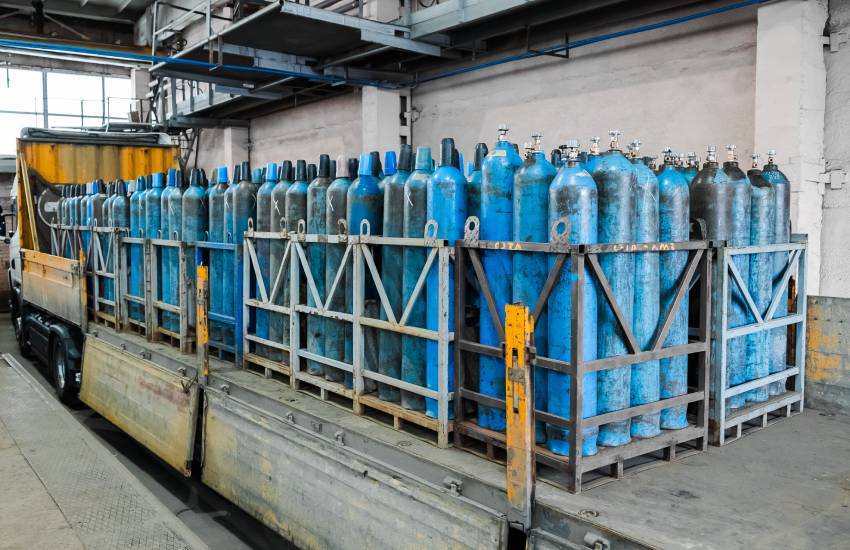 Not all oxygen circulating in the market is medical in nature, health experts have warned.
Their concerns were raised after some industrial outlets began supplying oxygen as part of CSR activities to bridge the scarcity in most hospitals after the third wave of the coronavirus increased demand for the commodity.
Dr Winnie Bore, a medical economist, said the oxygen for human use is medical oxygen which should be certified and delivered in cylinders. It should be at least 90 per cent pure as it's different from industrial oxygen, or gases used for combustion, oxidation, cutting and chemical reaction.
"Even as we struggle to access oxygen, we should be keen to differential between medical and industrial oxygen," she says. "Medicine oxygen is used in humans, while industrial one has impurities."
She warns that industrial oxygen can kill, collapse of lungs, damage the brain and has high susceptibility of cancerous tumours. "Industrial oxygen leads to organ failures and deaths," explains Dr Bore. "Let us not risk our lives getting oxygen that is not certified and issued by a medical technologist."
According to Daniel Chore a biomed at Seme Sub County Hospital, Kisumu County, "industrial oxygen is used for works such as such welding in a concentrated form. Medical oxygen is used on patients directly when they experience low levels in the body" and its purity level must be above 80 per cent and medical oxygen analysis helps to ascertain that.
Medical oxygen is administered in medical facilities for first aid resuscitation in emergencies, during anesthesia and for life support to patients who cannot breathe on their own.
Dr Bore explained that the four possible sources of medical oxygen include oxygen concentrators, refillable cylinders, oxygen plants or liquid oxygen generators.
The Kenya Bureau of Standards (KEBS) regulates the quality of oxygen in Kenya while the Pharmacy and Poisons Board (PPB) regulate the hardware.
Medical oxygen is classified by WHO as an essential medicine for the treatment of hypoxemia (low oxygen levels in blood) and appears on the Kenya Essential Medicines List as one of the six inhalational medicines that should be available from dispensaries level.
The shortage of medical oxygen recently led to hoarding of cylinders of which Kenya has 2, 828 oxygen cylinders, 730 concentrates and 3, 601 beds connected to oxygen, according to the Kenya Medical Practitioner Council (KPMDC).
Of Kenya's 47 counties, about 19 are not piped with oxygen and rely on oxygen cylinders and concentrators. The counties are Nairobi, Bungoma, Elgeyo Markwet, Garissa, Kitui, Kwale, Lamu, Marsabit, Tana River, Trans Nzoia and Uasin Gishu. Others include Isiolo, Machakos, Makueni, and Nandi.
Further, the council documented a total of 58 number of oxygen plants, 42 functional plants, and 16 non-functional plants.
Steve Adudans, the CEO of Hewa Tele, puts the cost of setting up a medical oxygen plant at between Sh25 and Sh40 million on a seven year operate and transfer agreement in which time the county purchases oxygen at discounted rates from the plant.
Gerald Macharia, the Vice President East and Southern Africa Clinton Health Access Initiative (CHAI), said production of oxygen in the country is adequate, but "infrastructure in delivering oxygen is what is missing in the country. We have shortage of cylinders that take longer to be filled up."
CHAI supported supply of oxygen to Kajiado County, which currently has 100 percent oxygen coverage, with Kabarnet County Referral Hospital where they have piped all service points to the right standards.
Medical oxygen is made from dry compressed air and used for among others; during surgery, heart attacks, hypoxemia (an abnormally low level of oxygen in the blood), health conditions like pneumonia, asthma and for mechanical lung ventilation in respiratory distress, resuscitation and anesthesia.
It also comes in handy on patients suffering from chronic obstructive pulmonary disease (COPD), pneumoconiosis (interstitial lung diseases) and pulmonary embolism (blockage of lung artery).
Related Topics