Home
/
Health & Science
Three nursing homes fined Sh1.5 million over misleading adverts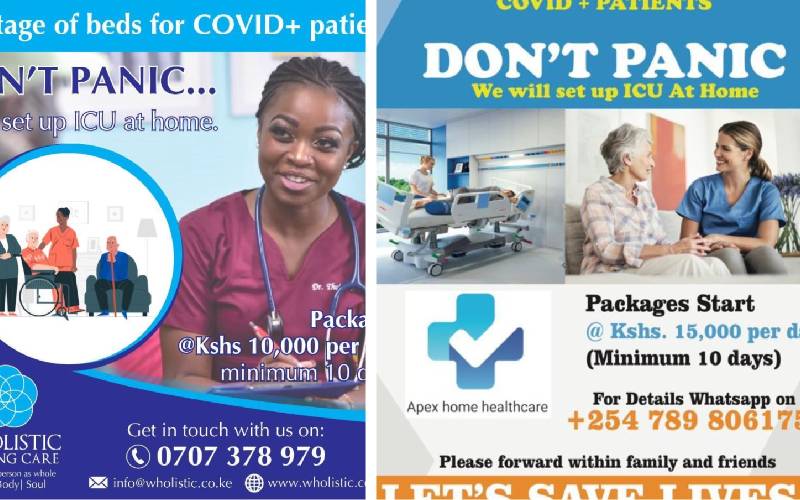 The Kenya Medical Practitioners and Dentist Council has imposed a Sh500,000 fine on three nursing care facilities.
This is after the three facilities issued a misleading advertisement that they would offer home-based ICU care for Covid-19 patients at a prescribed fee.
The council said the three; Apex home healthcare, Utunzaji home and Nursing care and Wholistic Nursing care should immediately pull down the advertisements.
The council further said the said advertisements are misleading and geared towards obtaining money by false pretense.
In a statement signed by Chief Executive Officer Daniel Yumbya, the council said ICU care cannot be provided at home.
"Having considered the contents of the advertisements, the Council Orders Apex home healthcare, Utunzaji home and Nursing care and Wholistic Nursing care shall each pay a penalty fine of Sh500,000 to the council with 14 days from this date thereof," Yumbya said.
The council said ICU care caters to patients with severe or life-threatening illnesses or injuries that require constant care and supervision from a multi-disciplinary medical team.
Yumbya said ICU care is specialised treatment provided by trained health professionals who include medical specialists, critical care nurses and pharmacists among others.
According to Yumbya, equipment used in ICU includes ICU beds with flexible mattresses, uninterrupted oxygen supply, ventilators, blood gas analyser, patient monitors, infusion pumps, defibrillators and trained critical care staff.
"For this reason, it is not possible to offer ICU care at home as purported by the advertisement by the three facilities," he said.
While urging members of the public to take caution, Yumbya said the three facilities are not registered by any of the regulatory bodies.
Related Topics