Home
/
Health & Science
More men have been vaccinated against Covid-19 compared to women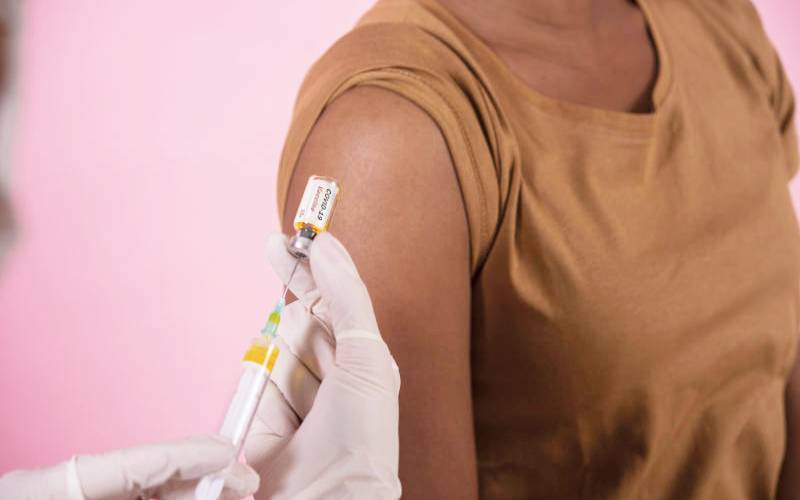 More men are taking up the vaccine compared to women, the latest statement from the Health ministry now shows.
According to Health CS Mutahi Kagwe, some 320,343 men against 248,687 women have had the Covid-19 Oxford-AstraZeneca vaccine in Kenya.
The total doses distributed to the nine regional stores are 999,000. As of yesterday, 569,244 had been vaccinated with the AstraZeneca vaccine in Kenya.
The balance at the Kitengela Central Vaccines store is 121,000.
Kenya's infection caseload is currently at 148,128 after 981 tested positive for coronavirus from a sample size of 7,529. The positivity rate is now 13 per cent.
The cumulative tests so far conducted are 1,578,773.
This comes as 26 people died of Covid-19 in the last 24 hours, pushing the country's fatalities to 2,420.
At the same time, the country's recoveries now stand at 100,245 after 665 patients recovered.
Some 1,623 patients are currently admitted, with 269 being in the ICU and 283 being on supplementary oxygen.
The new cases comprise 961 Kenyans and 20 foreigners. The youngest was a seven-day-old infant and the oldest who tested positive for Covid-19 in the last 24 hours was aged 97.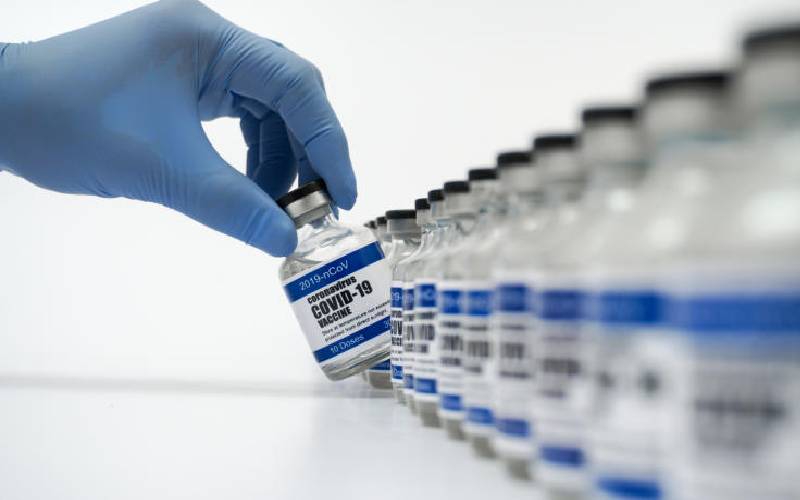 Nairobi continued to lead in the infections tally, with 349 new cases, followed by 61 in Bungoma, 55 in Turkana and Kiambu's 49, among others.
Meanwhile, Australia said on Tuesday a second person had been diagnosed with a blood clot after receiving the AstraZeneca Plc vaccine but there had been no rise in inoculation cancellations as authorities try to steady a bungled immunisation campaign.
This week Australia abandoned a goal of vaccinating all of its nearly 26 million population by year-end, after Europe's drug regulator reported rare cases of blood clots among some adult recipients of AstraZeneca doses, suggesting a link.
This prompted Australian officials to recommend that those younger than 50 receive the Pfizer Inc's vaccine in preference to AstraZeneca's shot, throwing the vaccination programme into disarray.
"We had anticipated potentially a significant drop (in vaccination numbers, but that is) not what we have seen at this stage," Health Minister Greg Hunt told reporters in Canberra.
Authorities meanwhile said they have no plans to add Johnson & Johnson's one-dose vaccine to its immunisation drive, as Australia wanted to move away from procuring vaccines that were under review of potential links to blood clots.
The COVID-19 vaccines of Johnson & Johnson and AstraZeneca use an adenovirus, a harmless class of common-cold viruses, to introduce coronavirus proteins into cells in the body and trigger an immune response.
Both products are under review by Europe's drug regulator after it found possible links with blood clots, although it has said the advantages still outweighed the risks.
"The government does not intend to purchase any further adenovirus vaccines at this time," a health ministry spokeswoman told Reuters.
Australia's immunisation drive was heavily reliant on the AstraZeneca vaccine, with plans to manufacture 50 million doses in the country. The policy change prompted authorities last week to double an earlier Pfizer order to 40 million shots.
Australia has reported zero or low single-digit cases for most days this year helping authorities to ease restrictions and putting the economy into a faster recovery trajectory.
Related Topics