Home
/
Health & Science
Grieving nurse warns Kenyans 'virus no joke'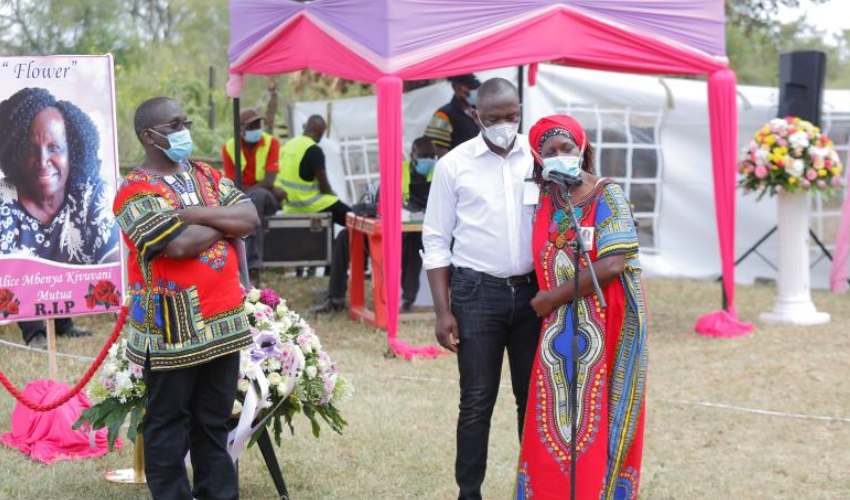 "You guys you are joking. You are saying there is no Covid?" Lillyan Mutinda began her moving exhortation to a handful of mourners at her mother's Oasis Farm in Koko village, Kithimani in Yatta on Monday.
Lillyan, the head of health promotion at Nairobi Metropolitan Services (NMS), had spent the year fighting to keep Covid-19 at bay only for it to claim her mother, Alice Mbenya Kivuvani-Mutua.
Alice lay still in a beautiful casket, safely tucked in a hearse at a compound she had registered innumerable joys. Lillyan could not come to terms with the utter indifference and callousness she was witnessing.
She sobbed, swayed and sized up the mourners as she approached the microphone. "As we came from Nairobi, I saw people not wearing masks, not observing social distancing. Right here, I can see people not putting on masks or covering their noses and mouths. It pains me," said Lillyan, a registered nurse.
Her mother had died in her arms on Saturday in Nairobi as her younger sister Naomi watched. She had battled the virus for two weeks. Alice was taken ill after attending her sister Ruth Kalau's funeral in Makueni on February 27. Ruth had been ailing for about ten years. "I asked God a question; Since March last year, I'd worked hard as a health promotion expert, not just in Nairobi but in the entire nation educating people about Covid-19. And Covid-19 snatched away my mother."
Lillyan's two sisters, Naomi and Emily, could not attend their mother's funeral because they had been exposed to the virus and were in isolation in Nairobi. One of their nieces was also in isolation. The three were inconsolable as they followed the funeral that was being streamed live.
"It's heartbreaking that Emily and I can't be present. Mom, go boldly as you did every day in life," Naomi posted as the ceremony got under way.
At her sister's funeral service at Nairobi Baptist on February 25, Alice moved mourners with her tribute to Ruth. She described her as a pioneer educationist, athlete, achiever, and role model to her siblings. "We don't know any person more courageous than our sister, Ruth. A champion, one of the country's first female information officers. Old men would cram public halls to see a woman setting up the radio to enable them listen to Mzee Kenyatta's speeches," she recalled.
Two days later at Tawa, Alice led her family to bury Ruth, speaking on behalf of the family. Fast-forward to Tuesday, her brother and former spy chief William Kivuvani could not fathom losing two sisters in a span of weeks. Unable to attend the funeral as he was not feeling well, he dispatched his son Eddie to represent him. "Our hearts are damaged and we are much more than scarred. I have lost two playmates within a very short time, and this saddens me the most," he said.
Lillyan's other sister Suzzy was inconsolable and had to be supported as she gave her tribute. She said her plan to surprise her mother with a baby bump this year had failed.
Alice had been a pillar of her family, an achiever in her own right, one who in the 70's ran for a political seat and in the 80's, established a thriving horticultural venture which brought in so much money that she bought her husband (now deceased) a showroom car for his birthday.
"For how long, for how long my dear brothers and sisters? It is only us who can change the story…. We had HIV, it's no longer a threat. Why do we allow this, it pains my heart… kindly take care of yourself, take care of those you love, take care of strangers, and tell somebody, kindly, to wear a mask… wash their hands," Lillyan pleaded.
As the sweltering sun pounded the famed plateau on Tuesday afternoon, Alice's casket received its last round of sanitiser spay from the blue-robed men. Shortly thereafter, she was lowered to eternal rest. She had probably taken every step to avoid contracting the virus as witnesses said, often turning away visitors to keep corona at bay. But also, someone, somewhere could have dropped the guard. As the family comes to terms with the sudden death and burial with a few mourners, they said they are ready for the stigma:
"It's good, because they will not be able to infect us in case they are infected. And that's why I said all protocols for Covid-19 will be followed at my mother's funeral," Lillyan said.
Covid has killed 2.67 million people, 1,925 of them in Kenya, which has recorded 115,000 cases since March last year.
Related Topics