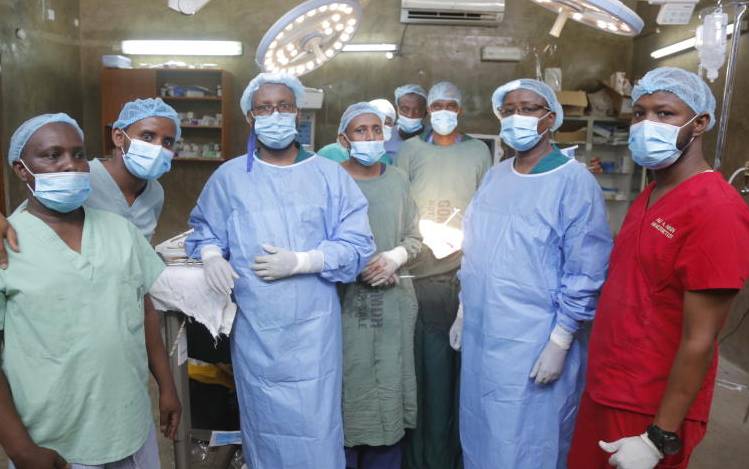 A woman has delivered a 13-year-old stone baby at the Mandera County Referral Hospital (MCRH).
The baby was delivered through a rare medical operation on Tuesday. Hawa Adan, 31, an Ethiopian national, presented herself to the hospital with a 13-year old abdominal swelling.
The condition is known in medical parlance as lithopedion.
The rare condition occurs when a pregnancy occurs outside the womb and it is too big for the body to get rid of naturally. Such pregnancy calcifies on the outside as part of a foreign body reaction, shielding the mother's body from the dead tissue of the foetus thus preventing infection and stays there.
A statement by Mandera County Government said Adan had previously visited most hospitals in Ethiopia but did not get a proper diagnosis. She visited MCRH in September this year.
After intensive investigations including a CT scan, she was diagnosed with lithopedion (a Greek word for stone baby), a rare condition across the globe. The reported cases for the condition in the entire world is 300 and there have been no reported cases in East and Central Africa.
On Tuesday, Adan was operated on and successfully delivered the stone baby. She is now recovering at the surgical unit of the hospital.
"Hawa was operated on and delivered a stone baby successfully. After closer scrutiny, it was a male infant, complete with placenta and cord weighing 1.75kg. She is now recovering at the surgical unit of the hospital," Mandera Governor Ali Roba, said in a statement.
Dr Abdiaziz Mohamed, who was among a team of nine surgeons and gynaecologists that carried out the procedure that took about one and a half hours, said the stone baby was Hawa's third child.
He said the first time he saw Adan was in September when they did tests on her and recommended surgery to remove the stone baby, but she disappeared only to come back on Sunday.
"I had to talk to her and prepare her psychologically for the surgery and immediately put her on my elective list," Mohamed said.
Previous pregnancies
Hawa carried two babies to full term previously but lost them both one month after delivery.
"She said she felt all the symptoms of pregnancy but after three months they disappeared," said Mohammed.
During the 13 years, Mohamed said Adan lived a normal healthy life, with no symptoms, no pain, and no obstruction in her bowel, only that she felt the swelling and its heaviness.
Dr Mohamed said the stone baby was not located in the uterus, but in the abdomen just below the intestines.
"The surgery was successful, when we dissected the lithopedion, we found a dead baby, fully formed with organs, hair and we could easily tell it was a male," he said. Lithopedion occurs in a situation where a fertilised ovum grows into the tubes instead of implanting in the uterus cavity.
Related Topics