Home
/
Health & Science
Health volunteers woo traditional healers to help save Makueni diabetes patients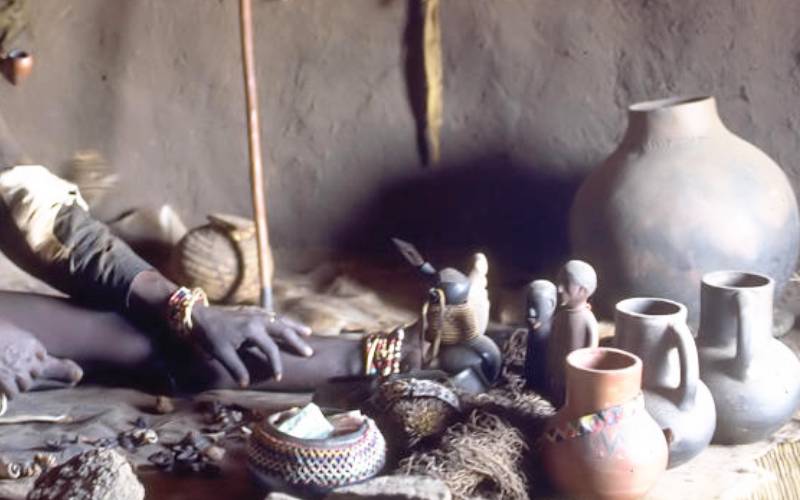 Early this year, Onesmus Mutuku, 60, experienced something unusual. He had an excessive thirst and would urinate several times, especially at night. When this persisted over several days, Mutuku visited a traditional healer near the local market at Kilala village, Kaiti, Makueni County.
However, his many trips to the herbalist didn't yield result, his health continued to deteriorate. Mutuku did not know that those were signs of Type II Diabetes.
He says despite paying a lot of money to the traditional healer, he almost died.
Stanislaus Kioko, a community health volunteer, who has been a frontline agent in the region in health promotion, took him to hospital.
"Mutuku was in bad shape by the time we took him to Makueni County Referral Hospital where tests were done and he was diagnosed with TB as a result of low immunity caused by the diabetes," said Kioko
Mutuku has been on long-course TB treatment which involves the use of antibiotics and diabetes drugs.
"If you believe in witchdoctors you will die in your house since in traditional medicine there are no tests conducted," Mutuku added.
As the World Diabetes Day is marked on Saturday, the ever-growing number of traditional healers in Makueni, late diagnosis and non-adherence to diabetes medication and insulin therapy have hampered the fight against the disease.
According to Community Health Volunteers (CHVs) who also act as intermediaries between the community and health centres in Makueni, patients who have sought treatment solely from witchdoctors in the pretext of having bad spirits to be exorcised, end up increasing risks of suffering from cardiovascular problems such as stroke, tuberculosis, chest pains, and in some cases, death.
Some spiritual healers in society advocate for healing methods as an "alternative" diabetic treatment, a growing ttrend in Makueni villages.
Mumbua Ndonye from Kilelo village, Kilungu, says she is partly to blame for her current state. Ndonye suffered stroke twice due to medication non-adherence. She has to be assisted out of bed daily, fed and taken to the toilet. She has also lost her sight.
"I became sick 14 years ago and was put on medication, however, I failed to follow the doctor's instructions. I suffered stroke and I lost my sight. If I had followed medication as directed, maybe I would be well," said Ndonye.
She says failure to take medication as prescribed leads to worsening of the disease, and increases chances of death.
Diabetes has left many miserable in Makueni with tales of hopelessness and shattered families due to the high cost of management.
When Mwendwa Musyoka from Nduu village in Kilungu fell sick, he was taken to the hospital, but his situation did not improve and he later developed slurred speech.
"By the time we took him to hospital, he was unable to walk. The situation worsened by the time he was discharged. We took him for physiotherapy but unfortunately he lost his taste and speech," says Mwendwa's father, Joseph Musyoka, who is his caregiver.
After several trips to the hospital and continued physiotherapy, he managed to walk. He now helps the family in the farm where he grows vegetables.
Celina Mboya has been diabetic for 15 years. She has formed a psychosocial group for diabetes patients like her to manage the diseases together.
"When people meet and talk, it helps in psychological intervention, it's like free therapy," says Mboya who lost sight in one of her eyes.
Dr Patrick Kihio from Kilungu Sub-county Hospital says they organise weekly outpatient clinics to reach more patients. Dr Kihio, however, says treating non-communicable diseases has been a challenge where patients still choose traditional medicine.
Although psychic and traditional healing continues to be a major challenge in fighting non-communicable diseases in Makueni, there are traditional healers who have teamed up with CHVs to effect referrals on serious cases.
Jacinta Kanini, a traditional healer from Kitui, is among a few who work closely with health workers in making referrals to hospitals for patients with complicated diseases.
"I help in traditionally-known illnesses such as madness, confusion and family disagreements. But when a patient comes, I have to study, if it's something I cannot treat I make a referral to the hospital," said Kanini
Catherine Muteti, another healer, has a referral book for her patients. She says with prayers medicine becomes more effective.
Stanislaus Kioko, a community health worker in Kaiti sub-county, discloses that they lose patients because of wrong advice from the traditional healers.
"We create awareness but we still face challenges. We are in the process of bringing together traditional healers so that they can assist us in making referrals for patients," he said.
Bretta Mutisya, Makueni County health promotion officer, says the county is reaching out to all non-conventional healers so that they don't lose patients due to NCDs.
"Many people come to the hospital after visiting the spiritual healers and and by then the disease would be severe. We have started strengthening referral systems to incorporate these people," says Mutisya.
According to Simon Kivis, a county health records chief, Makueni has received an increased number of diabetics in various health facilities.
In 2015/16 there were 7,989, while 2016/17 recorded 10,010 patients. In 2017/18 there were 16,925 diabetics, while in 2018/19 a record 26,232 were reported, with 23,671 reported in 2019/20.
Related Topics