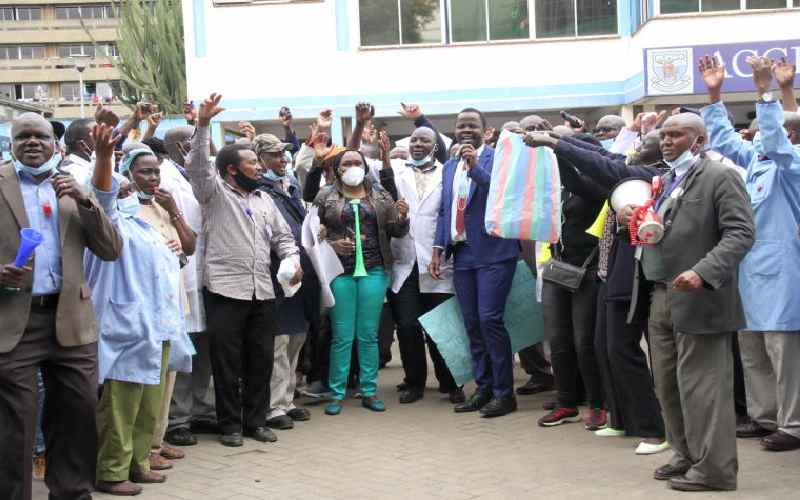 A patient died at the parking lot of Kenyatta National Hospital (KNH) in Nairobi after health workers went on strike.
Christopher Muvya said he rushed Evans Nyabuto, a boda boda rider in Kawangware, to the hospital at 8am yesterday, but unfortunately, he died after failing to get help.
"A health worker told me they were on strike so there would be no help from them. My friend stayed in the car for two hours until another medic who was passing by agreed to attend to him. But after checking him, he said it was too late; that he had died," said Muvya.
Failure to approve
The staff under the Kenya Union of Domestic, Hotels, Education Institutions, Hospitals and Allied Workers, Kenya National Union of Nurses (KNUN) and Kenya Medical Practitioners, Pharmacists and Dentists Union paralysed operations at the hospital over failure by the government to implement a salary review agreed in 2012.
The more than 4,000 workers accused the Salaries and Remuneration Commission (SRC) of failure to approve the Sh601 million passed by the National Assembly and okayed by the Treasury in 2012 for payment of salaries.
KNUN Secretary General Seth Panyako accused SRC of failure to harmonise the salaries despite several government agencies giving the go-ahead.
Panyako vowed to reject attempts to engage in dialogue to resolve the standoff.
"What we want is to see SRC give that letter advising Kenyatta National Hospital to effect payment of that money to all affected employees and thereafter the strike will be called off," he said.
The three unions accused SRC of being a stumbling block to the approval of the health workers' salary increment.
However, in a letter dated September 28, 2020, KNH Chief Executive Officer Evanson Kamuri wrote to the Commission Secretary, Ann Gitau, confirming it will put in place mechanisms to guarantee payment of salaries by October.
"We are grateful for the Commission's review of the earlier decision communicated vide letter no SRC/TS/KNH/317/11(60) dated 2nd September 2020," read the letter in part.
"The hospital confirms that it will put in place a mechanism to ensure payment of Sh601 million budgeted for FY20/21 in the payroll of October 2020 as advised by the Commission."
Officials of the three unions said talks with the SRC last Friday to avert the strike flopped.
Turned away
In 2012 SRC's advisory committee evaluated all parastatals, including referral hospitals such as KNH, which was upgraded from level 3C to 7A, consequently elevating all the employees to a different salary scale, but that has not been effected to date.
The workers downed tools after the lapse of the seven-day notice.
Dozens of patients were turned away and told to seek services elsewhere. Others lay on stretchers at the waiting bay and along corridors at the Accidents and Emergency department with no help forthcoming.
Those visiting admitted patients were not allowed in.
"We are not allowed to go in and see our sick relatives. Some of the patients need special attention and food which we believe is not being provided for now. They are in danger," said a woman whose relative is admitted to the hospital.