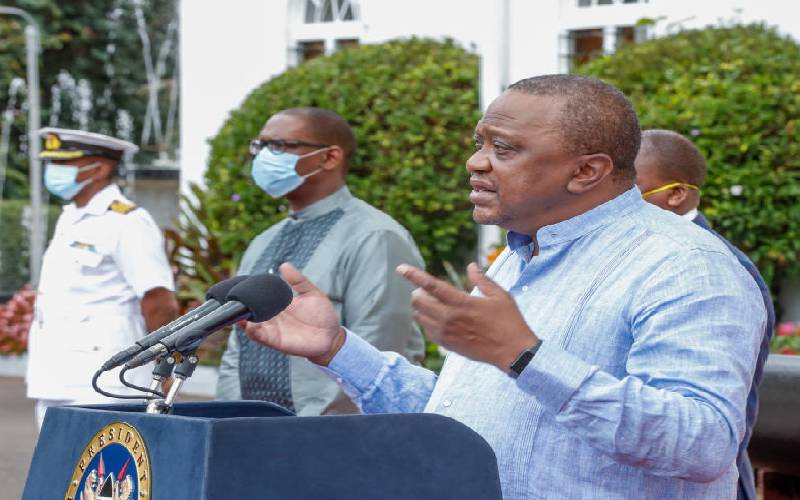 President Uhuru Kenyatta has ordered a 30-day extension of the country's nationwide dusk-to-dawn curfew and lockdown in parts of the country as new Covid-19 infections hit 2,600, with 126 new cases in the last 24 hours.
In his address to the nation on Saturday, the President also extended a ban on travel into and out of Nairobi Metropolitan Area, the counties of Kilifi, Kwale, Mombasa and Mandera to July 6, the same date the curfew is expected to end.
The curfew was, however, reviewed and will now begin from 9 pm to 4 am.
He said the review will enable Kenyans to have a full workday schedule
Uhuru said experts have warned that if the country rushes to reopen the economy, the virus will run down its health system.
"I wanted to reopen our economy but experts feel that a lot still needs to be done before we fully remove the restrictions," he said.
President Uhuru said experts indicate that if the country reopens without proper protocol, the cases will hit over a million at the end of the year with over 70,000 deaths.
According to the Head of State, experts drawn from the Health Ministry and other agencies, have warned that if the restrictions are relaxed by 20 per cent, there will be 200,000 infections and 30,000 deaths by December.
And that if relaxed by 40 per cent 300,000 new infections will be recorded with 40,000 deaths in November.
Schools reopening
President Uhuru also directed the Ministry of Education and that of Health to issue and publish guidelines for reopening in September 2020.
He said the ministry will announce the new school calendar in mid-August.
Uhuru also directed the Health and Interior ministries to work out a modality of reopening places of worship.
"A week from now Ministry of Health and Interior will work out a modality of reopening churches and mosques," he said.
The President also extended the ban on all public gatherings including political rallies for another 30 days to contain the rising cases of Covid-19.
Also extended is the ban on international travels.
Uhuru said that the country must contain the infections and the number of deaths before all the Covid-19 restrictions are lifted.
"To open up the economy, the infections must be contained and the number of deaths must be headed downward but this is not the case."
Countries like South Korea and Malaysia that opened up without proper protocols have experienced the second wave of attacks.