Home
/
Health & Science
Failure to test the masses dents war on Covid-19 numbers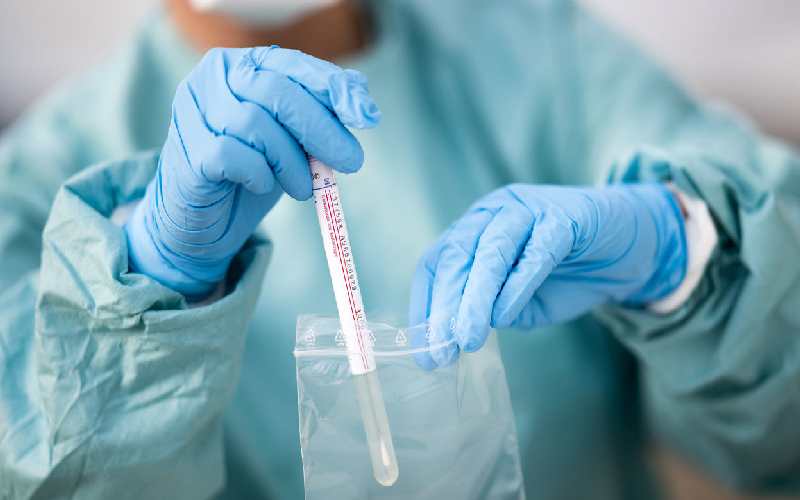 A month after they confirmed the first novel coronavirus case in the country, authorities are yet to embark on the long promised mass testing to ascertain the number of infected Kenyans.
So far, testing has been restricted to individuals in quarantine and close contacts of those who have tested positive amid a chaotic contact tracing programme that has left close to 1,000 people in need of testing, quarantine and possible isolation out of the reach of authorities.
Kenya has tested some 7,000 people in the 30 days the country has grappled with Covid-19. This translates to just over 200 tests a day.
Even the mass testing of healthcare workers who are critical in the war against the virus remains a distant promise despite kit donations, and the receipt of a Sh5.3 billion World Bank loan and a conditional grant from the Danish aid agency, Danida.
Some of this money was meant to go towards the acquisition of test kits and a subsequent mass testing.
At least 10 medics in the frontline in various hospitals across the country have so far been confirmed to have contracted Covid-19, according to their various unions, and tens of others are in quarantine from exposure to the virus.
The Standard has reliably learnt that apart from the differences between government agencies over who controls the billions of shillings donated towards the fight against the virus, the country had neither enough testing kits nor adequate reagents for use in the already available kits.
Additionally, the Ministry of Health has not been collecting enough samples because of the inadequate number of personal protective equipment (PPEs) available for the healthcare workers tasked with the job of getting the samples from those suspected to be infected.
Naturally scared
As a result, the Rapid Response Teams and hospital teams are naturally scared of doing what they have been trained to do without exposing themselves, their colleagues and families to the virus.
This has effectively paralysed plans for mass testing.
Another problem dogs the country's response. The Standard has learnt that some medical experts who form part of the National Coronavirus Task Force are no longer being consulted on the best possible steps and decision making.
Instead, this responsibility has been usurped by other government officials hell bent on doing things according to existing protocols, with little recognition of the medical emergency facing the nation.
"Sometimes we agree on doing things as the technical experts but then other people make different decisions. Our hands are tied," a member of the task force who is not authorised to talk to the media said.
Documents from the Health ministry, shared during one of its daily updates, cite poor co-ordination between national and county governments among the hurdles in making tangible progress in the war on Covid-19.
For instance, heads of teams posted in identified hotspots around the country are yet to be told when mass testing in their areas will begin.
A week ago, Health Cabinet Secretary Mutahi Kagwe said in one of his press briefings that the testing, particularly of healthcare workers, would start "almost immediately".
But last Saturday, Director General of Health Patrick Amoth gave a different timeline.
"We are preparing for mass testing in the next two to three weeks," he said.
He added that the country had received enough kits to test 7,000 people.
"These will be deployed to Kemri laboratories around the country, the Kenyatta National Hospital, the National Influenza Centre, the Moi Teaching and Referral Hospital, as well as the Coast General Hospital," Dr Amoth said.
He added that the country had also acquired new testing machines that could process between 2,000 and 3,000 tests every two hours.
Technically, this means the country could run out of testing kits within the first five hours of an intended mass testing rollout.
Unsustainable strategy
The Ministry of Health could not confirm if the kits spoken about were from donations or were purchased by the government.
"Relying on donations is not a sustainable strategy for a such a fast-moving virus. With the World Bank money in place, the ministry should rethink its procurement processes to fast track acquisition of these vital components needed for testing. Leveraging on international development partners or government-to-government agreements should come in handy," another source said.
Although the daily numbers of those infected seem low, Amoth has warned that this could be a false representation of where the country is with regards to the number of infected.
"We need to test a bigger population so that we can know the true state of things," he said during a briefing on Saturday.
Currently, most private laboratories that could help with the testing are yet to be approached by the government to lend a hand. These include facilities affiliated to universities, private independent laboratories and those in private sector hospitals.
According to a World Bank policy brief, it is estimated that between 25 per cent and 50 per cent of Covid-19 infections are asymptomatic.
"These individuals, once recovered, are likely immune and do not need to socially distance once there is no live virus in their systems anymore, but without an antibody test, they will not know their status," the report says.
Kenya faces a tough two weeks ahead in the fight against the novel coronavirus since global trends show that this is when infection numbers hit unprecedented highs
To date, Kenya has recorded 208 positive cases, with nine deaths and 40 recoveries.
Globally, the number of those infected is edging closer to two million, with more than 110,000 deaths and nearly 450,000 recoveries.
Related Topics