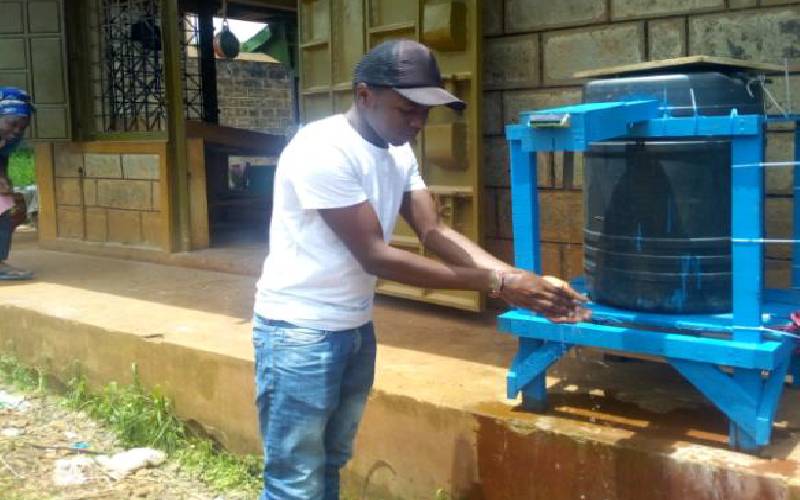 You might be washing your hands and sanitising them as directed, but all the same unknowingly carrying around Coronavirus with your hands!
When washing your hands, you are using your fingers to uncap a sanitiser container and also the very same fingers to open a water tap.
Once you are done, you use the same fingers to cap the sanitiser container as well as close the water tap.
As others wash hands, they are coughing or talking hence releasing saliva droplets.
Who is sanitising the tap, the water container and the cap?
It is out of this risk that a 27-year-old lad from Murang'a County has joined the war against coronavirus by launching an automated hand-washing machine.
Developed technology
James Nyakera says he has developed the technology for the past four weeks after it was announced that Kenya was now home to the global virus being fought from all fronts.
"You just need to place your hands near the outlet pipe and the machine will automatically sense the body warmth and ignite itself to dispense liquid soap for three seconds after which the machine will automatically lock out the soap and proceed to dispense water for 20 uninterrupted seconds," he told The Standard.
Mr Nyakera says the wisdom behind this innovation is that Kenyans might be washing their hands alright, but ending up nevertheless getting infected with the virus.
He says the threat of getting contaminated by the sanitiser container or the water tap is one of the major safety leaks, hence leaving citizens still exposed to the deadly virus.
Go-ahead
He says he has been given a go-ahead to launch his innovation by the Kenya Bureau of Standards as well as by Murang'a County public health office.
"I will donate 10 pieces of my technology in my neighbourhood, starting with my shopping centre of Kiamagoko in Mathioya Sub-county" he said.
Nyakera says the technology uses locally available materials.
The technology can either be electricity or solar-powered hence making it ideal for households that are yet to be connected to the power grid.
If fully commercialised, Nyakera says the technology would have a market value of between Sh21,000 and Sh27,000 per unit.
Nyakera said if he were to get sponsors, he could go for mass production since coronavirus infections are going up exponentially and there is urgent need to flatten the curve.
"We can only flatten the rise in numbers by strictly adhering to the laid down directives of sanitation, among others. One of them is to wash our hands and do it to the highest minimised risk. That is where my innovation comes in handy," he says.
Nyakera says he is not at this nascent stage concerned with commercialising his innovation, noting that all he requires is partnerships with interested organisations to make the innovation reach as many people as possible.
He says this country is full of innovative youths who, for lack of capital and mentors, are wallowing in despair.
"I am a graduate from Mt Kenya University and for the last two years I have been struggling with my innovations. I rely on odd jobs and financial support from my family members, especially my mother, to purchase materials for this innovation," he says.
He says he has been attending many technological forums where he has been interacting with young innovators and "what I can report home is that this country is well endowed with unadulterated innovative minds".
"It is unfortunate that many of these minds end up in illicit brew dens and other substance abuse for being disillusioned. We should have a clear cut way of reaching out to these innovators," he says.
Murang'a Governor Mwangi wa Iria termed the innovation as a major plus for the county, saying he will support its penetration in the society.
Great interest
"We have taken great interest as a county and we are proud that we have innovative youths who are minding the welfare of their nation and society. We will engage this young man and his technology and see how best we can move to the next level for both his benefit as an innovator and the society currently hit by the virus," he said
Maragua MP Mary Wa Maua termed the innovation as "highly sensible and worth to be given a market penetration push".
She said she will partner with Nyakera to introduce the innovation in her constituency.
Related Topics