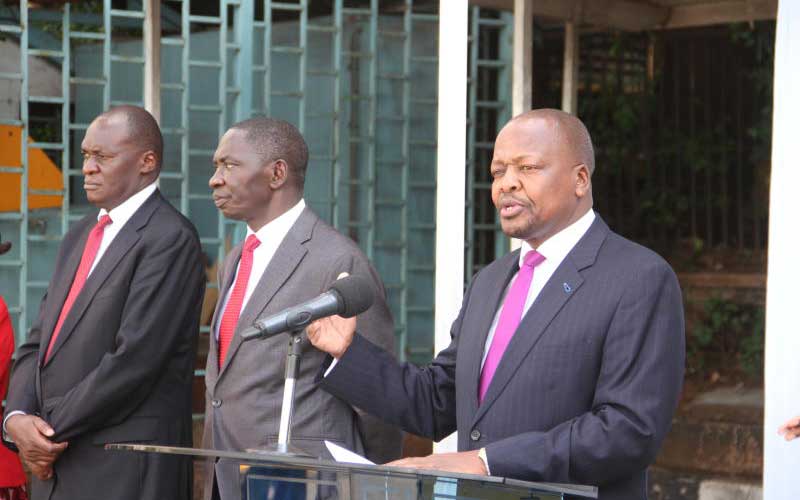 The government has reported the highest jump in coronavirus cases, bringing the total tally of patients to 81.
Between Tuesday and Wednesday, 22 people tested positive for Covid-19 from a sample of 380. This number is the highest ever since the first case was reported on March 13, 2020.
It is also the highest number of tests the government has conducted in 24 hours.
The jump, however, has a glimpse of hope in it as it did not only come amid confirmation that two patients diagnosed earlier on tested negative, but also 21 of the latest new cases are currently on mandatory quarantine.
The 21 are among a group of 2,050 who arrived in the country between March 22, 2020, and March 25, 2020, before the suspension on international flights took effect.
Anyone who came into the country during this period was subjected to mandatory quarantine in selected hotels and government facilities.
Among those who tested positive are two Pakistanis, two Cameroonians. The rest are Kenyans.
"It is lucky that we have found that the 21 people are already in quarantine, which means if we had allowed them entry, then the disease would have spread to other people," said Health Cabinet Secretary Mutahi Kagwe.
The 22 comprise 13 males and nine females and are aged between 23 and 71.
Mr Kagwe said these increasing numbers should act as testimonies to unbelieving individuals who are yet to admit the seriousness of the spread of the virus locally.
The CS said while declaration of a total lockdown like what has happened Uganda, Nigeria, and Italy is still an option on the table to curb the spread of the virus, it should be done in a well thought out process.
"We will not make steps irresponsibly. We owe it to Kenyans, and especially the most vulnerable people in the community, to ensure they do not suffer if such an action is to be taken," said Kagwe.
"You cannot go on lockdown and some people live 10 in one house, so if one is infected, they will spread to the rest."
He said either way, Kenyans should prepare themselves for stiffer measures since a lockdown will take effect if the current rules issued on social distancing and washing of hands with soap and water or alcohol based sanitisers are not adhered to.
The virus, which was first reported in Wuhan, China, in December 2019, has so far spread to 180 countries with 873,767 confirmed cases. The United States leads with 189,633 confirmed cases, followed by Italy (105,792), Spain (102,136), China (82,308) and Germany (72,383).
By Wednesday evening, 43,288 people had died from the disease while 184,771 were reported as recovered. Italy leads in mortality with 12,428, followed by Spain (8,464) and France (3,523).
Italy and Spain recorded 810 and 812 deaths respectively in just 24 hours on Wednesday.
Kenya has recorded one death and three fully recovered cases.
"All patients we currently have are doing well, except one who is in critical care at the Aga Khan University Hospital, under ventilatory support but is progressing well," said acting Director General, Ministry of Health, Dr Patrick Amoth.
He added: "Very soon we may also have good news on some of the patients."
The other French national patient, who was in critical care, was evacuated back to his home country.
At the moment, Covid-19 has no vaccine or dedicated cure and patients are just managing the symptoms, which range from mild cold and fever to severe like pneumonia, acute respiratory distress and organ failure.