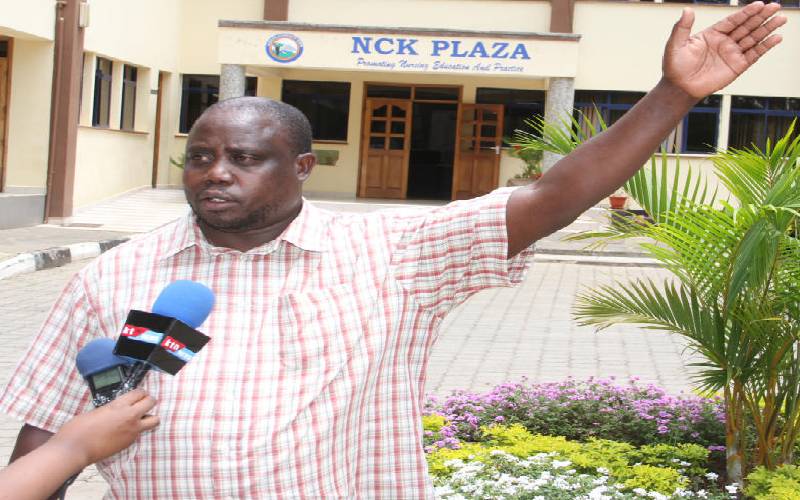 The nurses association has rejected a move to initiate indemnity cover for nurses until a law is put in place to guide its implementation.
Addressing the media after a stormy meeting at the Nursing Council of Kenya (NCK) headquarters in Nairobi, the nurses said while the issue of professional indemnity was anchored in law, it still does not apply to nurses.
"We do not have any legal framework and the council has no mandate as at now to push for the implementation of any scheme until laws are passed. Currently, it is only doctors, dentists and clinical officers who have a law to guide the issue of indemnity," said Moses Chirchir, the vice chair of National Nurses Association of Kenya (NNAK).
He said some quarters are trying to rush nurses into a scheme they have no stake in. This was in reference to the move to have payments of nurses indemnity managed by a foundation whose affiliation with the nurses union has been opposed by a section of the union's leadership.
Mr Chirchir claimed that the foundation belongs to some individuals within the leadership and does not qualify to be called an investment of the union.
Pushing a deal
On his part, NNAK president Alfred Obengo pointed a finger at insurance companies he said were keen on pushing through a law to legitimise a deal between the foundation and an insurance company, which was signed and was set to become operational at the beginning of the year.
"Article 15(a) of the Medical Practitioners and Dentists Act only covers doctors while the clinical officers also have an Act; nurses still have no Act but we feel it is being rushed without nurses' participation," said Mr Obengo, who argued that it was commercial interests at play with nurses' money in mind.
He accused unnamed officials at NCK of trying to validate a scheme which was shrouded in mystery. The nurses regulator refused to comment on the issue, only sending someone from the communication department to tell waiting journalists that they would not comment for now.
NNAK's move comes at a time a supremacy battle is playing out in the Kenya National Union of Nurses (Knun) leadership between Secretary General Seth Panyako and Chairman John Bii.
The standoff has led to the closure of Knun's offices at Uchumi House in Nairobi.
Mr Bii described the indemnity cover as one of the greatest scandals perpetrated in recent times in the nursing fraternity.
Related Topics