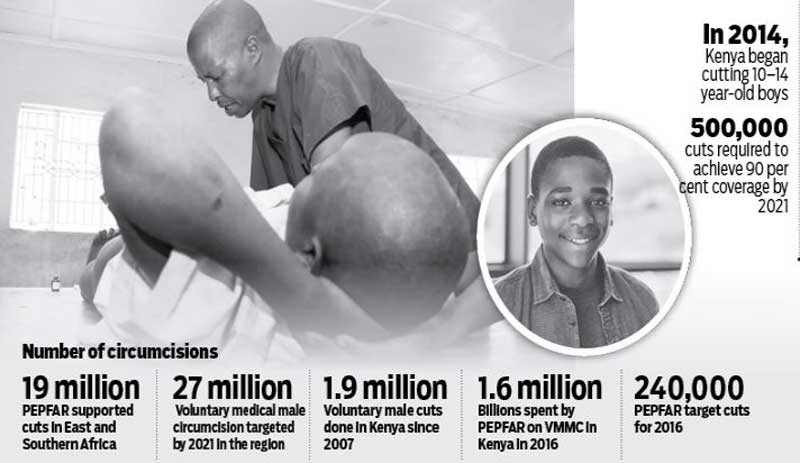 A vicious scramble for money within the US funded anti-HIV male circumcision project in Kenya has exposed the targeted boys to risks.
Data collected and published on Monday by the Kenya Medical Research Institute and US researchers blames ambitious money-based targets for the tragedy.
To get as much funding as possible, the report says, project implementers have thrown the rule book out of the window.
Vices being employed include recruiting underage children, bribing them, engaging unqualified circumcisers and even inadequate stitching of the boys.
The project, which has circumcised about 1.6 million males since 2007 works through community mobilisers who recruit clients; boys above 10 years and present them to project clinics.
These clinics largely run by NGOs and faith groups, get funding based on steep circumcision targets set by the US President's Emergency Plan for AIDS Relief's (PEPFAR).
Steep targets
In 2016 alone for example, the report says PEPFAR spent over Sh1.6 billion ($15 million) for Voluntary Medical Male Circumcision in Kenya.
To get as many boys as possible and meet targets, mobilisers recruited even under age boys, bribing, threatening, intimidating and cajoling others to join in the line.
In August, another study reported about 35,000 underage boys have been circumcised without parental knowledge or consent in the ongoing HIV prevention project.
To get the numbers the new report says anything goes. "We are calling it 'broking (brokering) system," says a mobiliser.
He said although they are not supposed to give children money they sometimes have to pay a boy about Sh50 for him to bring in his friends.
"For instance, if he brings four, I give 100–150 KES. At the end of the day, I will hit my target," says the mobiliser.
But things get more interesting once the boys get to the clinic especially during the high seasons, usually during school holidays like now.
The rule book says a circumcision team should incorporate one surgeon, a surgical assistant, a counselor and infection prevention officer all working together in each case.
Such a team should on average do no more than 12 cuts a day. On average one case the report says should take 12 to 25 minutes.
However during the peak season, the Kemri team says it confirmed these guidelines are not observed with an operation sometimes taking just about six minutes.
To achieve maximum cuts, the study says the four-member teams, ignore the guidelines, split up with each person working individually on their own cases.
This way, the study says one person can do as many as 25 cases in a day which involves standing up for long hours, often from early morning into the night.
"So if you do 20 clients or 25 clients in a day, every day, say from Monday to Friday, it is a hell of a tiresome job," says a clinical officer.
Because of resultant fatigue, the officer says there were many cases of adverse events such as bleeding, pain or swellings.
"If you look at timings of most of the adverse events, you realise they usually happen late in the evening or in the afternoon after lunch; so it has always been attributed to high volume in terms of targets, and then fatigue, and not following protocol," says the clinician.
Rushed circumcisions
Other time-saving avenues include rushing circumcisions, inadequate stitching, splitting surgical utensils and bandage packs between patients.
This mess in the project, run by the National AIDS and STIs Control Programme (NASCOP) under the Ministry of Health is blamed on the rush to secure target based American dollars.
To get a client to the clinic, mobilisers say is a do or die event, ". . .we are paid upon reaching the target … so we are really competing, somebody may grab your clients before you know it," says a 28-year-old, male community-level mobiliser.
". . .targets. . . are about funding, and if you do not reach your target, you do not get funding," said a 49-year-old male mobilisation supervisor.
This is the second time the voluntary medical male circumcision (VMMC) programme in Kenya has come under fire over unethical conduct.
In December (2018) a report by NASCOP and US agencies indicated the high success rates associated with the programme may have been based on falsified data.
The study reported suspected intentional inflation of data by some implementing partners to meet targets and justify continued funding.
The current study, which also involved the University of North Carolina, US, is advising the involved parties to relook at the high target numbers versus the quality of care and the rights of clients.
Related Topics