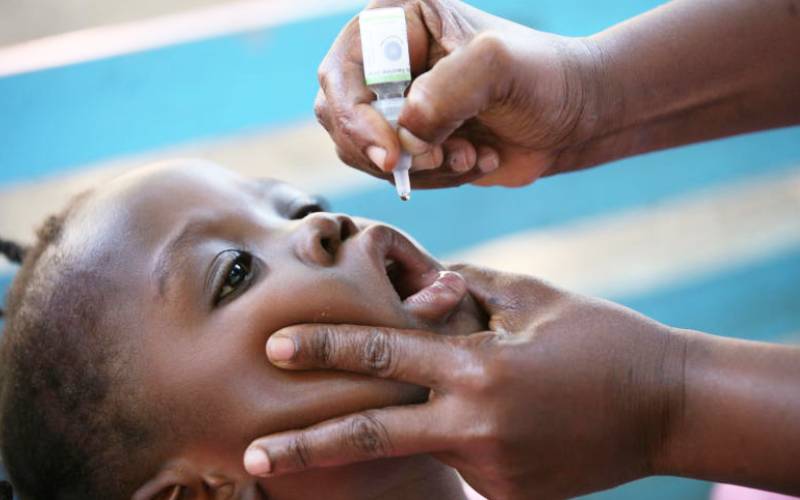 At least 978,118 children have been vaccinated against polio in Nairobi.
The polio vaccination drive has intensified with more children being vaccinated against the disease this year compared to last year.
In 2018, only 600,000 children were vaccinated against a target of 800,000. This year, however, the county surpassed its target by vaccinating 978,118 children against a target of 883,822 children.
Speaking yesterday, Nairobi County Health Executive Mohamed Dagane attributed the success of the vaccination drive on awareness campaigns.
"Our major target was the informal settlements where there is a dense population," said Mr Dagane.
Contagious disease
Some of the areas that recorded high vaccination numbers include Pipeline, Kibra, Mathare, Huruma, Kasarani, Mukuru Kwa Reuben, Kariobangi and Dandora.
The county involved over 6,000 Community Health Volunteers in the five-day exercise that strated on July 20.
Polio is a contagious viral illness that causes nerve injury leading to paralysis, difficulty in breathing and sometimes death.
Symptoms include fever, sore throat, headache, Vomiting, Fatigue, Back pain or stiffness, neck pain or stiffness, pain or stiffness in the arms or legs, muscle weakness or tenderness.
At the same time, Nairobi MCAs have approved a motion urging Governor Mike Sonko to set up cancer screening and testing centres across major health facilities.
The MCAs say this will play a vital role in early detection of the disease.
Related Topics