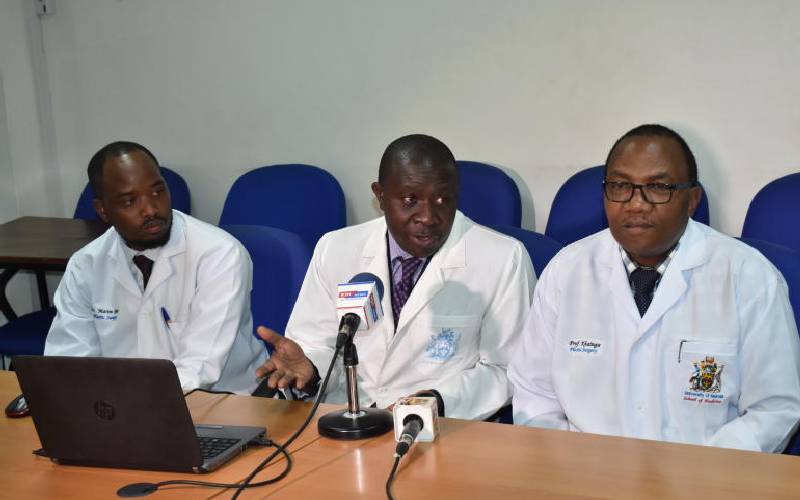 Dr Martin Ajujo was doing his normal rounds at Kenyatta National Hospital when he was informed of an emergency.
This was not an ordinary emergency accruing from a car accident or a stab or a bullet - it was the kind that would give a surgeon the thrill, with potential to change the history of medicine - and it did.
The subject of the emergency call was a 16-year-old wheeled into KNH's Accident and Emergency in two parts: his body on a stretcher and his sexual organ in a cooler box.
The teenager was from Embu County and the previous night of December 18, 2018 encountered assailants who attacked him at their home while his parents were out, chopped off his penis with a kitchen knife, placed it on the table and vanished, leaving him bleeding profusely.
Future secured
When he was taken to a hospital in Embu, doctors could only manage his bleeding, but his parents wanted more than just keeping their son alive. They wanted their son whole, and his future secured, with the knowledge that he too would continue the family lineage. That is when the county facility contacted KNH and the country's dream team was assembled, ready to make history.
At KNH, the resident doctors, who have to be ready for any eventuality, had on a number of occasions simulated, using tubes how such an operation would be executed.
"We had been thinking about penile reconstruction and even done dry run surgeries. So when we received the case, we told the Board (KNH) that we will go ahead and attempt," said Dr Ajujo.
At least 15 specialists were involved in the surgery, among them two urologists, four plastic surgeons, an anaesthetist and nurses among others. This team was led by Prof Stanley Khainga, whose skills command respect among his peers and juniors, belying his soft voice.
After seven grueling hours of literal blood and sweat, the delicate surgery was over: it had been a success. With their scalpels and stitching needles, the experts yet again etched their names in Kenya's medical records by carrying out the first ever penile reconstruction .
"It is humbling, but it also shows the importance of hard work and assembling a good team," Dr Khainga says before veering off to talk more about medicine and micro-vascular surgery, which has become his passion.
It is the same passion that he is instilling to his students at the University of Nairobi, one of them being Dr Martin Ajujo, a resident plastic surgeon.
For a man whose journey in medicine and surgery began with a medical internship in 1987 at Kakamega Provincial General Hospital, now Kakamega County Hospital, he has accumulated years of experience that has made him lead surgeon in nearly all landmark surgeries in Kenya.
He and his team have weaved in people's hearts, delicately separating conjoined twins in 2016. This was followed by the reattachment of a man's foot in April 2018. Then came the attaching of a 19-year-old's hand back into place in 2017, and now penis reconstruction. In short, these doctors from heaven have sown through the hearts and limbs of their patients. But most of their operations are never made public.
"We have done over 10 implantation of fingers, hands but we never announce it," says Dr Khainga.
So what makes the surgeries stand out?
"We always have a plan B," he says. "Plan A is what we did in the penile surgery."
If it was not possible to re-attach the chopped off penis back in place, he says the doctors there and then in the theatre would have created a new penis using tissues from the patient's hand and tubed it to enable passage of urine.
To enable erection and procreation, some synthetic silicon would be implanted.
In the 16-year-old's surgery, identified as AM by medical records, the doctors repaired two veins, two nerves and one artery, to restore blood flow.
So bad was the incident as the penis had been chopped at the base, which exposed blood vessels and the urethra.
For such surgeries to be a success, every doctor or specialist sticks to their area; the most important probably being the anaesthetists, says Dr Khainga, as they are supposed to monitor the blood pressure of patients.
Seven hours
"Diastolic pressure should never go below 80 mm/Hg," he warns. Pressure below 80MM/Hg according to the American Society of Anesthesiologists, can lead to stroke, as some parts of the body will fail to get enough blood, which means they will have less oxygen.
Dr Khainga say urologists had a big role in the surgery.
"Penis is basically an urologist's area. So we let them repair the shaft and we moved in with microscopic equipment to repair the veins, nerves and artery," he said.
The surgery took seven hours, but one of his most memorable ones took more than half a day.
That was the reattachment of a patient's foot back in place after an accident. The patient was an Egyptian who has since recovered and gone back to his country.
Dr Khainga says the surgery was exciting because people did not know it was possible, and the complexities involved, which include loss of some substantial amount of length.
"We repaired three arteries and three veins. In every artery and vein there was a gap and we had to harvest (other veins and arteries) from his other healthy leg," he said.
Some 20 days later, a further operation was done to repair nerves to enable sensation and the patient was allowed to go home.
"We are still in communication. They are in the process of elongating the foot but he is healed," saya Dr Khainga.
The foot reattachment surgery took 14 hours while that of separating conjoined twins took 23 hours.
"The truth is once you are in the theatre, you never keep track of time. Seven hours is a very short time," says Dr Ajujo.
Life in the theatre is not a bed of roses for at times, things go wrong.
Whenever a surgery goes wrong, the accolades are forgotten and doctors sometimes find themselves trying to save their jobs in court corridors with patients, and their families claiming negligence.
The latest case is that of a patient who was awarded Sh44 million after a surgery performed at the Nairobi Hospital left him with brain damage.
"Surgeons try hard to heal. We observe the Hippocratic Oath to cure and not inflict harm. If you develop complications, there is a way doctors can correct that; if that is not possible, then it should be properly documented," says Dr Khainga.
Dr Khainga says Kenyans should develop trust in their own medics, because what they do from hours spent in theatre and the rush against time to restore life is priceless.
"It is just the satisfaction that the patient is well, that is why we do this. Not even the money," he says.
There are also low moments, he says, for instance when a patient comes when their disease, especially cancer, is highly advanced that surgery or any other mode of treatment will not cure them.
"But this is due to poor referral system. If they come in good time, the oncologist surgeon can remove the affected breast and we step in to reconstruct the patient's chest so that it is not flat and do not have to deal with stigma," he says.
Another challenge, the doctor says, is that there are few specialists in micro-vascular surgery and unavailability of equipment. This was witnessed in the surgery to separate the conjoined twins, where KNH had to import some materials and machines to be used.
"The tissue expanders we used were imported. It is better for industrialists to come to our theatres and see the environment we work in. Then we can come out with our own customised equipment and possibly patent them. That is how these Western countries grow," says Dr Khainga.
Stem cell technology
Expertise is also another challenge, which Dr Khainga hopes that by 2025, through a post-graduate programme at UoN, at least every county will have a micro-vascular surgeon. At the moment, there are two who are active: himself and Dr Nangole Wanjala.
Despite the numerous incidents which involve organs that can be re-attached, Dr Nangole notes that many usually discard the chopped off parts, with most victims dying due to loss of blood.
"Quick transportation to the hospital and storage is key. The organ should be wrapped in a polythene bag and transported in a near cold environment. Do not put it in a freezer," he warns.
Dr Khainga hopes Kenya would absorb stem cell technology, the new advanced way of managing such surgeries.
Related Topics